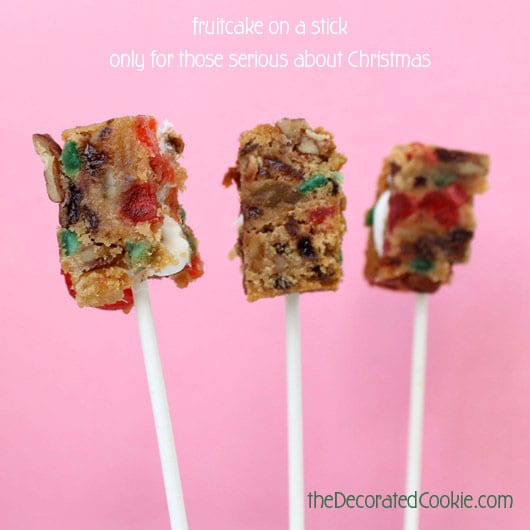 Fruitcake on a stick almost makes the dreaded traditional Christmas dessert bearable! 
Poor, poor fruitcake. The fruit-packed wonder gets so much ridicule. I don't remember much fruitcake at Christmas, so somehow I escaped the madness of fruitcake criticism. I thought I would help the fruitcake out, give it new life. By cutting it into squares and putting it on a stick.
Now, a warning. This is NOT for the faint of Christmas heart. This is for serious Christmas celebrators. I mean those that pull out the Christmas sweaters. That listen to carols before Thanksgiving. That put the elf on the shelf. That spray that snow on the windows. That have special showings of the Rudolph movie. That compete with neighbors over lights and lawn ornaments. And bonus: You'll never have to eat sugar again. Ever.
Did you know Entenmann's makes a fruitcake? No? Well, Entenmann's makes a fruitcake. I know this because I spotted it in the supermarket and naturally, I had to buy it. Did you know it's expensive? No? Well, it's expensive. Ten bucks. Maybe that isn't considered expensive for fruitcake, but I thought it was. But less money than making one from scratch.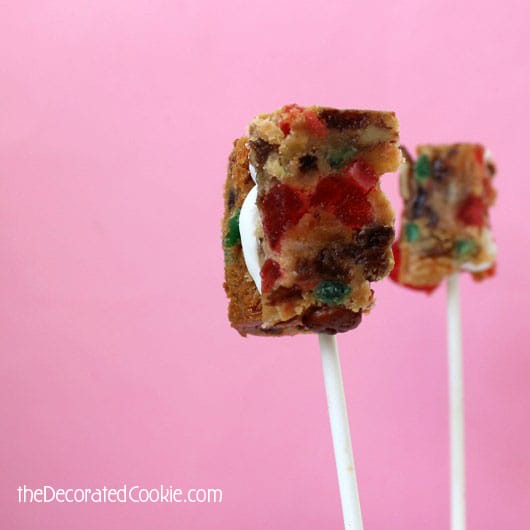 So here is how you wow your friends and family this holiday with fruitcake on a stick…
(and by "wow" I mean, "awe them with your brilliance, because they won't think you are crazy or ridiculous at all")
You will need:*
sharp knife
cream cheese frosting (see below)
disposable decorating bag (optional)
lollipop sticks
*Find the disposable decorating bags and lollipop sticks in the craft store
Slice the fruitcake into as thin a slice as you can manage without the fruitcake falling apart (about 1/2-inch), then cut each slice in thirds to form three small rectangles. You may loose some bits in this process. Spread cream cheese frosting on one side of a small rectangle. To do this, I prefer to fill a decorating bag with frosting, snip 1/2 inch from the tip and pipe it on, but you may also use a spatula or knife. Place the lollipop stick on the frosting and top with another rectangle of fruitcake, pressing gently to secure.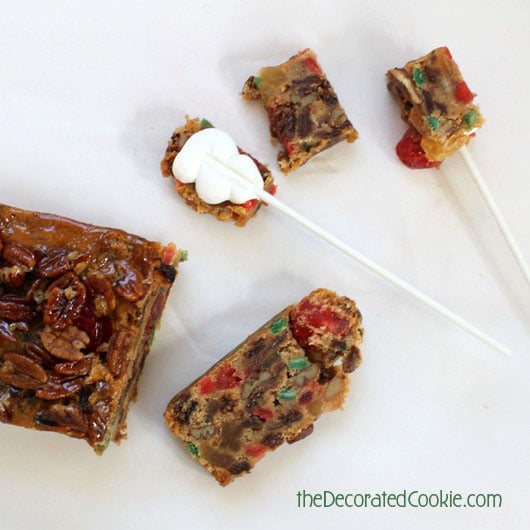 Cream cheese frosting:
With a hand mixer or in a standing mixer fitted with a wire whip, blend together 1 stick (1/2 cup) softened butter, 8-ounce package of softened cream cheese, 3 cups confectioner's sugar and 2 teaspoons vanilla extract.