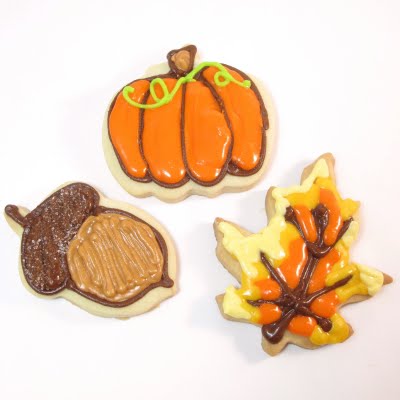 Thanksgiving cookie decorating– fun kids' activity for Thanksgiving day. 
We are hosting this year in our still-far-from-fixed-up-fixer-upper, so I'm hoping for forgiving guests. One of our guests is a 9 year old girl whom we've never met. I want her to feel welcome and have something fun to do, assuming the preschool level toys that flood our house would be of little interest. Hence, this Thanksgiving cookie decorating activity.
When working as a cookie decorator, our shop often participated in town activities with a cookie decorating booth. Hundreds of kids lined the streets waiting to squeeze frosting all over a yummy cookie. I found girls, especially, ages 8 and up, were our most popular decorators, so I thought that might be a fun thing to do on Thursday.
Here are a few links that will be helpful. Find tips on getting cookie decorating supplies HERE. Find recipes for cookies and royal icing here.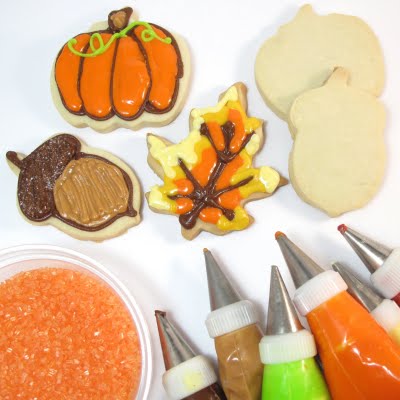 tips for hosting a Thanksgiving cookie decorating activity
What to have for Thanksgiving cookie decorating, all prepared before the craziness of the day:
cookies baked and cut out and ready to go (leaf, acorn and pumpkin)
bags of frosting in assorted colors ready to go (orange, browns, yellows, greens)
sprinkles (I used orange and white)
a scraper for mistakes
freezer paper
paper towels
toothpicks to unclog tips
sample decorated cookies
Some tips:
this may be best an activity saved for after dinner, lest hungry kids gobble too much sugar pre-dinner
use bigger decorating tips for kids so they can squeeze frosting more easily (sizes 4, 5 and 6)
toothpicks unclog tips (so adult supervision is necessary to help with such things)
tie bags closed at the top tightly with rubber bands so icing doesn't ooze out
find an area in the house that won't disrupt the goings-on in the kitchen or dining room. Hence, this can be tricky. I plan on covering our coffee table in freezer paper. We have no rug yet, so staining the carpet won't be an issue. If you decorate after dinner, the dining room table may be an option, but be sure to protect the area.
packing tape or scotch tape can cover holes in frosting bags (sometimes kids squeeze a tad to hard)