I live down the street from Discover Channel headquarters, so I had to make shark marshmallow pops for Shark Week.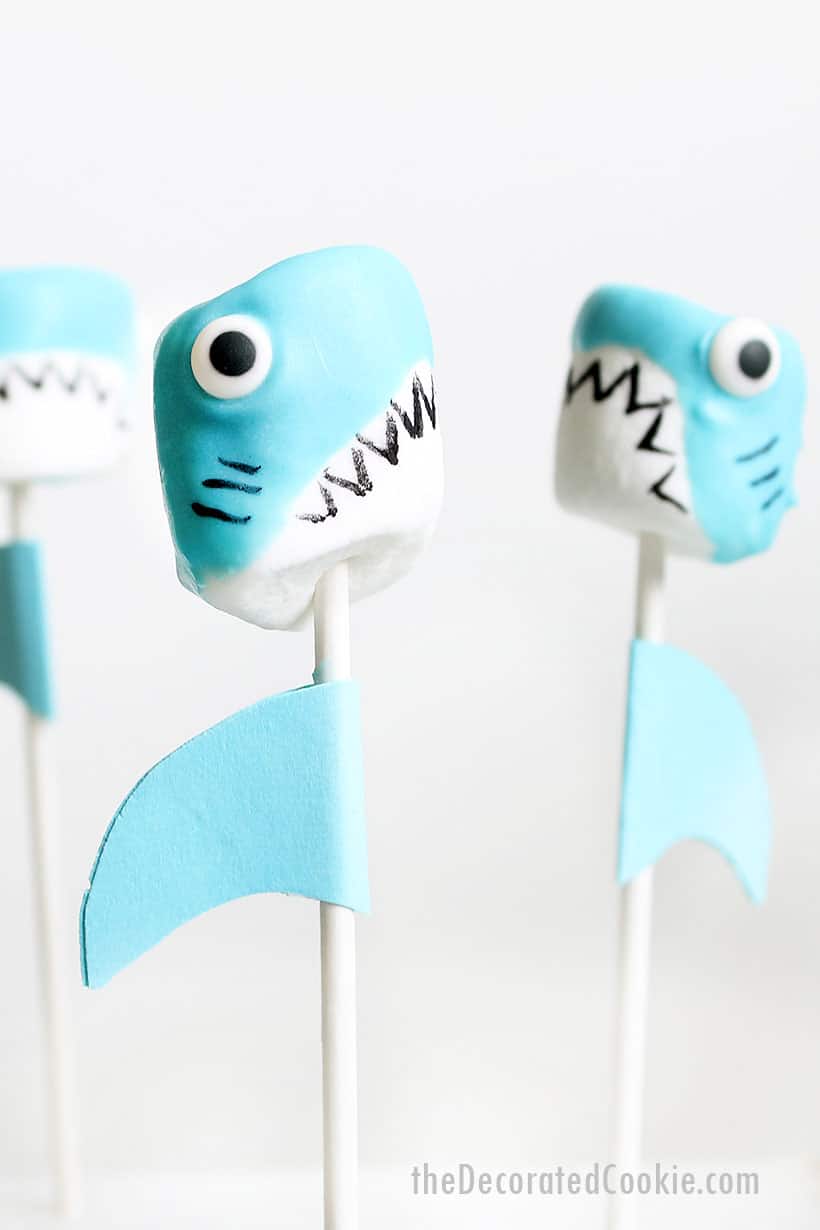 Shark marshmallow pops
There's a "why" behind these shark marshmallow pops.
As many, many, many of you already know, SHARK WEEK kicks off today! The Discovery Channel headquarters is in Silver Spring, MD.
And I live in Washington DC about a mile from Silver Spring and said Discovery Channel HQ. Every year I wonder, will Chompie return? I remember well a couple years ago when the giant, inflatable shark transformed the building for Shark Week. See awesome photos of Chompie from 2010.
An inside source told me this year I won't see the shark's shadow as I drive up Georgia Avenue… but hopefully for the next big anniversary.
And apparently, the day I wrote this post there was a big to-do that included popcorn and toy sharks and other fun things at the HQ for passers-by to kick off Shark Week. Shucks to have missed that. Bet they didn't have shark marshmallow pops though.
If you like these, check out these flamingo marshmallows. Or use candy melts to make sea animals.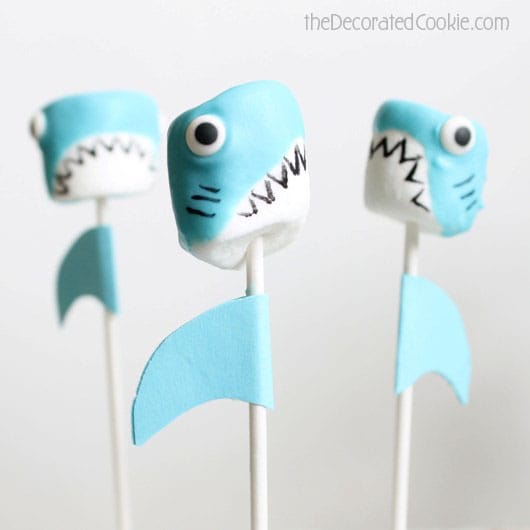 These sharks are relatively simple and easy to make with only a few supplies. They aren't too scary looking, though, huh? You could always get a red food coloring pen and add some blood in the teeth. Or a foot.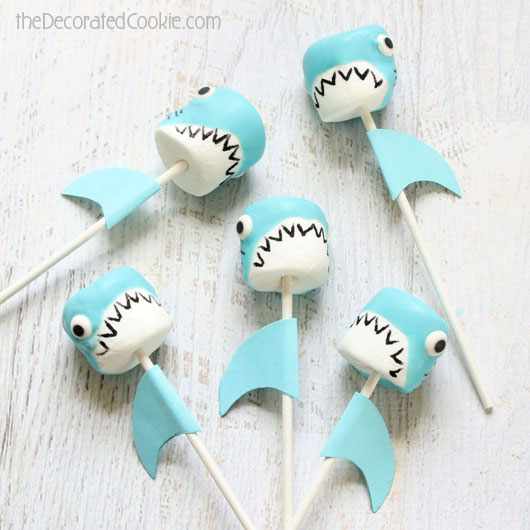 But I'm sticking with the Jabberjaw cute thing. Oh dear. If you weren't born in 1972, you might not know who Jabberjaw is. And another oh dear. You might not even know what Saturday Morning Cartoons were.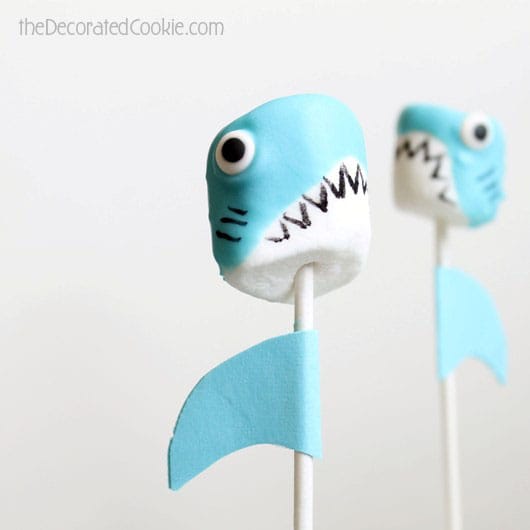 how to make shark marshmallow pops
you will need:*
marshmallows
lollipop sticks
light blue candy melts
candy eyes
Styrofoam block
black edible writer
for the fin:
blue paper
glue stick
scissors
*Find the lollipop sticks, candy melts, candy eyes and Styrofoam block at the craft store. You may also find a black edible writer (or, food coloring pen) at the craft store. Though I prefer the Americolor Gourmet Writer. For tips on buying edible writers.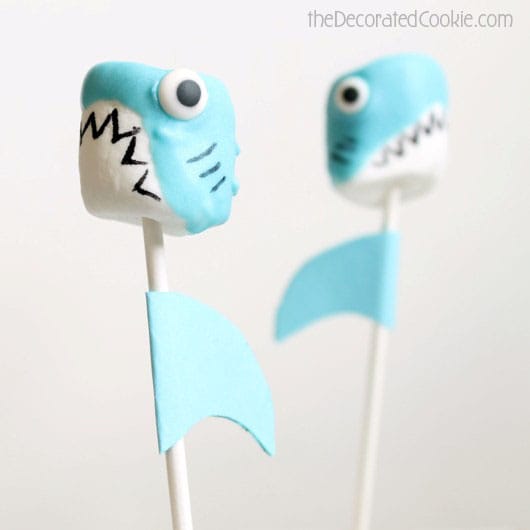 what to do:
Skewer marshmallows with the lollipop sticks. In a jar or deep microwave-safe bowl, place about 1 cup of candy melts. (TIP: To make the melts easier to dip, you can also add a teaspoon of vegetable shortening.)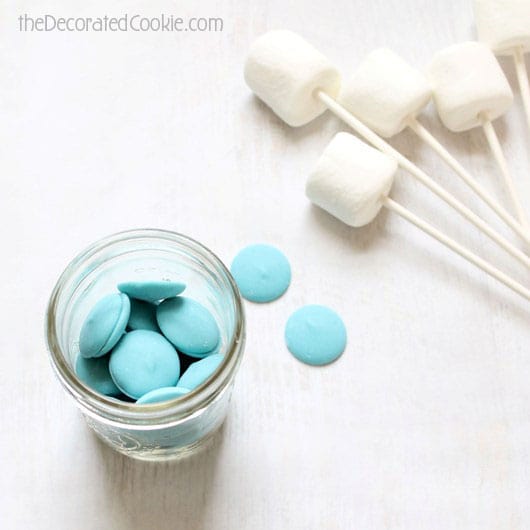 Microwave for 90 seconds at 70 percent power. Stir and continue to microwave at 15 second intervals until fully melted. Dip a marshmallow in the candy melts, but leave the space shown at the front and bottom of the marshmallow un-dipped. Gently tap the stick on the jar to shake off excess melts.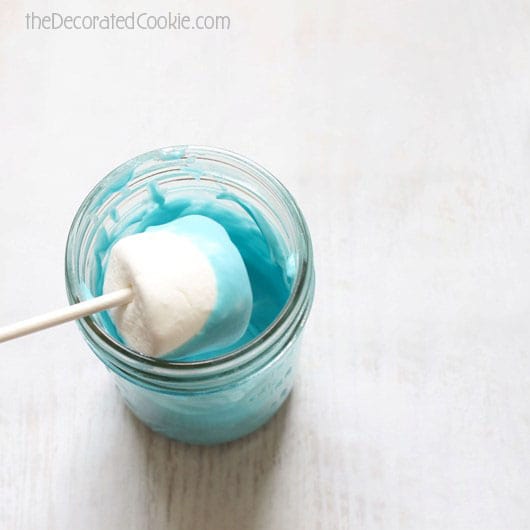 Prop the marshmallow in the Styrofoam block. Attach two candy eyes at either side of the marshmallow pops. Repeat with the rest of your marshmallows and let the pops dry well, at least 30 minutes.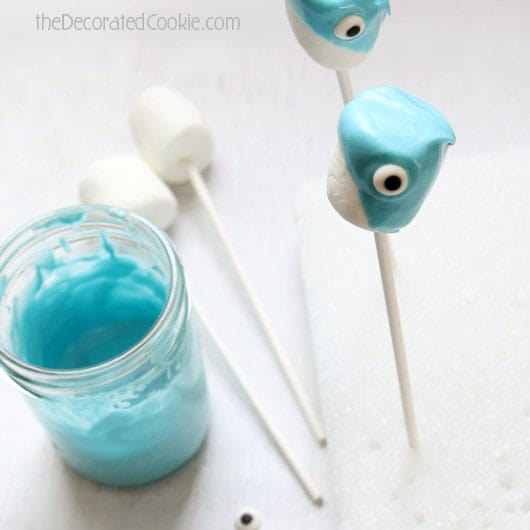 Use the edible writer to draw teeth on the marshmallow and gill slits on the candy melts. Note edible writers often don't write well on candy melts. It's best to make quick, short lines using the tip of the marker.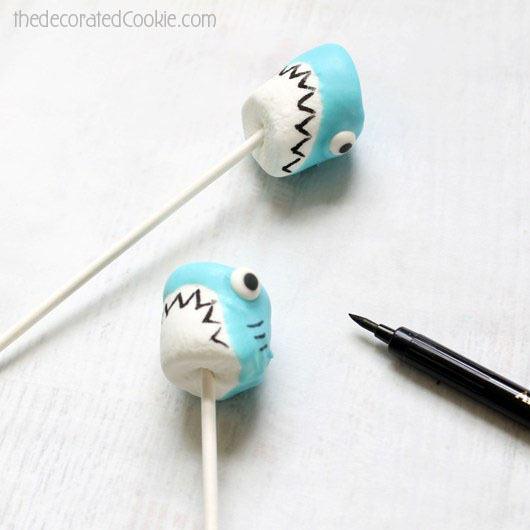 For the fin, fold a piece of blue paper. Sketch a fin shape along the fold. Cut out and glue the fin around the stick.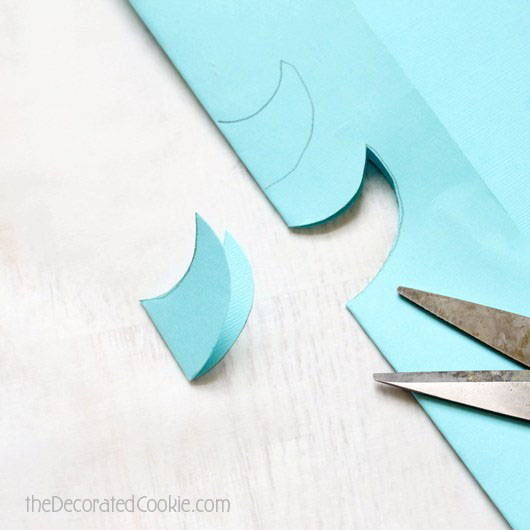 Uh oh, it's a shark face-off. My money is on the one on the left. The one on the right just looks nervous.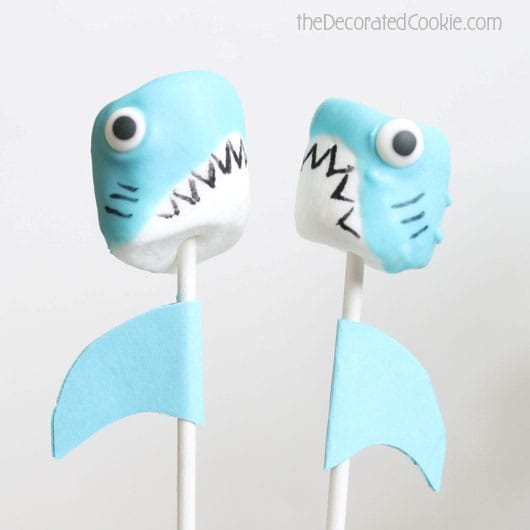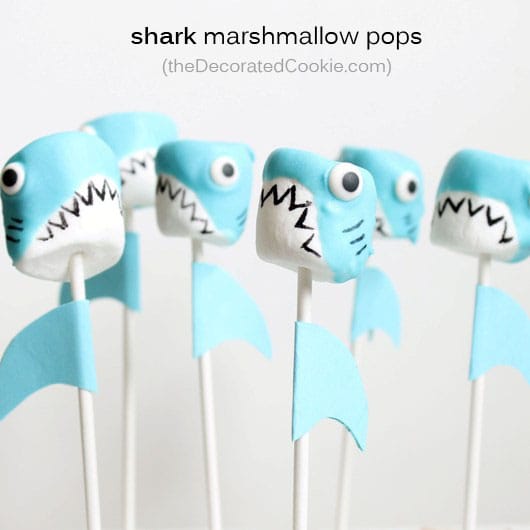 PIN FOR LATER: