How to make bright, colorful painted acorns, a gorgeous Fall craft or Thanksgiving centerpiece idea.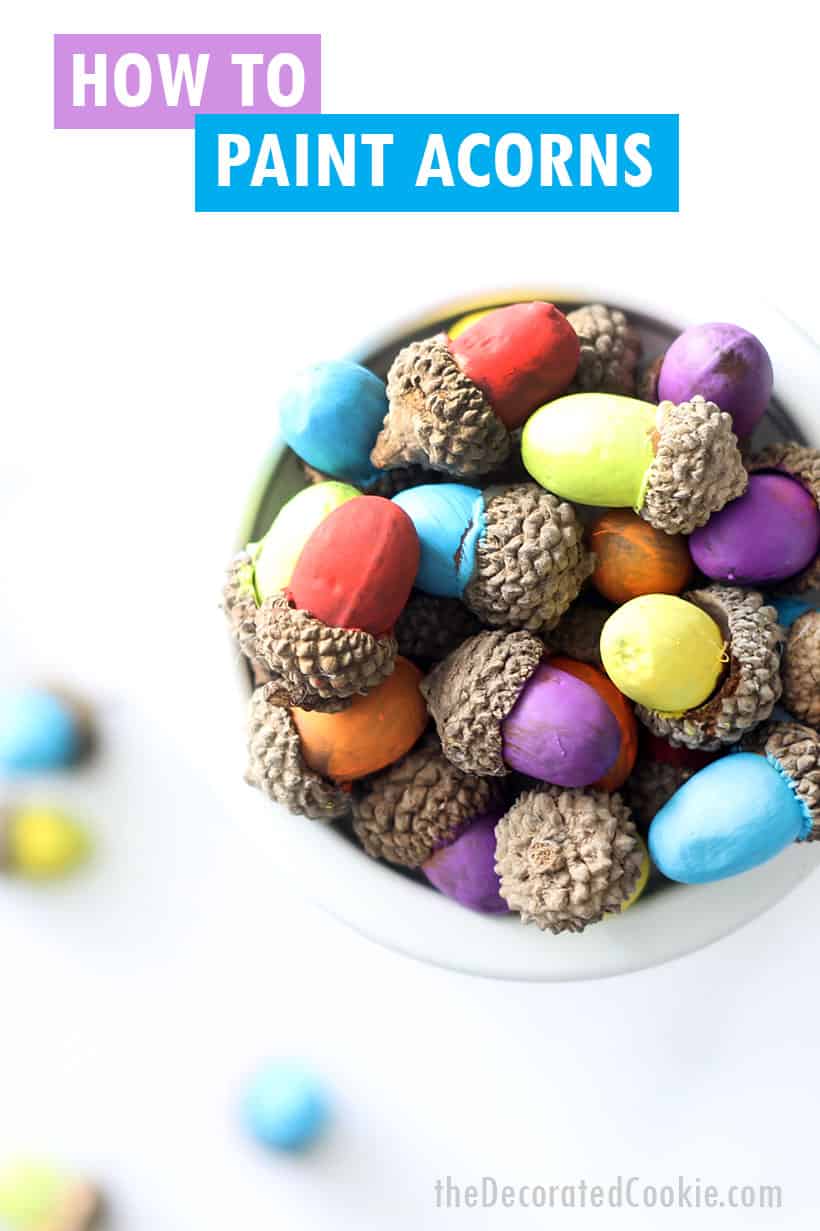 painted acorns
These bright painted acorns in rainbow colors are an easy seasonal craft. Gathered in little bowls or on top of a pedestal, or merely spread on your table, the acorns make a simple, modern Thanksgiving centerpiece guests will certainly notice.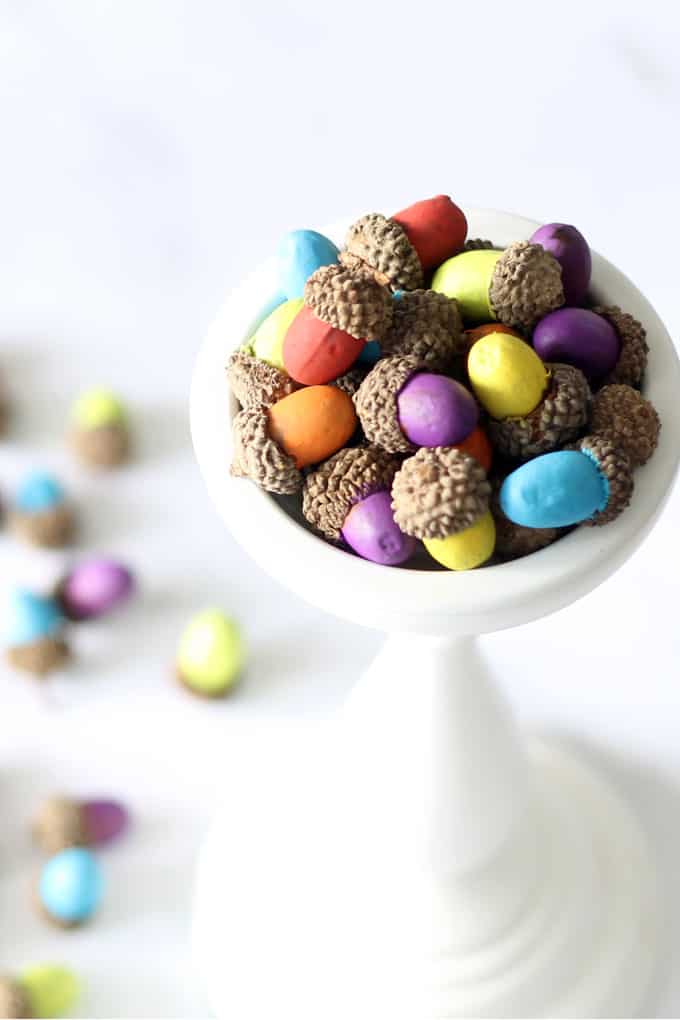 If you like this post, check out this roundup of DIY Thanksgiving decor ideas. Or, paint some pumpkins! Check out this roundup of painted pumpkins ideas.

how to paint acorns
For quicker crafting (and because I mysteriously have no oak trees near my house), I purchased an inexpensive bag of imitation acorns. However, if you'd like to use acorns from the trees outside, I also include easy instructions on how to wash and prepare acorns for painting. Choose any colors you like! I decided to go bright and I opted for rainbow colors for my painted acorns.
you will need
If you are using found acorns, you first must wash and dry them. Gather the acorns and place in a bowl of water. Use an old toothbrush or other scrub brush to remove any dirt. Place them on a towel to dry for about an hour. Toss any acorns that have mold. Tiny holes suggest insects, but the oven will kill them. Heat your oven to the lowest setting (this is 170 degrees F for me). Place the acorns on a rimmed baking sheet and place in the oven with the oven door cracked so moisture can escape. Leave the acorns for 1 1/2 to 2 hours or until fully dried, moving around every 30 minutes. Remove from the oven and let cool completely. (Toss any acorns that may have burned.)
To paint the acorns, pour your acrylic paint on a paint pallet or piece of wax paper. Paint the bottoms of the acorns and rest on a baking tray lined with wax paper to dry. I find a flat paint brush is best for even painting. If possible, balance the acorns to dry on the tops so the wet bottoms do not touch the tray. You may need two to three coats of paint. Let dry completely, preferably overnight, and arrange as desired.
I love the unique, bright look these acorns have in a simple, white container. Painted acorns are a striking Thanksgiving centerpiece that take up little space, and they are sure to be a conversation starter. Or, use your painted acorns in glass containers around the house for colorful fall decor.
This post for painted acorns also appears on Crafts by Amanda.