The BEST cookie decorating recipes ever! Cut-out sugar cookies that don't spread and perfect royal icing every time.
cut-out cookie recipe and royal icing for cookies
For veterans of my blog and books, you already know this recipe, so forgive the repetition of these cookie decorating recipes. But it's buried on my recipe page, and I feel it deserves a bit of spotlight. My favoritest ever, most super duper cut-out cookie recipe made it into both of my cookbooks (Sugarlicious) because I'll never use another. Don't ever ask me to change it. Not only does it taste so good that I've seen people at parties hide these cookies in their pockets before the stash disappeared (really, their pockets), but it holds the cookie cutter shape flawlessly and bakes beautifully. It's thick with an interesting texture, not too crunchy, not too soft. No spreading, no burned bottoms, no poofs or bubbles. It's freezable, roll-able, bake-able. Paired with my favoritest ever, most super duper royal icing recipe, you get decorated cookie perfection. Am I being a tad overdramatic about my cookie recipe? Nope. Not one bit.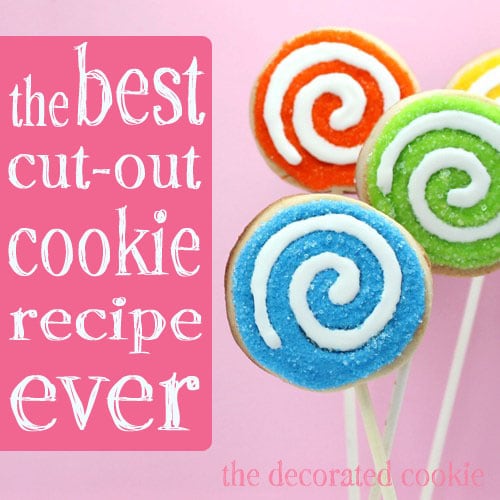 Want to see the recipes in action?
.Check out my whole collection of decorated cookies from this blog HERE.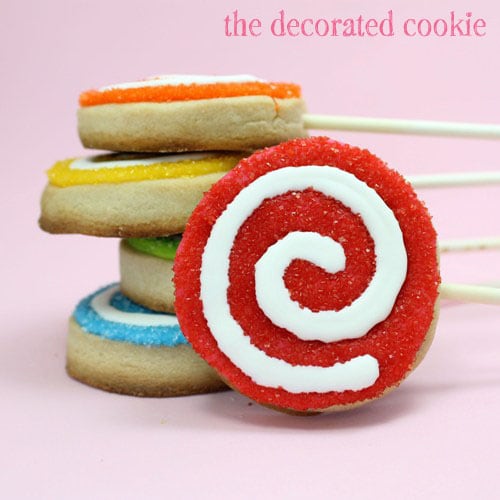 world's best recipe for cut-out cookies
(pair with the world's best recipe for royal icing)
sugar cut-out cookies for decorating
2 sticks unsalted butter, softened

1 cup confectioner's sugar

1 egg

1 teaspoon vanilla extract

2 1/2 cups all-purpose flour

1/2 teaspoon salt

Optional: 1 1/2 teaspoons of flavored extract (I highly recommend almond extract)
Briefly sift together the flour and salt in a bowl and set aside. In the bowl of a standing mixer with the flat beater, or in a large bowl with a handheld mixer, blend the butter and sugar together on medium speed until fluffy. Add the egg and blend well. Mix in the vanilla extract and optional flavored extract, if using. Gradually blend in the flour mixture on low speed. Cover the dough (I scrape mine out of the bowl and put in a gallon-size Ziploc bag) and chill dough for about two hours. When chilled, work with about one-third of the batch at a time. Briefly knead the dough and roll it out 1/4-inch thick, or 3/8 inch if inserting sticks for cookie pops (see below for cookie pops how-tos) on a floured surface. Cut out your cookies and place one-inch apart on a good quality baking tray lined with a piece of parchment paper. Bake in an oven preheated to 375 degrees for 12 to 14 minutes. Thicker or large cookies may need up to 20 minutes. Cookies are done when the edges are golden brown.
Yields: 25 to 30 cookies (2 to 4-inches), 65 to 70 mini cookies (1 to 2-inches) or about a dozen large cookies (6-inch).

notes: You can make this dough the night before you bake with it. Just take it out of the fridge and let sit at room temperature until it's still chilled, but pliable. You can also freeze this dough. After mixing, put the dough in a gallon size Freezer ziploc bag (or wrap well) and freeze. Thaw overnight or for at least a few hours in the refrigerator in the ziploc bag. If the dough is too chilled to handle, let it sit at room temperature for about 1/2 hour to 1 hour until it's workable. Chilled is good, though, don't let it get too mushy.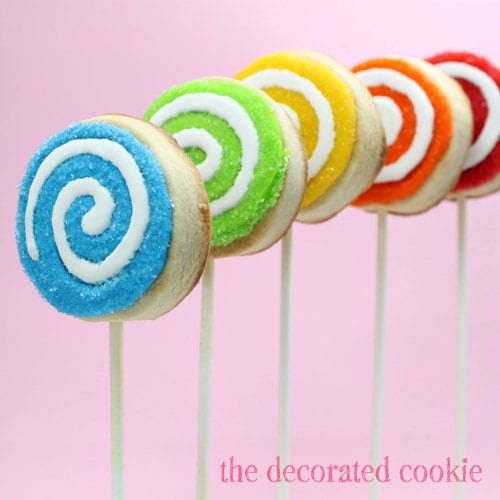 useful links:
For the royal icing recipe, click HERE.
For how-tos on making cookie pops, click HERE.
For basic cookie decorating how-tos, click HERE.
For tips on supplies and where to find them, click HERE.
For food coloring information, click HERE.
For tips on building a cookie cutter collection, click HERE.
To decorate these cookies… I originally made these swirly, sparkly cookie pops way back almost three years ago, HERE. You'll find the link to the decorated instructions in that post. Using sprinkles makes cookie decorating so very easy, because sprinkles have the magic power of covering any mistakes. To decorate, divide your royal icing and tint your preferred colors, including white, using Americolor Soft Gel Pastes (Red Red, Orange, Egg Yellow, Electric Green and Sky Blue used here). Then, prepare decorating bags with couplers and size "5" tips, fill with icing, and close tightly with rubber bands. Pipe a swirl on a cookie with one of the icing colors, and immediately coat with a coordinating color of sprinkles. Turn over to remove excess, then pipe a swirl of white on the cookie. Let the cookies dry overnight before handling or packaging.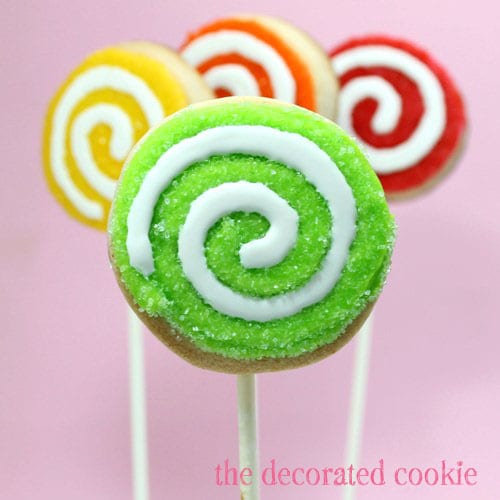 UPDATE: Conversions for the rest of the known world!!!!
Because I've had some requests from those masses that live outside the US (wherein we stubbornly reject the switch to metric), I'm including some UNofficial conversions. I came up with this list ages ago based on what is printed on the ingredients' packaging and some internet research. These have NOT been tested by me, but as soon as I finally get a kitchen scale, I'll make sure they are accurate. Thus, if something feels off to you, go with your instinct (and feel free to let me know).
2 sticks butter = 1 cup = 8 ounces = 227 g
1 cup confectioners (or icing/powdered) sugar = 128 g
1 teaspoon extract = 4.2 g = 5 mL
2 1/2 cups all purpose flour = 312 g
1 teaspoon salt = 4.2 g
4 tablespoon meringue powder = 56 g
1/2 cup water = 4 ounces = 60 mL = 113 g
6 cup confectioners sugar = 768 g
1/4 cup vegetable shortening = 56 g
1 cup granulated sugar = 200 g
2 cup flour = 240 g
1/2 cup cocoa powder = 62.5 g
1/2 teaspoon baking soda = 2.1 g
1/2 teaspoon salt = 2.1 g
375 degree F = 190 degree C
PIN FOR LATER: