Disclosure: *This post may include affiliate links. As an affiliate, I earn from qualifying purchases.


snowflake and snowman cookies — how to decorate winter cookies
Here are the snowman and snowflake cookies I made for my daughter's school bake sale in December. I thought I'd save them for some winter cheer as the post-Christmas doldrums kicked in. I always get sad putting away the Christmas decorations. Have you heard of the Danish term "hygge"? I know exactly what it is, though it's so difficult to define outside of Denmark. And I'm outside Denmark. And have never even been to Denmark. But I learned the term from my Danish friend, and it fits so well with that indefinable quality of this time of year. Despite all the obstacles in my way–such as the stress of hosting lots o' people in a not-very-big-house, all the cooking and cleaning and more cleaning and I'm-just-giving-up cleaning, the whiny kids, the infuriating and too warm and inconsistent winters of Washington, DC–I seek a sort of "hygge" each winter. I remember the "hygge" of prior winters.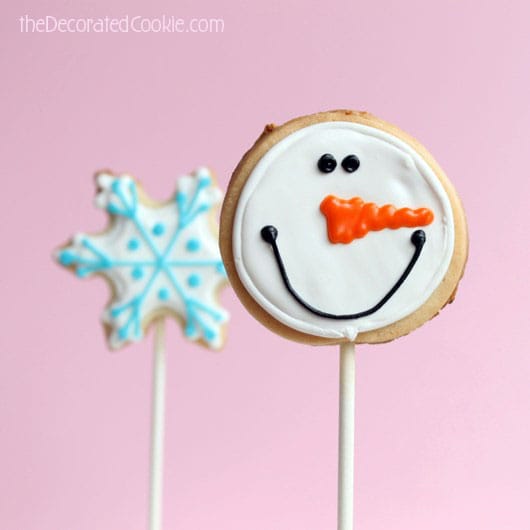 And so. I saved the winter cheer for post-Christmas, when there might be a dearth of such winter cheer. There aren't any surprises here. I went with some non-denominational, simple winter themes, perfect for a school bake sale.

to make snowman and snowflake cookies on a stick…
I made my cookie dough and royal icing. I rolled out the chilled dough, cut out 2 1/2-inch circles and snowflakes and made cookie pops. After the cookies baked according to the recipe, I let them cool completely. I used Americolor Soft Gel Pastes (Bright White, Sky Blue, Orange, and Super Black) to tint the icing white, blue, orange and black. I prepared disposable decorating bags with couplers and tips (sizes 2, 3 and 4), supplies found at the craft store.
To decorate, I fit the white icing with a size 3 tip and piped the circle outline and snowflake outline and let them set a bit. Then, I thinned some white icing with drops of water, put it in an empty decorating bag, snipped 1/4-inch from the tip and piped back and forth to fill the circles and snowflakes. I let the icing set for a good bit (30 minutes or so), and then I piped the details. I piped the carrot with orange icing using a size 3 tip, the face with black icing fitted with a 2 tip and the snowflake design in blue with a 2 tip.
For basic cookie decorating how-tos, click HERE. To find cookie decorating supplies, click HERE. Let the cookies dry overnight before handling or packaging.
SUPPLIES: