Disclosure: *This post may include affiliate links. As an affiliate, I earn from qualifying purchases.


Need some homemade holiday gift ideas? Make marshmallow snowman mason jar hot chocolate (and some bonus gingerbread snowflake cookie ornaments.)
marshmallow snowman hot cocoa jar
I made a batch of gingerbread snowflake ornaments for cookie gifts this year, and since no one can escape my newfound love of painting marshmallows, I ended up adding a mason jar o' warmth to go with them. I
filled a mason jar with snowman marshmallows and hot cocoa.
I added a recipe tag, slapped on a sticker and all done. You have an adorable marshmallow snowman mason jar hot chocolate gift.
video how-tos
Snowman marshmallow mason jar hot chocolate are easy to put together and easy to give for the holidays.
And bonus: Non-denominational so they work for everyone. Here are some video how-tos. Full written instructions below.
Wouldn't you love to get this?
how to make snowman mason jar hot chocolate
you will need*
mason jars
marshmallows
black and orange edible pens (I suggest Americolor gourmet writers)
hot cocoa mix
cellophane favor bags or sandwich bags
tags, stickers and ribbon (optional)
*Find the mason jars and favor bags in the craft store. You can also find food pens in the craft store (likely a different brand), or follow the link above.
how to make a marshmallow snowman for hot chocolate
Use the food pens to make snowman faces on marshmallows. Let dry about an hour.
how to make a hot cocoa jar gift set
Fill a favor bag or sandwich bag with some hot cocoa mix (I used about a cup) and twist closed with a tie. Allow some space at the top of the bag so you can later maneuver the cocoa in the jar.
(I used the bag instead of putting the powder right in the jar to keep things tidy, but you can also just add the mix right to the jar if you're careful.)
Place the favor bag of cocoa in the jar with the tied area in the middle at the top. Place marshmallows around the top of the cocoa facing out of the jar. Close with lid.
If desired, add your own personalized sticker to the top of the jar, or attach a tag with the cocoa recipe using a piece of card stock, a hole punch and a piece of ribbon.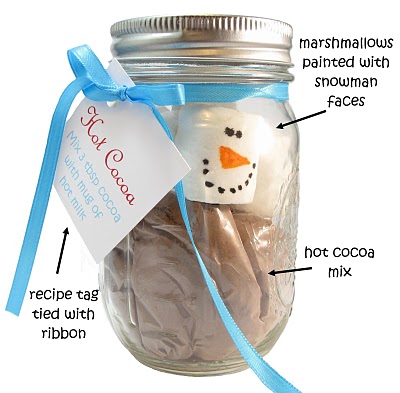 how to make gingerbread snowflake ornaments
you will need
gingerbread recipe
icing
snowflake cutter (mine was about 2 1/2 inches)
straw
one frosting bag, coupler and size "3" tip
white frosting color
white sanding sugar or sprinkles
thin ribbon
cellophane favor bags
what to do
Prepare gingerbread recipe.
Roll about 1/4-inch thick and place on parchment paper lined baking tray.
Make holes with the straw and bake as directed by the recipe. Let cool.
Tint frosting white and prepare a frosting bag with size 3 tip.
Fill with white frosting and tie closed with a rubber band. Working with one cookie at a time, pipe snowflake designs and immediately sprinkle with sanding sugar or sprinkles. Let dry overnight.
To package, string ribbon through several cookies and tie. Place the cookies in a cellophane bag and tie closed with another piece of ribbon.