Disclosure: *This post may include affiliate links. As an affiliate, I earn from qualifying purchases.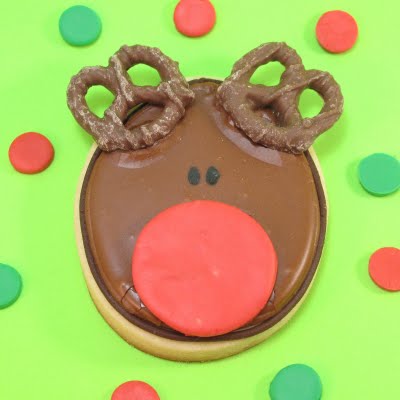 Rudolph cookies are a cute decorated Christmas cookie idea.
This Rudolph cookie is pretty easy to make.
He's adorned only by two chocolate covered pretzels, a red fondant circle, and two eyes drawn with an edible pen.
You can also use any red, round candy you like for Rudolph's nose, instead of the fondant. You can also use candy eyes instead of the food coloring pen. (If you use candy eyes, you don't need to worry about flooding the cookie with icing and letting it dry, either.)
how to make Rudolph cookies
you will need:*
cut out cookie dough
royal icing
cookie cutters (3-inch oval and 1 1/2-inch circle)
food coloring (red and brown)
1 disposable frosting bag
1 coupler
1 size "4" decorating tip
1 rubber band
white rolled fondant
black edible pen
wax paper
light corn syrup
chocolate covered mini pretzels
*You can find coloring and edible pens in the craft store, though I use Americolor soft gel pastes and gourmet writers. All the other supplies (cutters, bags, couplers, tips, fondant) can be found in the craft store. For tips on finding cookie decorating supplies, click HERE.
step one: bake your rudolphs
Prepare dough according to recipes. Roll out chilled dough and use the oval cutter to cut out your shapes. Bake and let cool.
step two: prepare your frosting
Prepare frosting according to the recipe. Mix some frosting brown (you probably won't need the whole batch, you can work with a cup or so at a time) and use half of the frosting to fill a disposable frosting bag that has been fitted with the coupler and a size "4" tip.
Cover and reserve remaining brown frosting in a bowl. Tie closed tightly with a rubber band.


step three: frost rudy's head
Outline the oval with the brown frosting and let set well, about 20 minutes.
Thin the remaining brown frosting with water, a few drops at a time, until the consistency of thick glue.
Pour a small spoonful onto the center of the oval and let run to the outline, encouraging the icing with the back of the spoon if needed. Let set well, about an hour. Meanwhile, make the fondant nose.
step four: decorate rudy
Knead a few drops of red coloring into a chunk of fondant very well (if fondant gets soft or sticky or difficult, let sit at room temperature uncovered for 15 minutes).
Roll between two pieces of wax paper until about 1/4″ thick. Cut out circles and set aside. Using light corn syrup as glue, adhere two pretzels for antlers, the circle for the nose, and draw the eyes with the marker.