Disclosure: *This post may include affiliate links. As an affiliate, I earn from qualifying purchases.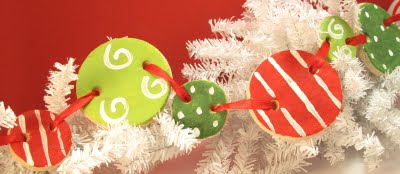 how to make salt dough ornaments
Somehow in the last few weeks, my 2-year old has discovered the wonders of baking and art.
We push the kitchen chair up to the counter and she "helps" me bake.
That is, she dumps flour randomly in bowls and adds unnecessary eggs to my dough. Sigh. My mother-in-law suggested salt dough ornaments, and they are perfect for her.
It's hard to mess up the dough, and they've given her the chance to try painting (after I covered her in my old clothes, the table in plastic and the floor in towels).
Now, perhaps I'm biased, but just check out her brilliance, the careful application of paint, the deliberate selection of complementary colors…the paint flowed from her brush with stunning ease.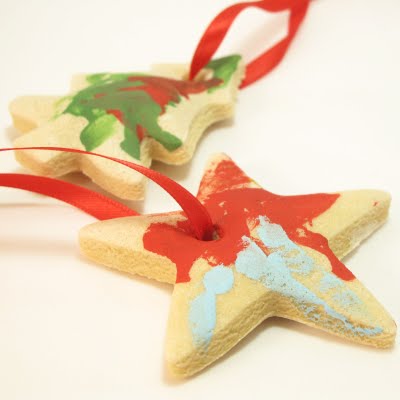 salt dough ornaments recipe
you will need:*
1 cup all-purpose flour
1/2 cup table salt
1/2 cup warm water
cookie cutters
straw
paints
ribbon
*For cutters, any shapes will do. I used a 2 1/2″ and a 1 1/2″ circle cutters. I used craft store acrylic paints. Dough can be doubled, too.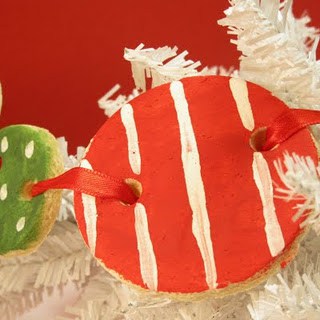 Mix all the ingredients in a bowl and knead on a floured surface very well, incorporating more flour as needed until the dough is pliable and not sticky. Roll out as you would sugar cookies to desired thickness (about 1/4″ for mine). Cut out with cutters and place on baking tray.
For ornaments, make a hole at the top of the cookie with the straw. For garland, make two holes about 1/3 down from the top of the shape, one hole on the left and one on the right.
Bake in a 250 degree F oven for 2 hours or in a 200 degree oven for 4 to 6 hours or until hard. When cool, paint, let dry. Hang ornaments with ribbon. Thread ribbon through the holes of the garland.