These almost midnight clock cookie bites are a fun food idea for your New Year's Eve Party.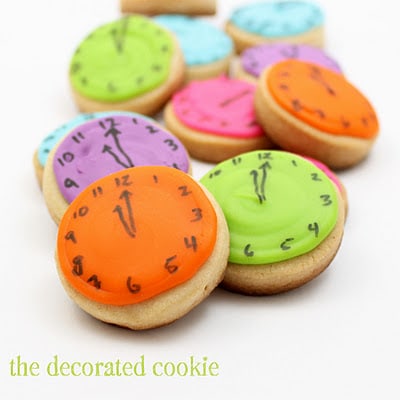 almost midnight cookies
A super speedy quick post this morning, folks, as I'm racing against the kid-wake-up-clock. I'm not usually one who puts much stock in New Year's, but tonight we're celebrating in perfect style… walking across the street to our neighbor's house for a yummy Danish New Year's feast wherein the parents will all sit and drink wine and eat while we totally ignore the crazy kids running around totally ignoring us. And clearly I'm in a hurry, because if you'll notice, the time is 11:00, not 11:59, sigh. Just pretend the hour and minute hands are reversed on these "almost midnight" cookie bites.
I'm bringing these mini (ie. perfect for already sugar-dosed kids) almost-midnight clock cookie bites, a smaller, quicker variation of my almost midnight clock cookie pops from way back when.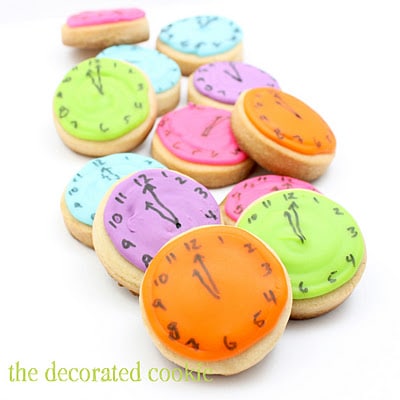 To make these, I just cut out 1 1/4-inch circles from my cookie dough, tint royal icing with fun colors and thinned to an almost-flooding consistency (so I only used one decorating bag to outline and fill), let dry very well (this takes several hours, if you're going to make these for tonight, start NOW!! and do this all first, then go out and find the pens), and use a black FooDoodler pen to draw the clock faces.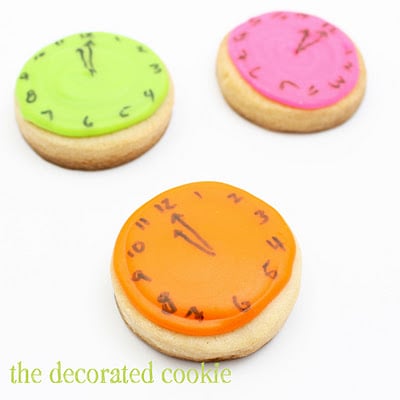 Anybody doing anything exciting tonight??
Hope you all have a Happy New Year! And deal with the resolutions tomorrow…