Disclosure: *This post may include affiliate links. As an affiliate, I earn from qualifying purchases.


How to decorate countdown New Year's Eve cookies — a fun decorated cookie idea for your New Year's Eve party.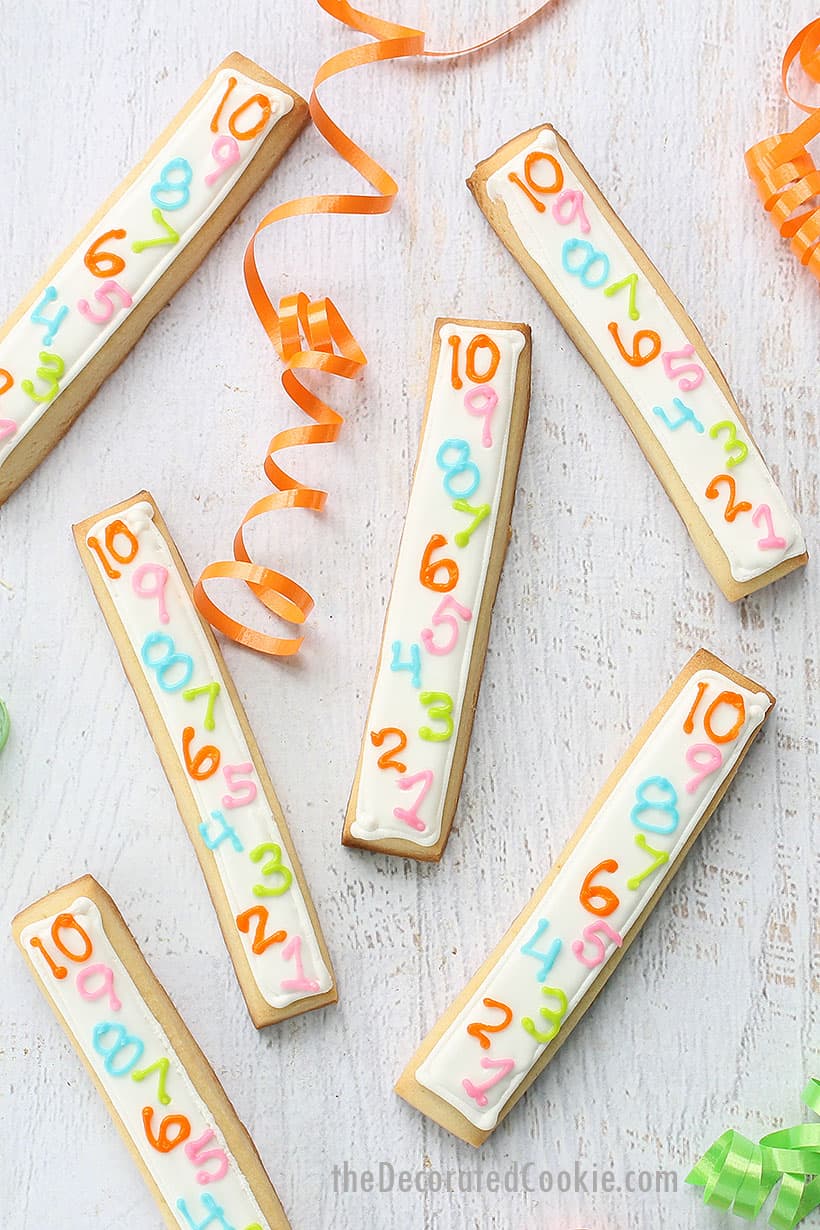 countdown cookie sticks
Kids will love these countdown New Year's Eve cookies. (Heck, so will grown-ups)
Cookie sticks, cookie sticks, I'm all about the cookie sticks. Remember Rudolph cookie sticks and snowmen cookie sticks? (There are more out there, too.)
I had some dough left over, froze it, and brought it out to make more sticks, this time for the New Year to make countdown cookie sticks.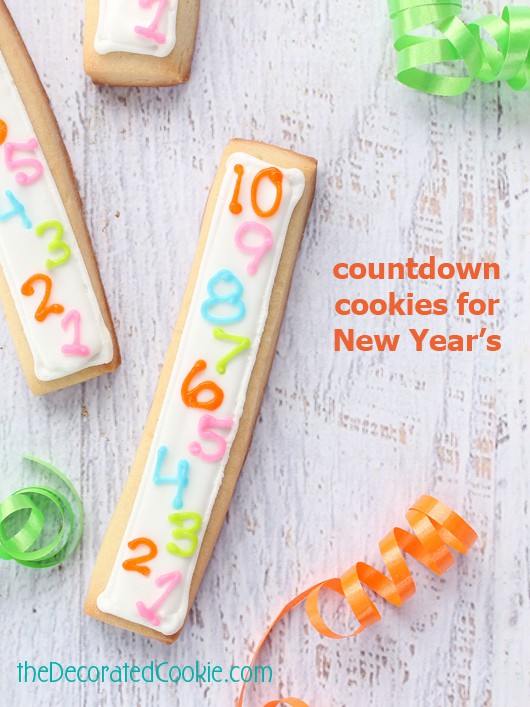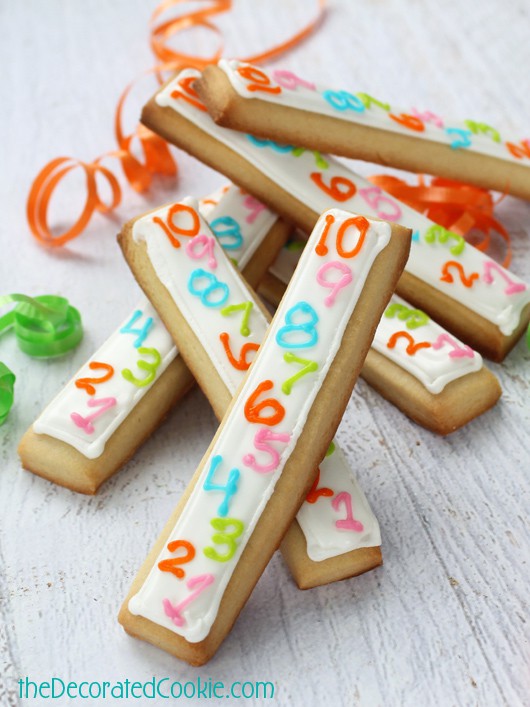 How to make New Year's Eve cookies
You will need:*
cookie dough
royal icing
dough scraper or knife
food coloring (white and any other colors)
disposable decorating bags
couplers
decorating tips (sizes 2, 3 and 4)
rubber bands
*Find the decorating bags, couplers and tips at the craft store or scroll to the end for links to supplies.
cookie decorating information:
For food coloring, I suggest Americolor Soft Gel Paste (Bright White, Electric Pink, Electric Green, Orange and Sky Blue used here).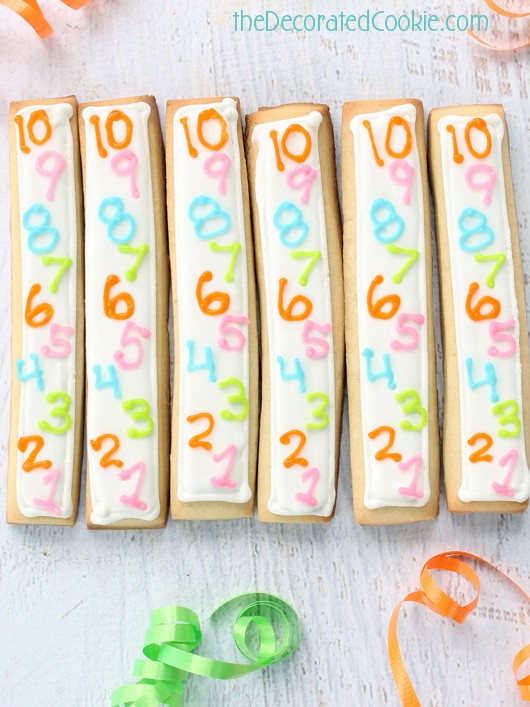 step one: bake your cookies.
Prepare cookie dough according to the recipe, chill, roll out and cut out rectangles.
I use a dough scraper to cut out rectangles, but you can use a knife. These are about 5 inches by 1/2 inch. Bake and let cool completely.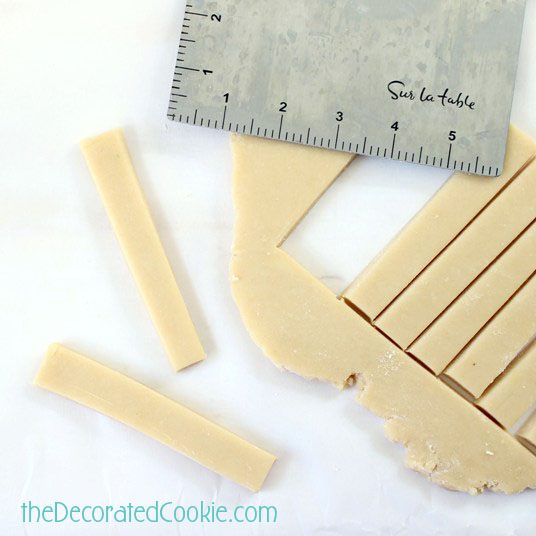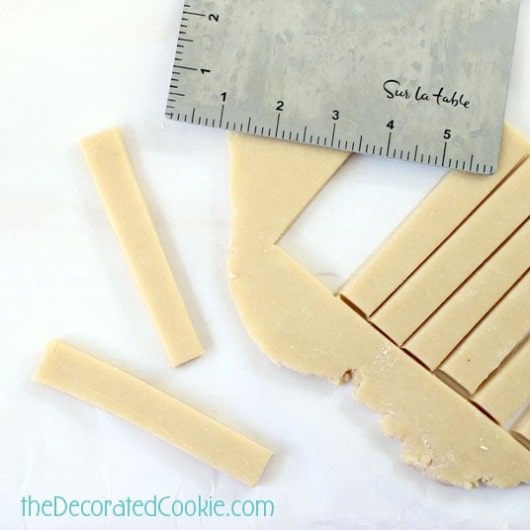 step two: prepare your icing.
Prepare royal icing according to the recipe. Divide (you'll need the most of white, but for other colors, I usually work with about 1/2 cup at a time) and color whatever colors you like, including white for the background.
Assemble decorating bags with couplers and tips, fill with the icing and close the bags tightly with rubber bands.
Reserve some white icing in a bowl. Thin it with a few drops of water, stirring well. Fill an empty decorating bag (no coupler or tip is needed) and snip about 1/4 inch from the tip.
step three: decorate your cookies.
Outline the cookies with the white using a size 4 tip. Let set about 10 minutes.
Pipe back and forth to fill the cookies with the thinned white icing. Let set well, at least 30 minutes or so. Then, using size 2 or 3 tips on the colors, pipe the numbers.
Let the cookies dry overnight before packaging or handling.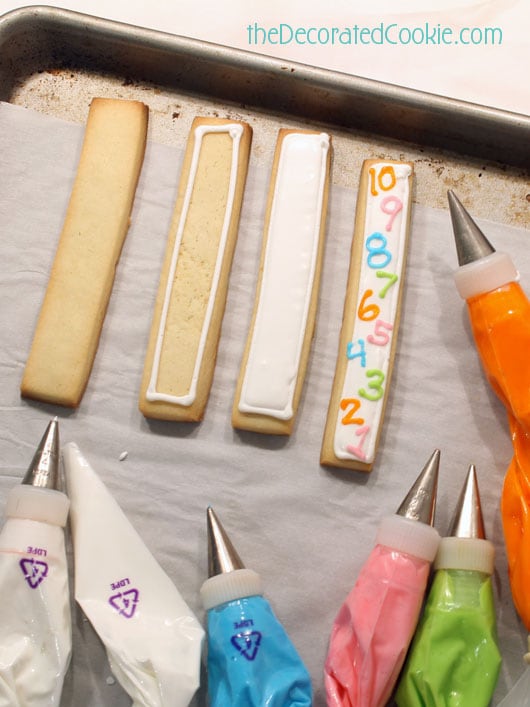 Here are some more treats from archives to ring in the new year: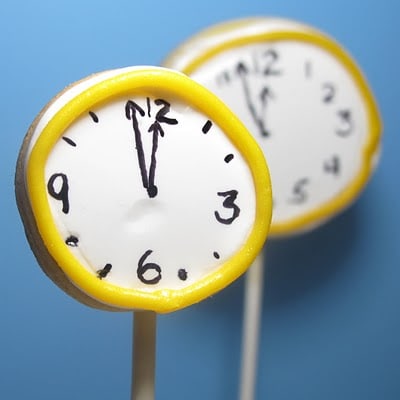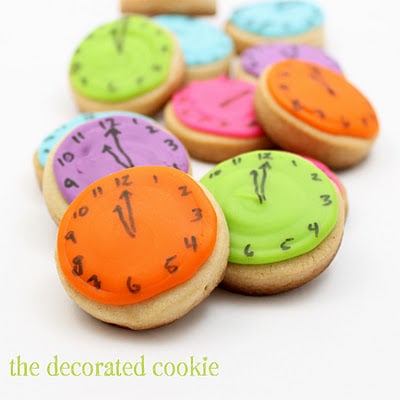 almost midnight mini cookies (Please note how I mixed up the hour and minute hands. We're too digital.)
SUPPLIES:
PIN FOR LATER: