Disclosure: *This post may include affiliate links. As an affiliate, I earn from qualifying purchases.


This easy chocolate turkey cake for Thanksgiving is easy to make, delicious, and cute as can be.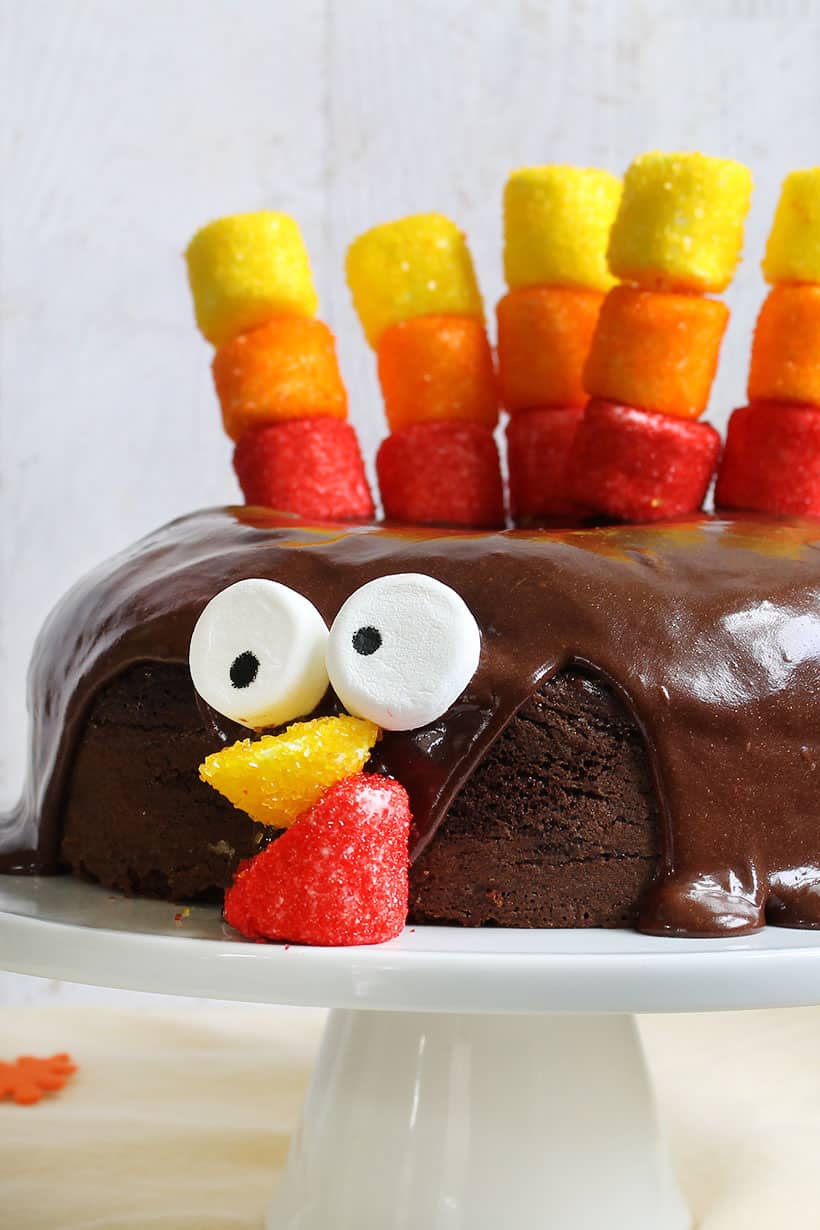 easy turkey cake
I'm in love with this turkey cake I made for Tablespoon. He's easy to make, delicious, and super cute.
It was pure agony to slice into him, but my 7 year old could wait no longer. Sorry Tom! To make this chocolate turkey cake, you don't have to be an expert cake decorator. This is a perfect Thanksgiving cake for beginners.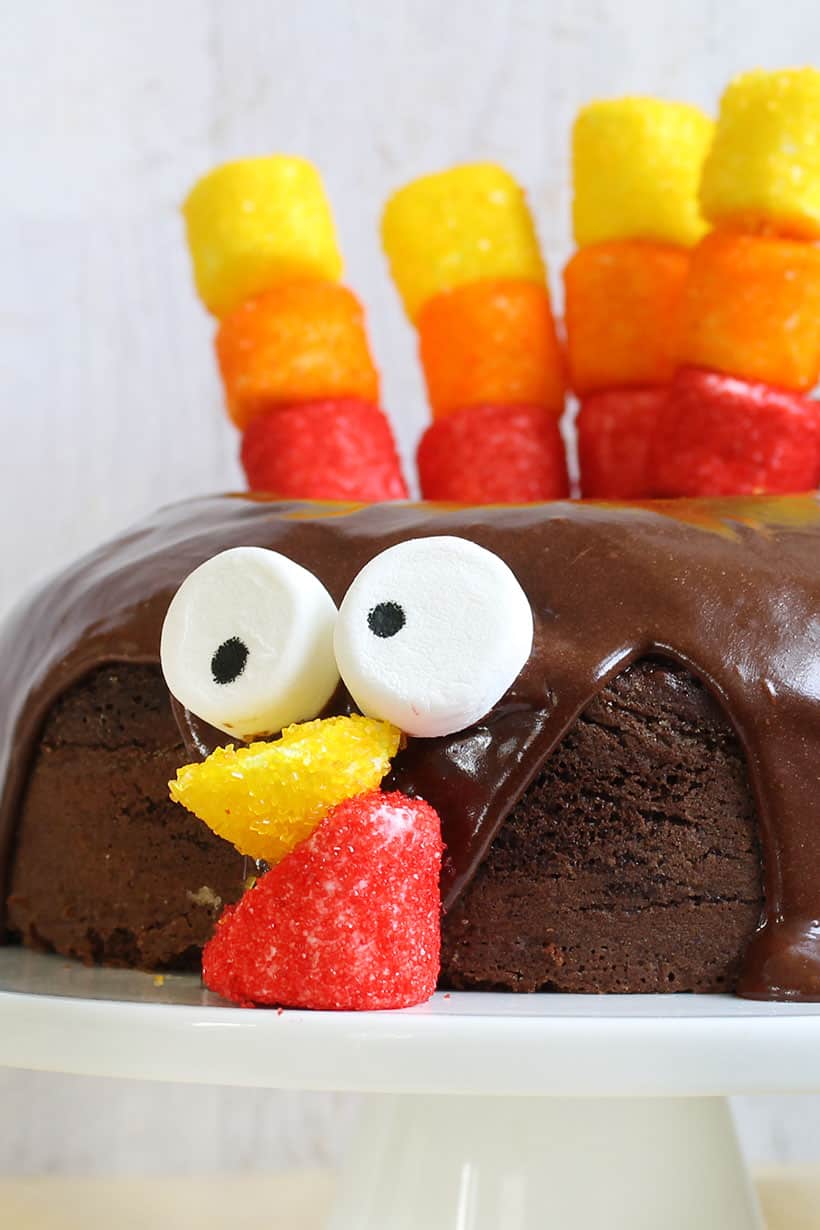 turkey food ideas
Need more fun food ideas for Thanksgiving? Check out these turkeys.
some notes about this Thanksgiving dessert
To make this cake easy as can be, I used store-bought cake mix and frosting. You can of course use your favorite homemade recipes, too!
Don't add more than three marshmallows to the lollipop sticks or they may be too heavy for the cake to hold.
supplies and ingredients to make the cake
chocolate cake mix
store-bought chocolate frosting
marshmallows
how to make a chocolate turkey cake
Prepare a chocolate cake in an angel food pan and let cool.
Microwave store-bought chocolate frosting for 15 to 20 seconds until it's of a pour-able consistency. Spoon over the cake and let set.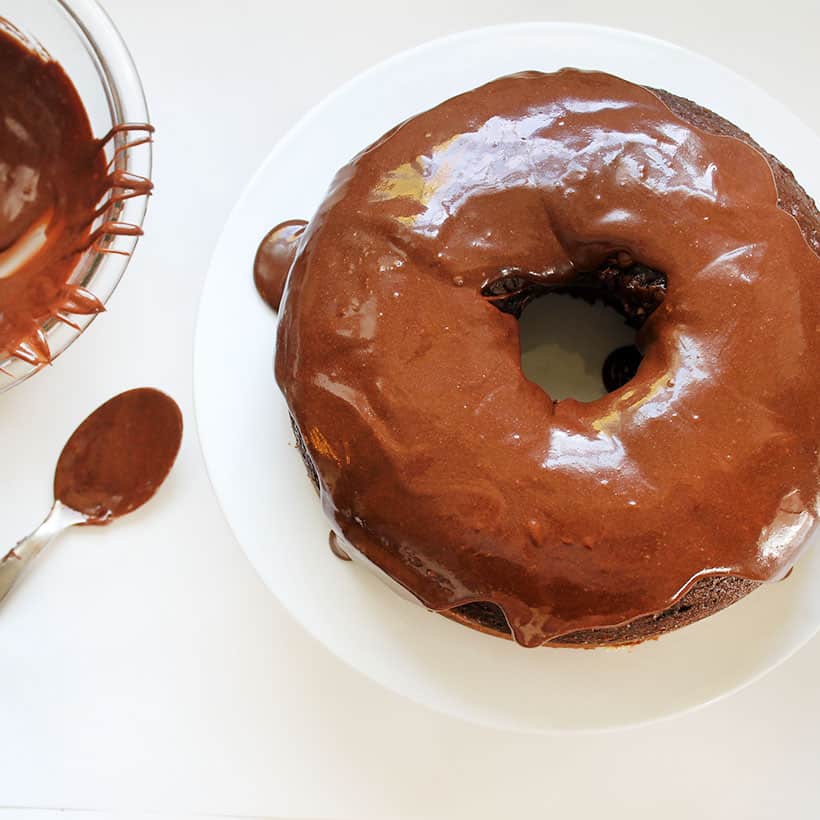 For the tail feathers, I use the same instructions for rainbow marshmallow kabobs. You'll need 5 lollipop sticks topped with three marshmallows each in yellow, orange, and red.
To coat marshmallows in sprinkles, use a toothpick to dip a marshmallow in water, shake off excess, and then cover with yellow, orange, or red sprinkles. And let set to the touch.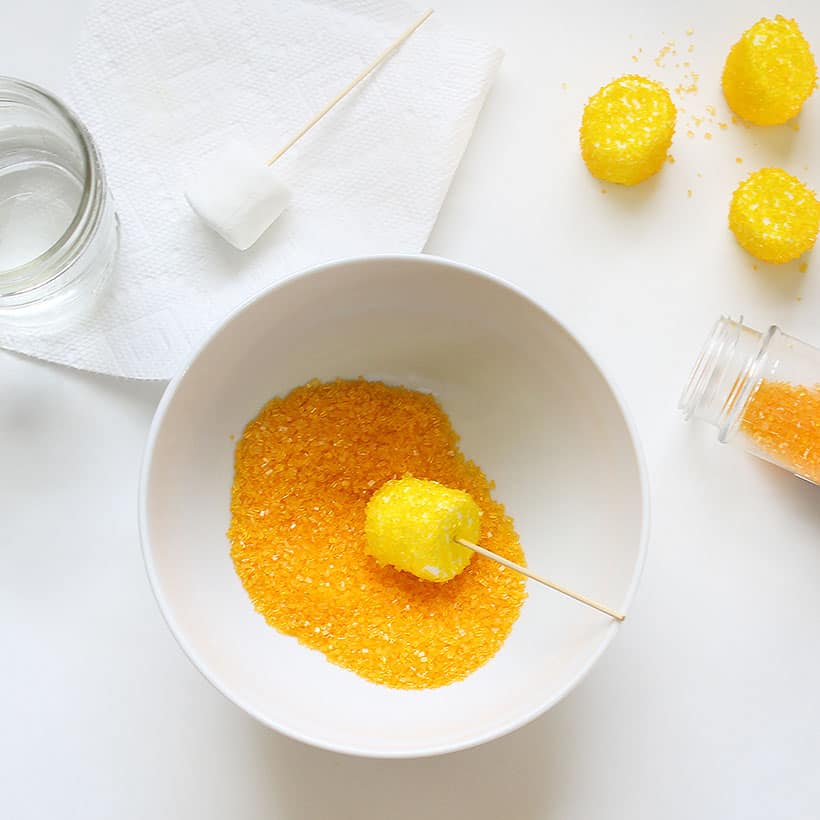 Slide the dried marshmallows on lollipop sticks. Tip: Grease the stick with vegetable shortening so the marshmallows glides on easily.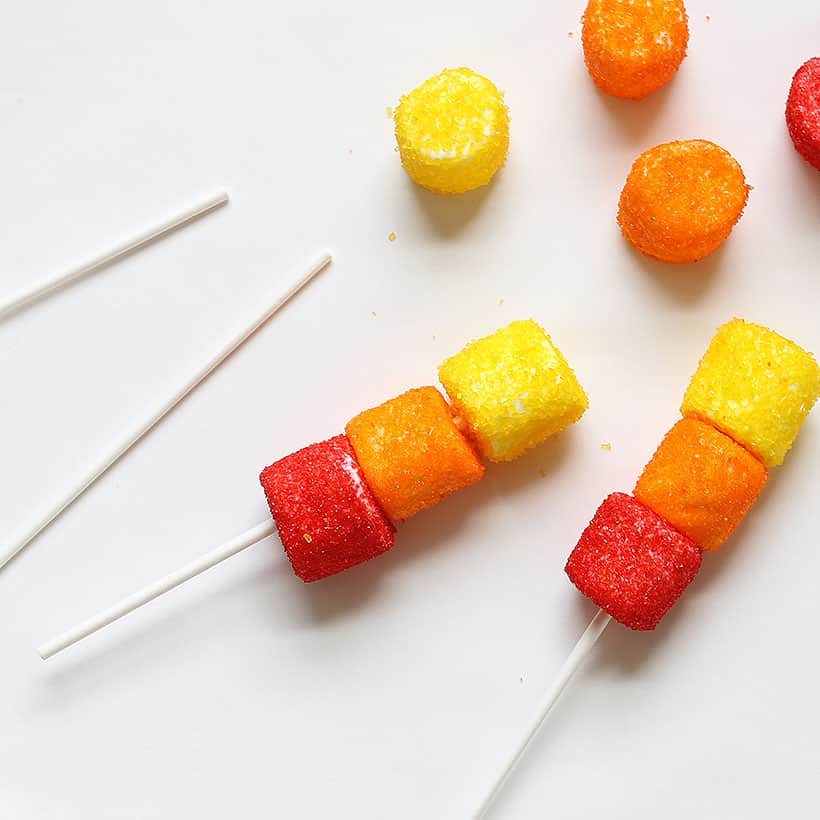 Prop the sticks in the cake.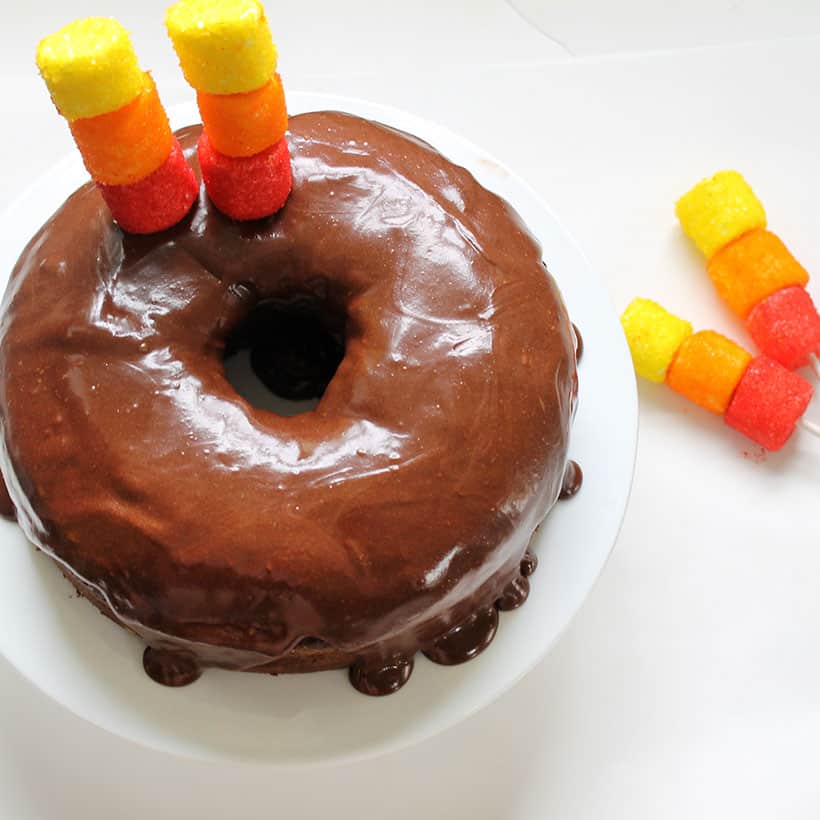 Slice a marshmallow in half. Use a black food writer to draw eyes and attach to the cake with frosting.
Cut a marshmallow diagonally and coat half in yellow and the other in red using the method above. Arrange on cake.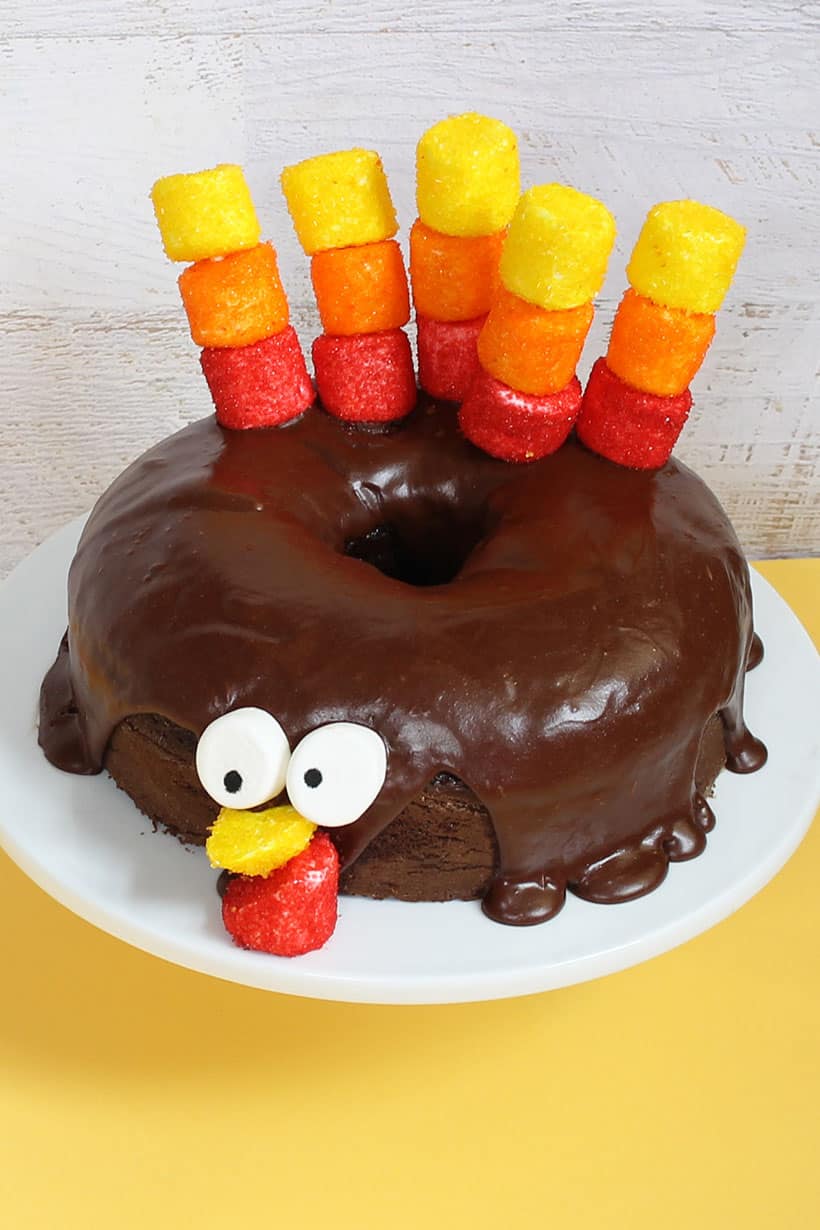 This turkey cake post was originally published in 2014 and updated in 2020.