Disclosure: *This post may include affiliate links. As an affiliate, I earn from qualifying purchases.


This turkey fruit platter for Thanksgiving is so easy to assemble. It's perfect to serve with Thanksgiving dessert or as an appetizer, or to bring in to a Thanksgiving classroom party.
turkey fruit platter
I made this (healthy!) turkey fruit platter for my daughter's classroom Thanksgiving breakfast celebration. It is so adorable and conversation-sparking, but so easy to assemble.
If you like, you may use skewers for the fruit, but because the kids are in kindergarten and I didn't want to be responsible for putting anything sharp near them, I just piled the fruit in the tray.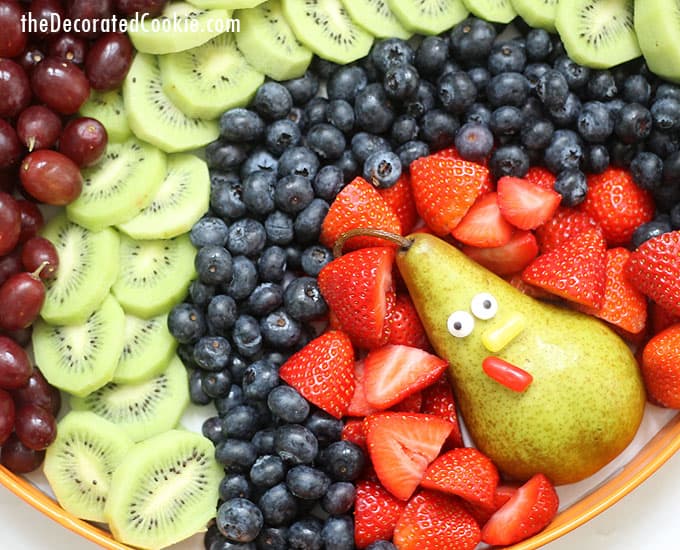 more Thanksgiving fun food ideas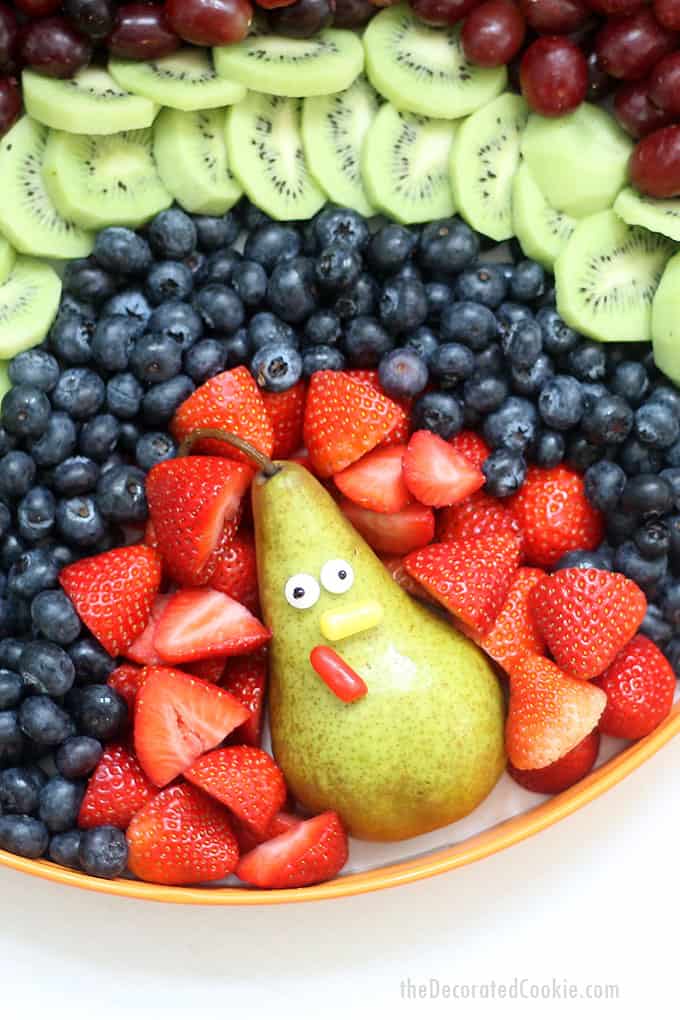 how to make a turkey fruit platter
you will need:
Serving tray
Assorted fruit
Bosc pear
light corn syrup or honey
the serving tray
Choose any serving tray you have. I happened to have a perfect-size orange tray that I got years ago. It's about 16-inches across, so the amount of fruit I suggest here is for that size tray.
I was feeding a classroom of more than twenty, so you may need a smaller tray if your even has less guests.
Line the tray with freezer paper (or wax or parchment paper). I cut two circles of freezer paper the size of the tray to line the tray.
the pear turkey
Slice a bit off of the back of a Bosc pear so it sits flat in the tray.
To make the face, use dabs of light corn syrup to adhere the candy eyes, a yellow Mike and Ike for the beak and a red for the wattle.
TIP: If you assemble the fruit the night before, don't add the face until right before you serve. I added mine the night before, and kept the tray in the refrigerator, and it did work fine, but some moisture affected the candy eyes.
the fruit
Start with the first layer around the pear and add different-colored fruits. Because I wanted to assemble this the night before, I chose all fruits that did not brown (so no apples or bananas).
For my 16-inch tray, I used an entire container of strawberries, a container of blueberries, six kiwis, half a package of seedless grapes, and about 8 to 10 cutie oranges (quartered).