Disclosure: *This post may include affiliate links. As an affiliate, I earn from qualifying purchases.


This Girl Scout cookie chocolate bark is a fun and easy way to use all your delicious Girl Scout cookies in one dessert.
Girl Scout cookies chocolate bark
I know what you're going through right now. You ordered too many Girl Scout cookies, huh? Is your kid selling them? Mine is. Your nieces? Your granddaughters? Your neighbor's kid? Those kids outside the supermarket who look so darn cute in their vests and are brutal salesgirls? Not to worry. I'm here to save the day. If you're looking for Girl Scout cookies recipes, then Girl Scout cookies chocolate bark is the answer. (Isn't chocolate always?)
If you like this idea, check out Samoa marshmallow pops or Thin Mints popcorn. Or, want to bake some homemade cookies? Try this Milano cookies recipe. (This post was originally posted in February 2015 and updated in February 2019.)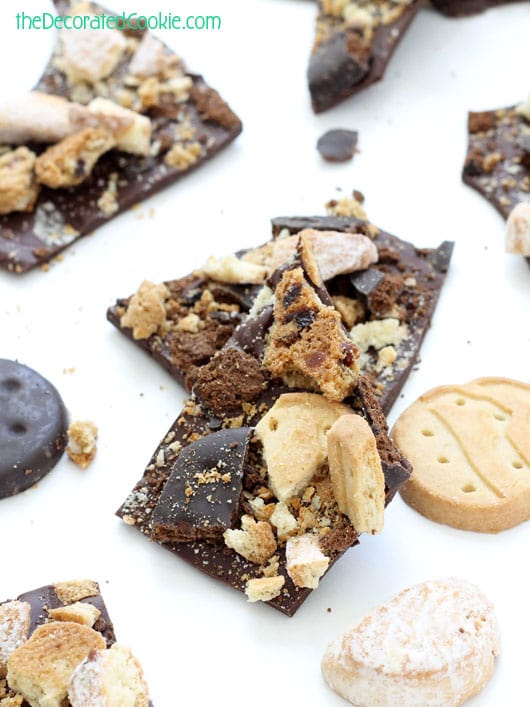 Specifically, Girl Scout Cookies Chocolate Bark. (Made with no actual Girl Scouts.) When you can't decide what to do with all those boxes, when you can't choose which box to dig into first, make bark.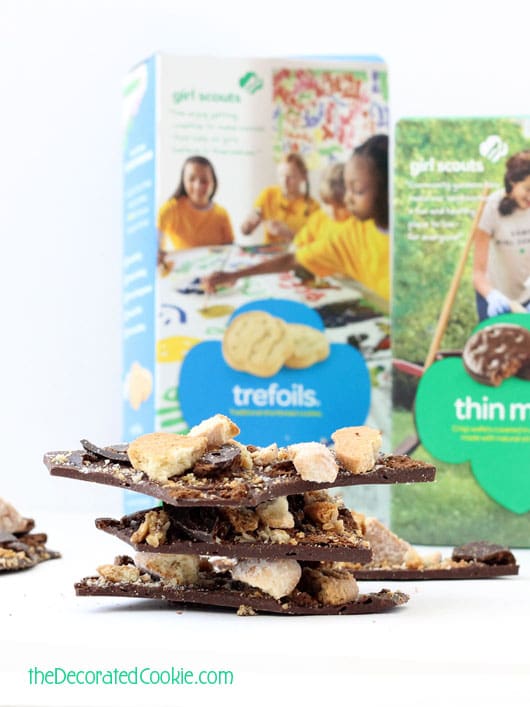 Here I used four different flavors of Girl Scout cookies: Trefoils, Thin Mints, Rah Rah Raisins, and Savannah Smiles. Dang, why didn't I order Samoas? I always order Samoas. They'd be perfect on this bark. But you can't go wrong with any cookie combo. Geez, I added the lemon and the thin mints, and even they work great together.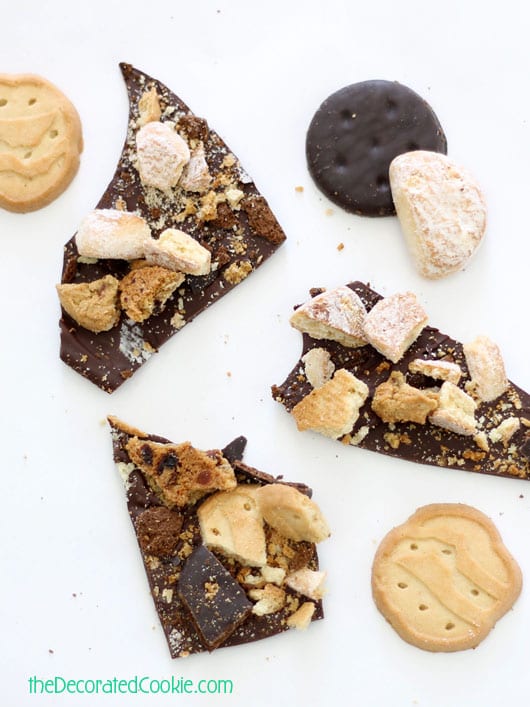 how to make Girl Scout cookies chocolate bark
you will need:
about 25 Girl Scout cookies, any flavor(s)
baking tray
parchment paper
1 package (2 cups) semisweet chocolate chips (or any preferred chocolate)
Line a baking tray with parchment paper and set aside. Coarsely chop the Girl Scout cookies with a knife. It's OK to have a bunch of crumbs in there, too.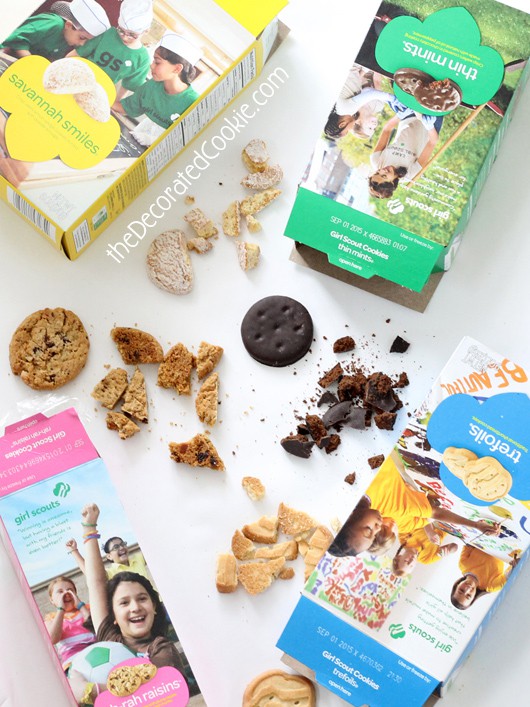 Melt the chocolate chips in the microwave or stove top. (Either pour into a microwave-safe bowl and microwave at 70 percent power for 90 seconds, then 30 second intervals, stirring until melted or melt in a saucepan over simmering water.)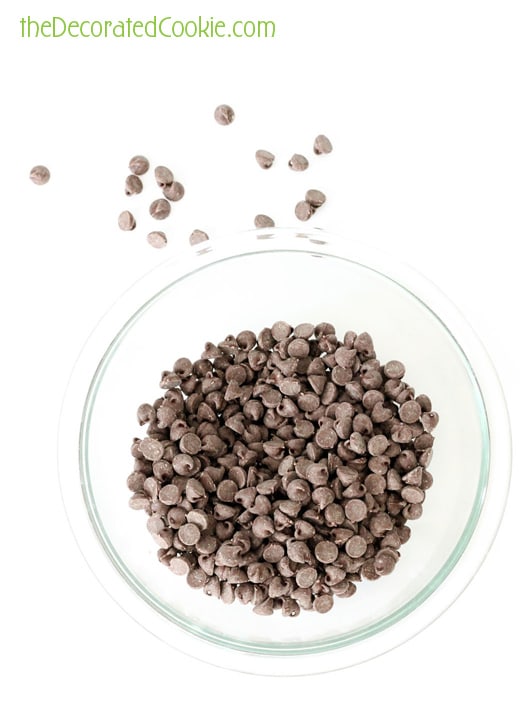 Pour the melted chocolate onto the prepared tray. Spread into an even layer. The chocoalte won't fill the entire tray. Immediately sprinkle the cookies, crumbs and all, over the chocolate and gently press the cookies into the chocolate.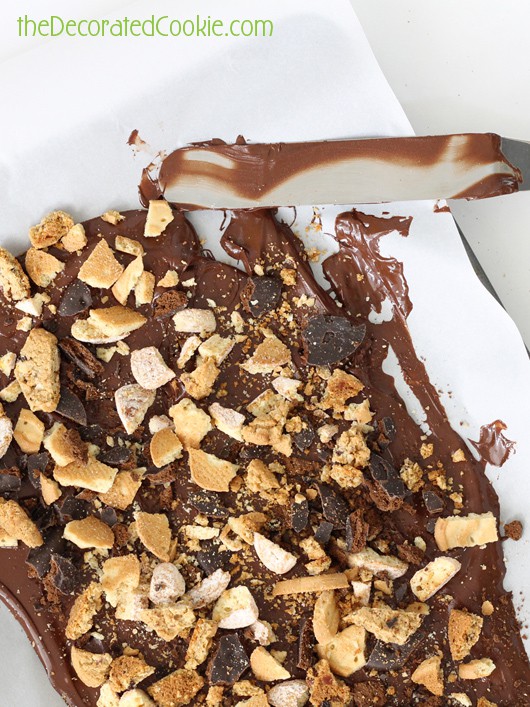 Refrigerate until firm, about 1 hour. Then break into pieces.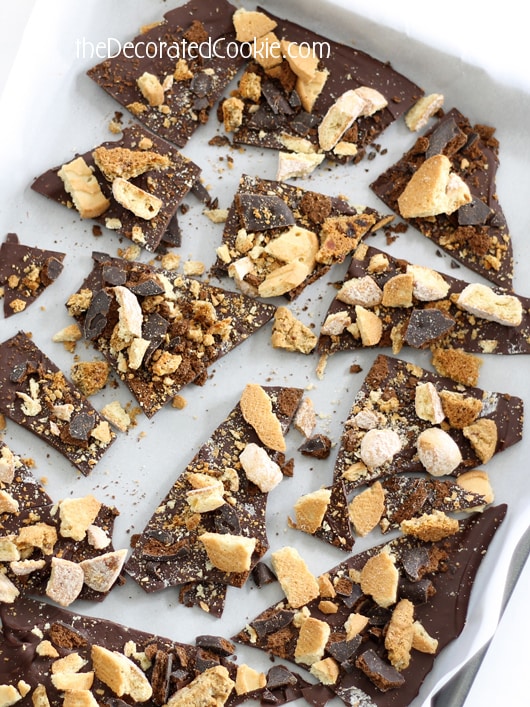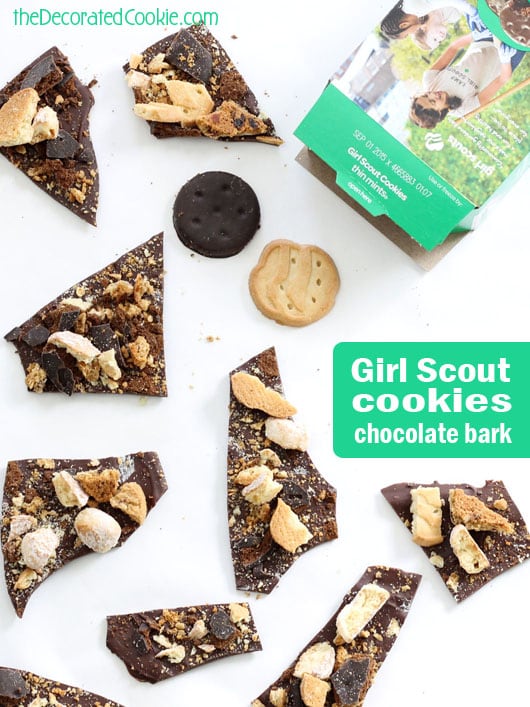 PIN FOR LATER: