Disclosure: *This post may include affiliate links. As an affiliate, I earn from qualifying purchases.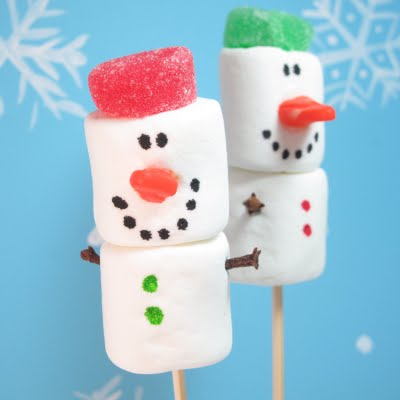 Marshmallow snowmen! Easy Christmas or winter treat ideas.
Marshmallow snowmen for the win! Marshmallows are the perfect snowman canvas.
And as I've been so into marshmallows lately, it was just a matter of time before I made marshmallow snowmen.
These are super easy and kid-friendly. As you can see from the masterpiece in pink and purple below, my 2-year old loves using my edible pens on marshmallows.
You may also use bits of pretzel sticks for the arms instead of cloves (though I like the stubby stick-like cloves, and they smell so lovely), and any candy you can find for the hat and nose. Instead of skewers, you can use lollipop sticks, too.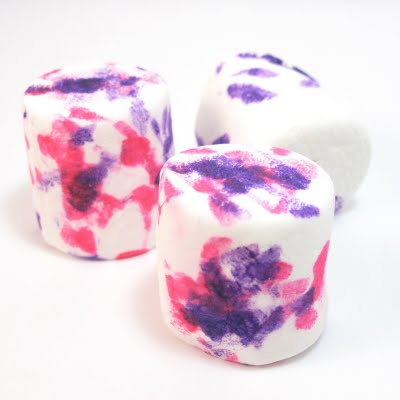 how to make marshmallow snowmen
you will need:*
marshmallows
edible pens
skewers
candy corn
large gum drops
whole cloves
sharp knife
light corn syrup
*NOTE:
Edible pens are available at craft stores, though I use Americolor gourmet writers, available in specialty stores and online.
Find skewers in the supermarket or drug store.
If you can't find candy corn, you can also tint fondant (found at the craft store) with orange food coloring to make the carrot nose. See my melting snowman cookie post for instructions how to do that.
Lastly, you can also substitute large chocolate sprinkles or pieces of black licorice lace for the cloves to make the snowman totally edible, or omit the arms altogether.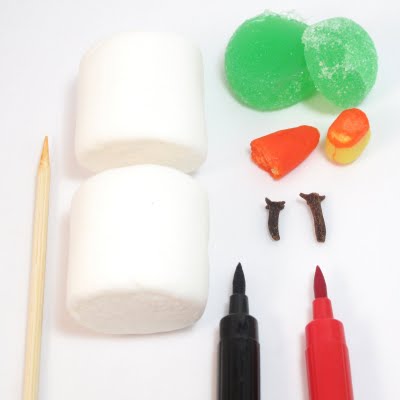 what to do:
Skewer two marshmallows.
Cut a large gum drop in half with a sharp knife and place on top of the marshmallows.
Press skewer into gum drop to keep in place.
Cut off the yellow bottom of a piece of candy corn and dab flat end in light corn syrup.
Press onto the top marshmallow for the carrot nose.
With a black edible pen, make dots for eyes and mouth. With any other color, make dots for buttons on the second marshmallow.
Press cloves into sides for arms. (If you have difficulty getting cloves into the marshmallows, use a toothpick to make holes.)
Let snowman rest on his back for a couple hours or overnight to let the nose dry.