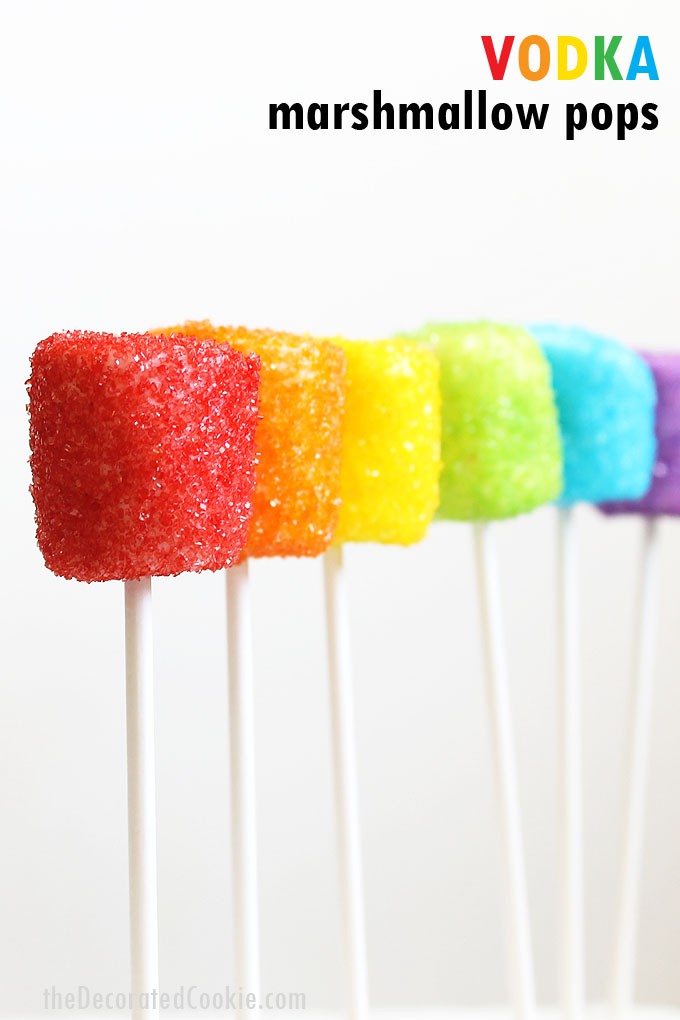 vodka rainbow marshmallows
OK, super cool party people and anyone in the DC area who may come to my house for a happy hour in the near future, I have something I think you'll like. Vodka rainbow marshmallows pops. Well, vodka-dipped. It's a colorful cocktail and dessert in one, and on a stick no less. And sparkly. And rainbow. Perfect for a grown-up My Little Pony party.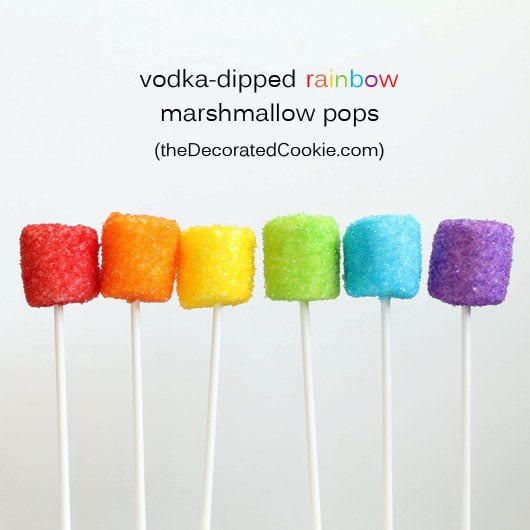 I did fancy myself brilliant when the bizarre train of thought in my head stopped at these. Though truthfully, I don't know what happens to the alcohol in vodka when it dries. So I got to test them out in the middle of the day to make sure they still tasted alcohol-y after a few hours. They do. I even tried them the next morning. (Vodka for breakfast!) They still work. I don't know how many you'd have to consume to make a dent in your sobriety though.
But I still call them "drunken." You can also call them "boozy" rainbow marshmallow pops.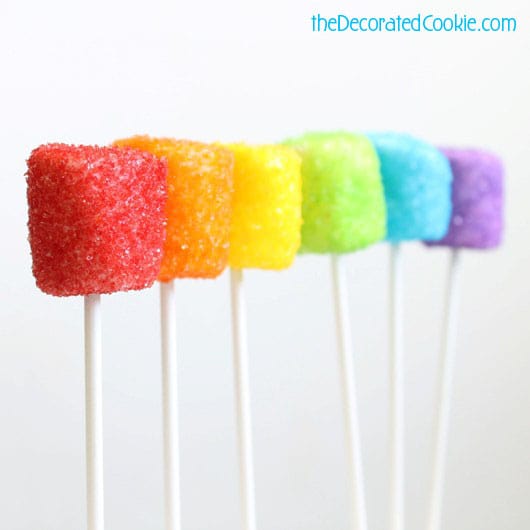 Or maybe this is what "drunken" rainbow marshmallow pops look like: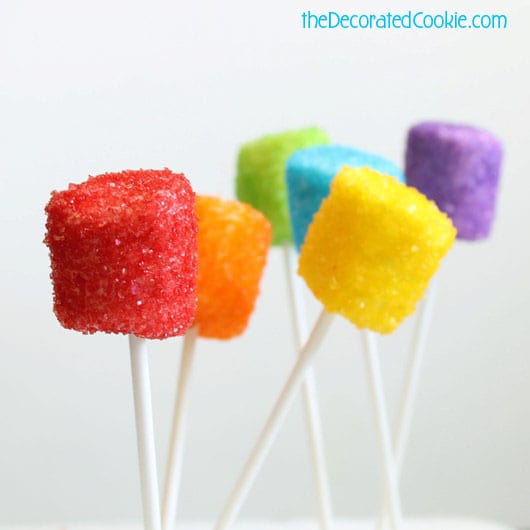 UPDATE: A couple years later, I'm adding some video how-tos for you. The full, written instructions are below, as are links to supplies. Enjoy!
more sprinkle marshmallows
I used the same method of creating sparkle marshmallow pops I've used for years, starting with these sprinkle marshmallow pops HERE. Then these Valentine's Day sprinkle marshmallow pops HERE. Then these video how-tos for sprinkle marshmallow pops HERE. And don't forget those rainbow marshmallow kebobs. Only this time I replaced the water with vodka. So easy and drunk-like. And if you have kids around, you can of course make some the old-fashioned way, with water instead of vodka. But they look exactly alike, so pleeeeeease label them well so I don't have angry parents writing me angry emails.
Next time, I'm trying these with gin. And by the way, if you like these, check out my BOOZY FUDGE. My favorites so far are the tequila fudge shots.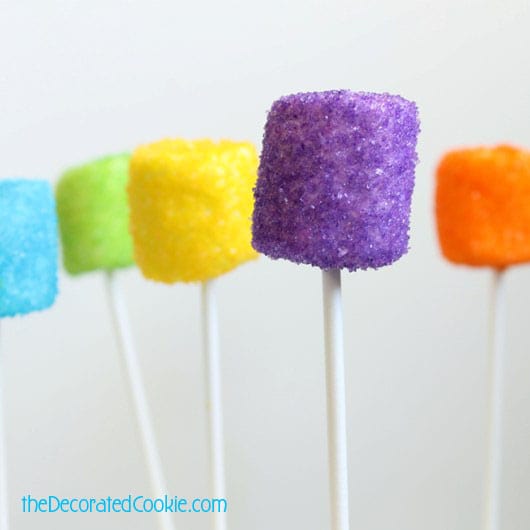 how to make vodka rainbow marshmallows pops
you will need:*
vodka
8-ounce mason jar
marshmallows
lollipop sticks
sprinkles
Styrofoam block
*Find the Styrofoam block, lollipop sticks and sprinkles in every color at the craft store. Or, see below for affiliate links to supplies.
what to do: Pour vodka in a cup. I used a small, 8-ounce mason jar as that minimized vodka waste because it's so narrow. You need only pour in about 2-ounces. Skewer a marshmallow with a lollipop stick. Submerge the marshmallow in the vodka, remove and tap the stick on the edge of the jar to shake any excess vodka from the marshmallow. Hold the marshmallow over an empty bowl. Shake sprinkles over the wet marshmallow to generously coat the marshmallow. Prop the marshmallow in the Styrofoam block to dry. Repeat with any desired colors.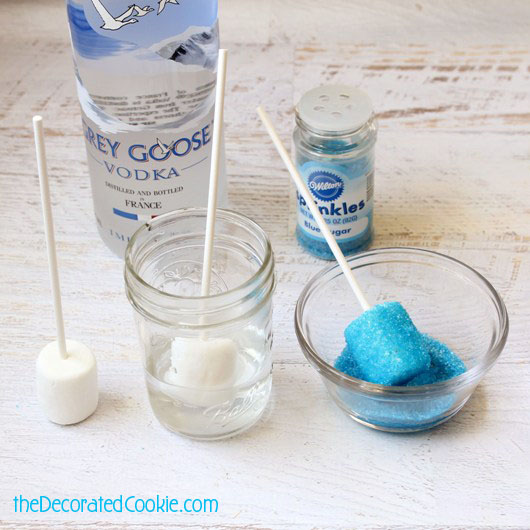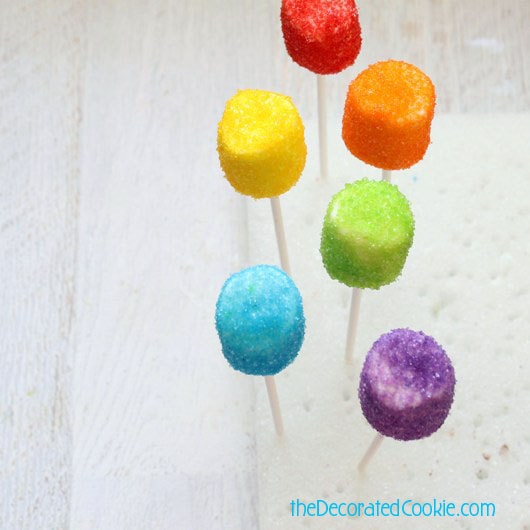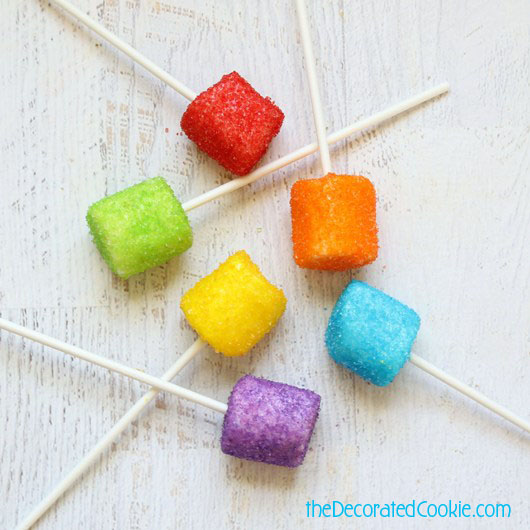 PIN FOR LATER:
SUPPLIES: