How to decorate easy starfish cookies, a fun food idea for summer or beach parties.
summer cookies
My little girl is starting school Monday, sniffle. I wanted to squeeze in one more treat for Summer, despite the craziness of our weekend (she turns four on Saturday and we're throwing a family-only rainbow party, and I promise more on that later). Given said craziness, these starfish cookies are super duper easy to decorate. These would be great for any summer party or BBQ, beach party, or even a shore house hostess gift? (Feel free to invite me to your shore house.)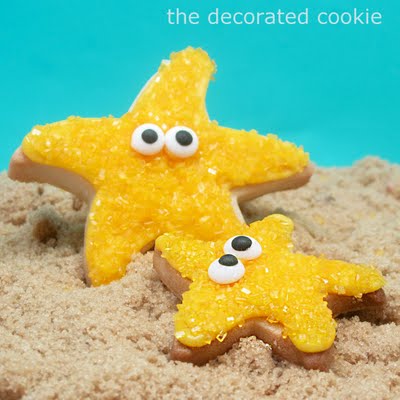 Whenever I need a quick decorating tool, I turn to sprinkles. Coating a cookie in sprinkles means you can be a little lazy with the frosting. No need to flood, just pipe back and forth, since the sprinkles will cover anything anyway. And I bought these candy eyes at the craft store, speeding things up even more.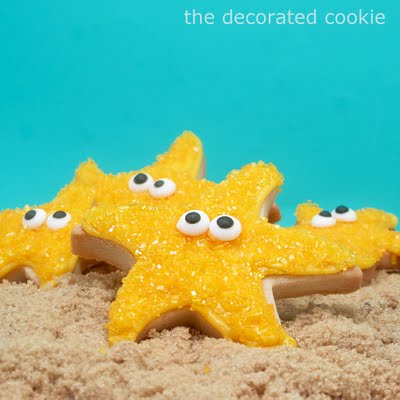 Did I mention how crazy things are right now? Oh right, I did. So you may not hear from me 'til next week, when I'll fill you in on some rainbow party details… Happy Summer!
If you like these starfish cookies, check out these easy Oreo crabs or flip flop cookies. I also love these mini popsicle cookies.
how to make starfish cookies
you will need:*
cut out cookie dough and royal icing
star cookie cutter(s)
yellow food coloring
yellow sprinkles
disposable decorating bag
coupler
size "4" and size "2" decorating tips
candy eyes
*I used sizes two and three-inch star cutters, but you can use any size you prefer. For food coloring, I suggest Americolor soft gel paste (Egg Yellow). Find the sprinkles, decorating bag, coupler, tip and candy eyes in the craft store. You should also find a set of star cutters there. Find cookie decorating supplies HERE.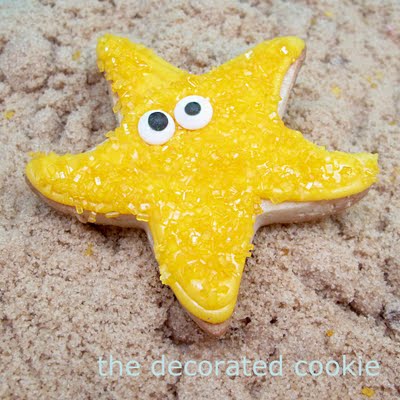 step one: bake your cookies
Prepare dough according to recipe, chill, roll out, cut out stars and place on a parchment paper-lined baking tray according to the recipe. Use your fingers to bend the points of the stars a bit every which way (doesn't have to be exactly as shown). Bake and let cool.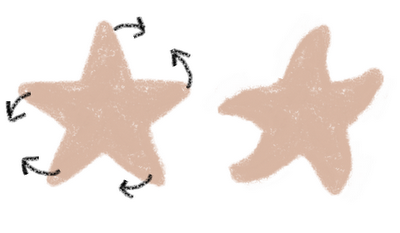 step two: prepare your icing
Prepare icing according to the recipe. Tint some yellow. Prepare the decorating bag with coupler and size "4" tip, fill with the icing and close tightly with a rubber band.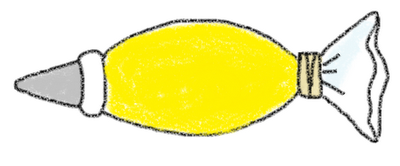 step three: decorate your cookies
Pour the sprinkles in a shallow bowl. Work with one cookie at a time. Pipe an outline on the cookie, then pipe back and forth in a zig zag motion to completely fill the cookie with yellow icing. Immediately hold the cookie at the edges, turn over and dip the entire iced area of the cookie in the sprinkles, turn back over and place on the baking tray.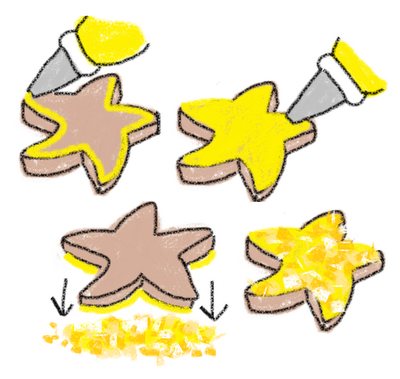 step four: add the eyes
Switch the tip on the decorating bag to size "2." For each eye, pipe a dot on the back of the candy eye and adhere to the starfish. (This is necessary so the eyes adhere to the sprinkles.) Let the cookies dry overnight.