Disclosure: *This post may include affiliate links. As an affiliate, I earn from qualifying purchases.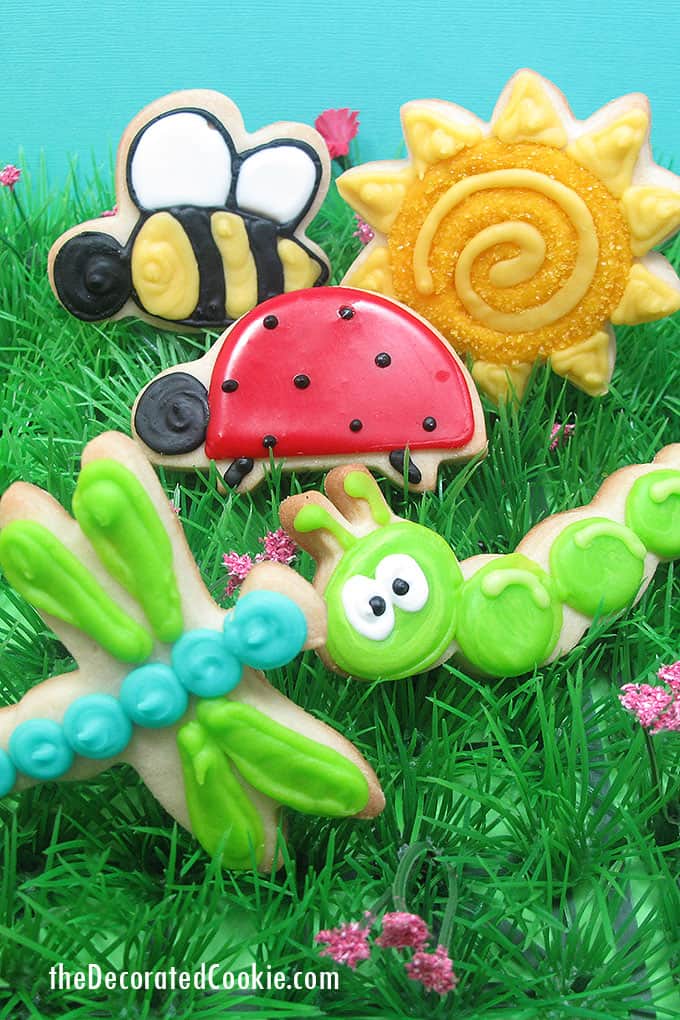 bug cookies
I love these bright, happy bug cookies. They are great to bake and decorate for bug party favors, spring or summer, or just for fun.
Here, I use royal icing to decorate ladybugs, caterpillars, dragonflies, bumble bees, and a sun to watch over them all.
more bug fun food ideas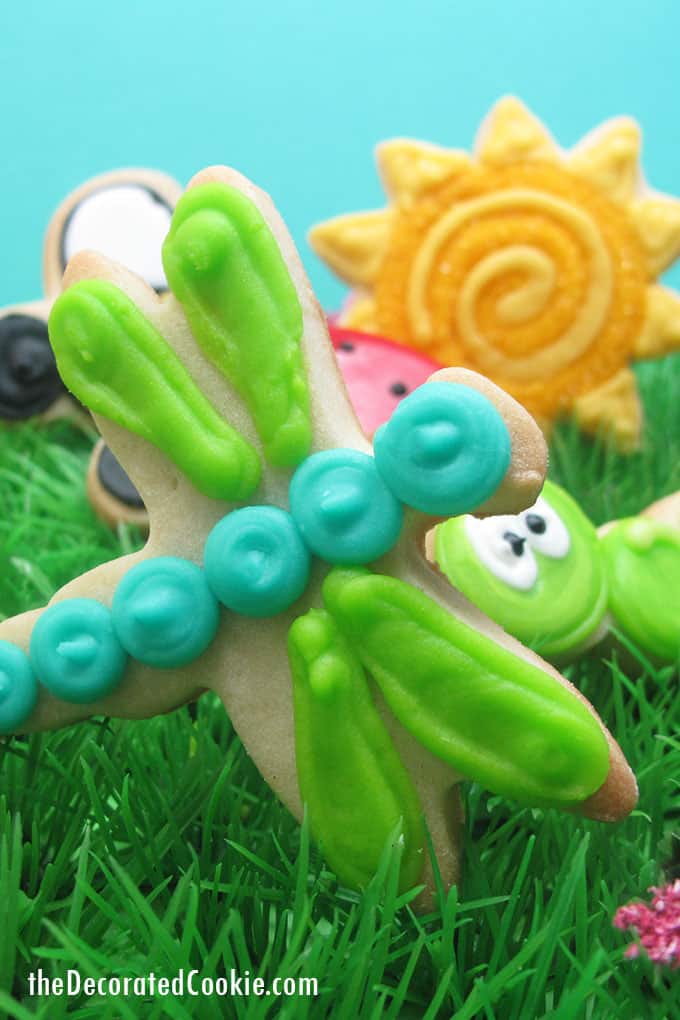 cookie baking with kids
Naturally, my daughter is a cookie maker extraordinaire. (If by any chance my match is reading this, I promise we washed our hands thoroughly and had no sniffles.) Seriously.
She actually rolled out and cut out several of the cookies here. (And if such a task is not unusual for a three-year old, please don't tell me this and ruin the illusion that mine is a prodigy.)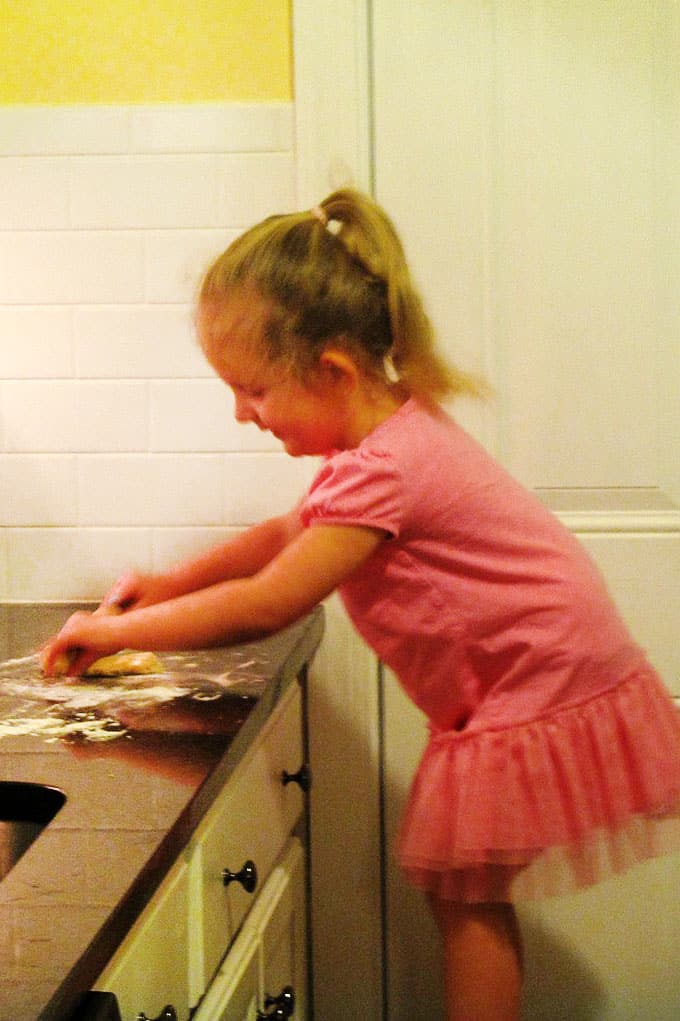 This is her masterpiece: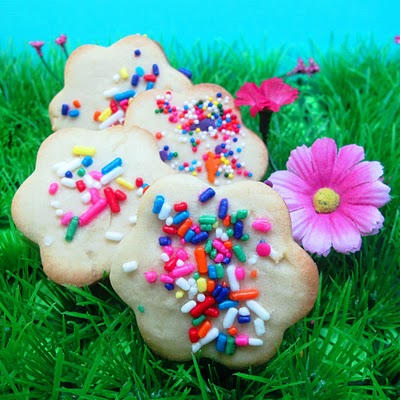 how to decorate bug cookies
supplies and ingredients you'll need
*Colors used here: Super Black, Bright White, Red Red, Egg Yellow, Sky Blue, Electric Green.
cookie decorating tips
how to decorate the cookies
Prepare the cookie dough according to the recipe. Chill, roll out, cut out your bugs, bake, and let cool.
Make the royal icing recipe and divide. To make all the cookies, you'll need to tint icing black, white, red, two shades of yellow, lime green (a little bit of lighter lime is optional), and blue. Assemble decorating bags with couplers and tips. Fill with the icing, and close tightly with rubber bands.
to decorate sun cookies
Use the size 4 tip to pipe a swirl of darker yellow. Immediately coat with yellow sprinkles and turn over to remove excess. Pipe a swirl and triangles with the lighter yellow using a size 3 or 4 tip.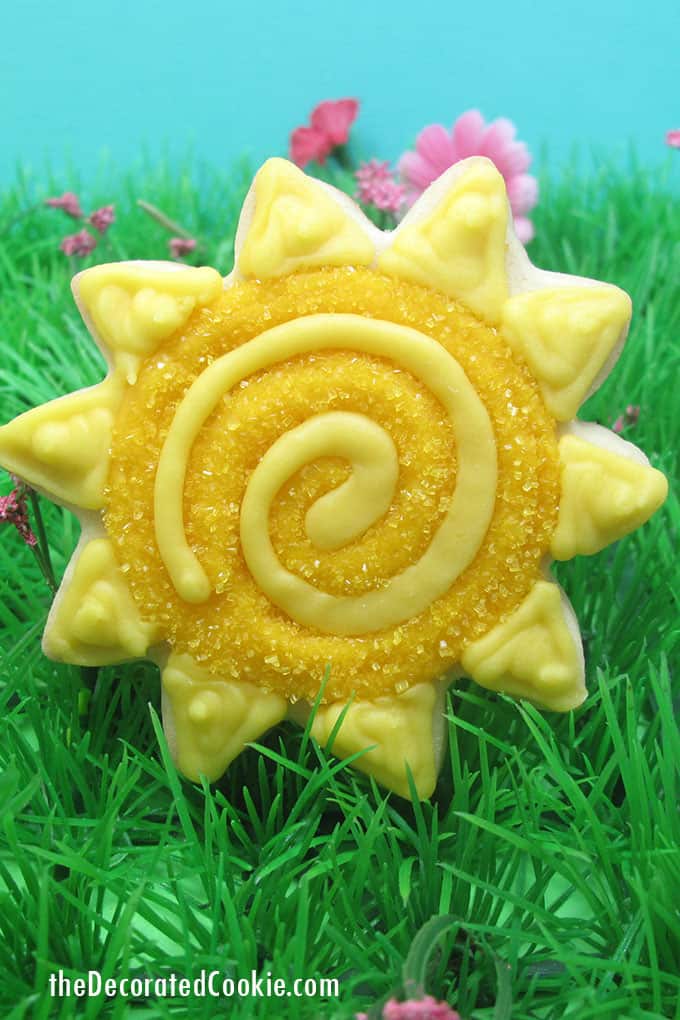 to decorate ladybug cookies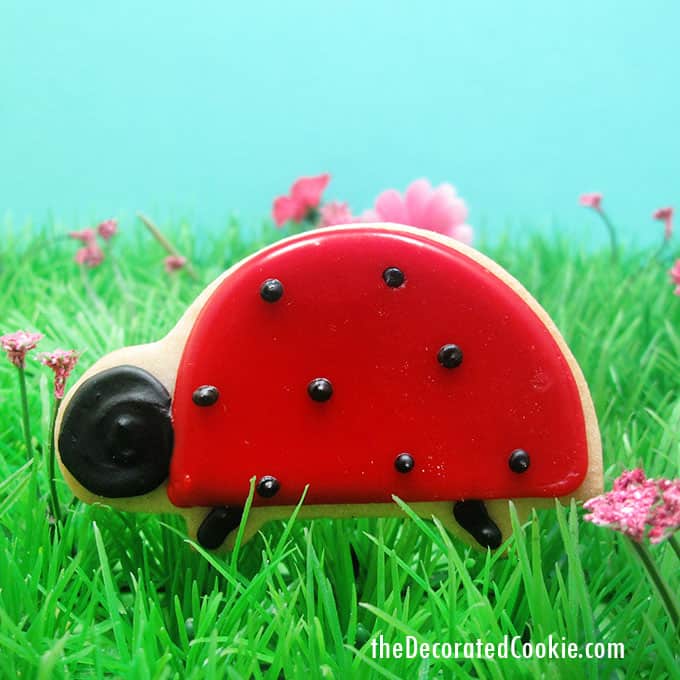 Outline the head with black icing using a size 3 tip. Outline the ladybug with red using a 3 tip. Thin a bit of red icing with water so it slowly folds into itself when turned over the bowl. Fill an empty decorating bag, snip the tip, and pipe to fill the ladybug. Pipe black dots on top.
to decorate caterpillar cookies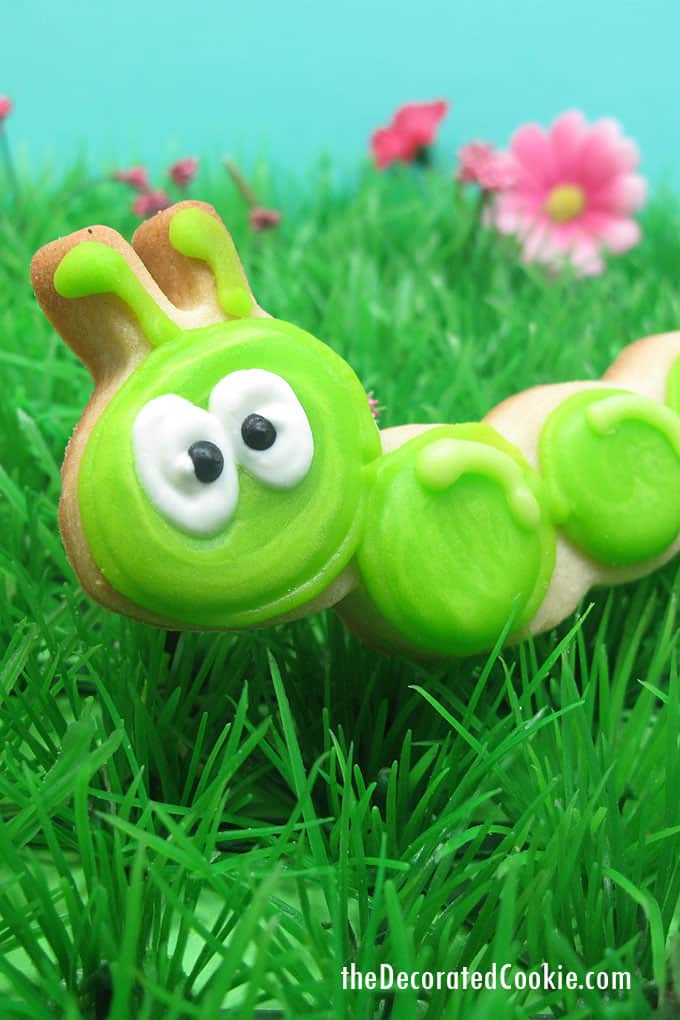 Outline the with lime using a size 3 tip and let it set. Follow the instructions above for the ladybugs to fill with thinned green. Pipe a highlight with light lime (or white icing) using a 3 tip. Pipe white dots for eyes using a 3 tip, then black dots with a 2 tip.
to decorate dragonfly cookies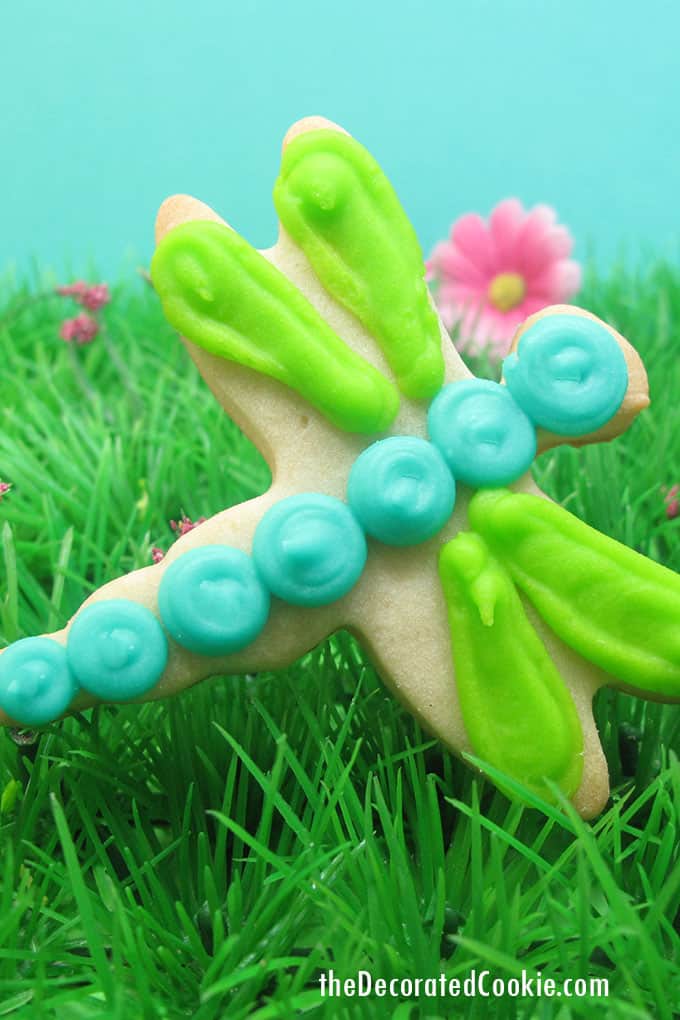 Use size 3 or 4 tips. Pipe dots of blue for the body and pipe lime for the wings.
to decorate bee cookies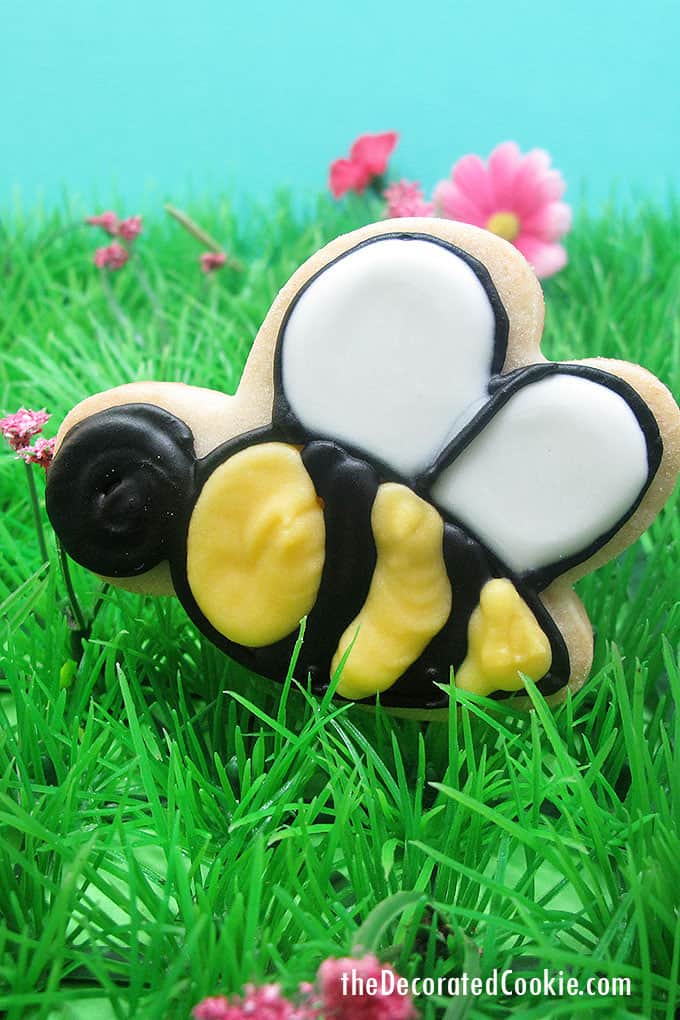 Outline with black using a size 3 tip. Pipe to fill the black and yellow, and fill the wings with thinned, white icing.
to decorate daisy cookies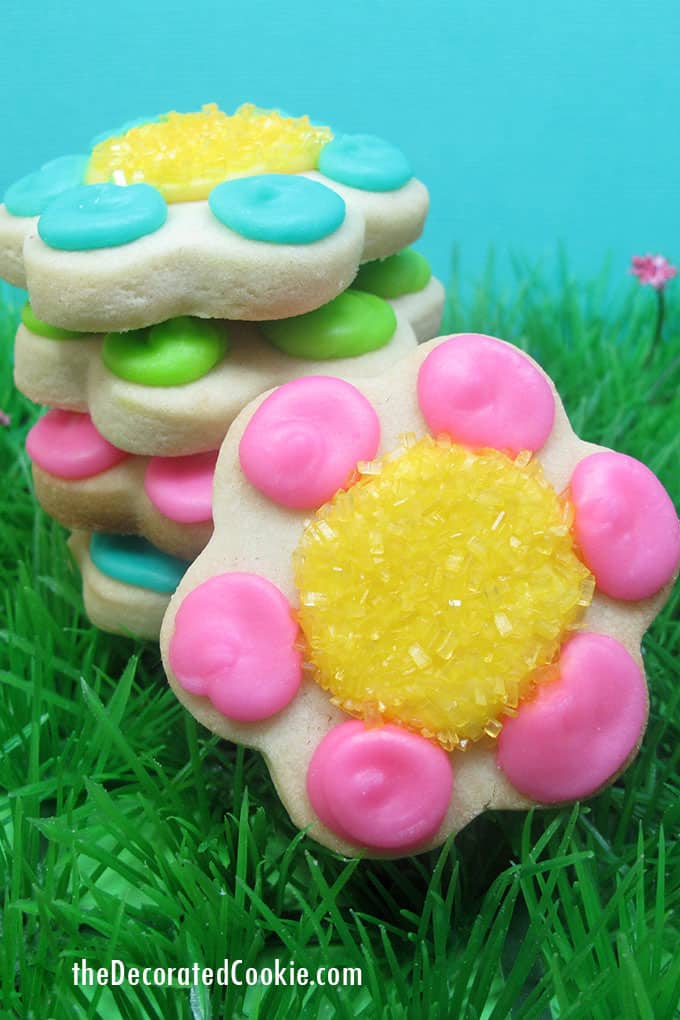 Use size 4 tips. Pipe and fill a yellow circle and immediately coat with sprinkles. Pipe dots for the petals.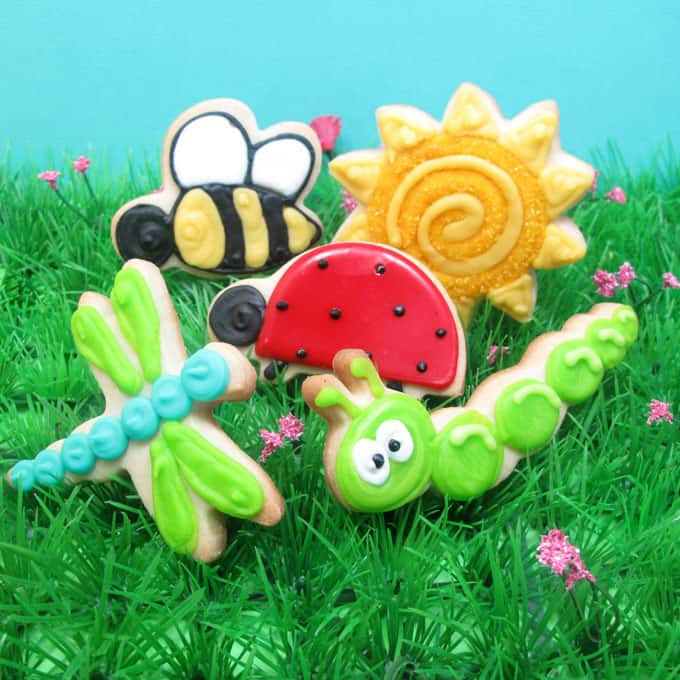 For the original bug cookies post, Amanda from
i am baker gave a
plea for help
. She offered two dozen cookies to five of her readers most deserving of a pick-me-up. Well, she found each of the 165 responders deserving, so she reached out to us ("us" meaning the baking blogging world) to help out, and in no time at all, every responder had a baker match. So I made these happy bug cookies. This post was created in March 2011 and updated in June 2020.