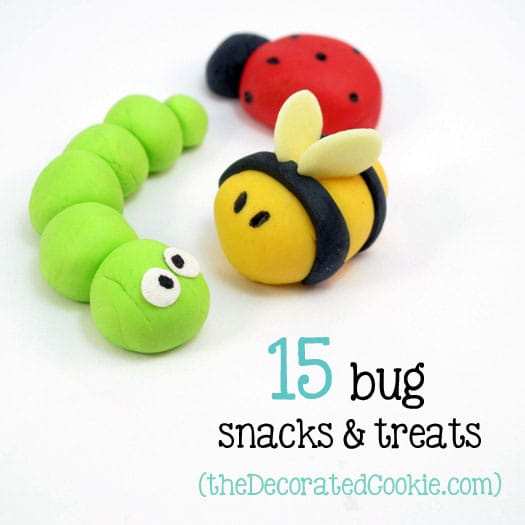 edible bugs roundup
Why would you need an edible bugs roundup? I don't know. Bug party? Love of critters? Summer picnic party or BBQ?
Ever since my run-in with that centipede (millipede? jillipede?) last week, I've had bugs on my mind. Shudder. I am not a friend to bugs. I don't need to hear the lectures on their benefits to the environment. I'm perfectly happy to let bugs be and do their work. Outside. Even when I help my husband garden (and by "help," I mean pick stuff from his garden, and usually only when he's out of town and unable to do it), I wear gloves and then screech pathetically if I'm surprised by something creepy and crawly, which I am. Every time. (So why am I surprised?) I can manage catching lightning bugs with my daughter, but only just barely. I'm not proud of this ick thing I have. I want to have more fortitude. I just don't see that happening.
When searching for bug-themed food, google offered me some horribly un-cute images. I scratched myself in my frazzled freaked-outness of it all trying to get all the imaginary bugs off me. Injury by bug-images. So the ones I chose are cute and totally not-icky.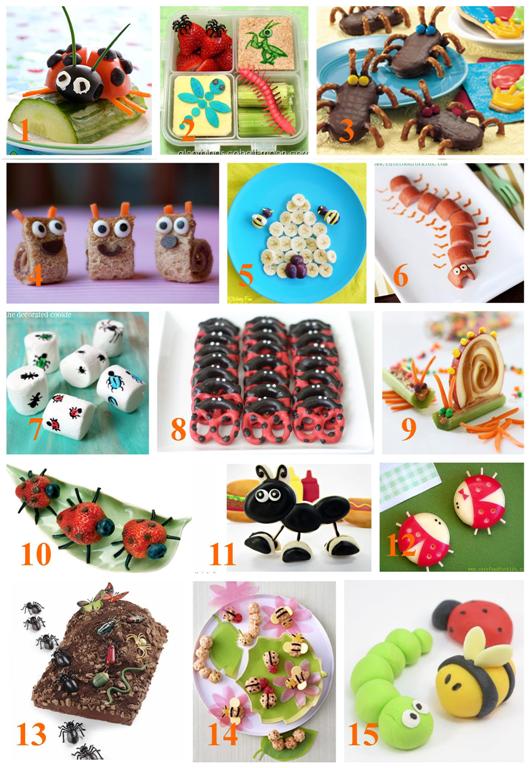 2. Bug bento from Glory's Mischief.
4. PB and J snails at Bento Mama.
5. Beehive snack from Kitchen Fun with My 3 Sons.
6. Caterpillar hotdog, from Cute Food For Kids.
7. Draw bugs on marshmallows at the decorated cookie. (Hmm, I managed those somehow.)
8. Ladybug pretzels from Bee in Our Bonnet.
9. Snail snack from Meals.com.
10. Strawberry ladybugs at National Wildlife Federation.
11. Standing up ant cookies from The Bearfoot Baker.
12. Babybel ladybug from Cute Food for Kids.
13. Bug mountain cake from Spoonful.
14. Rice Krispies Treats bugs from Martha Stewart.
15. Fondant bugs for cupcakes or cakes at the decorated cookie.