Garden pancake art: Fun and colorful pancakes to make for spring breakfast.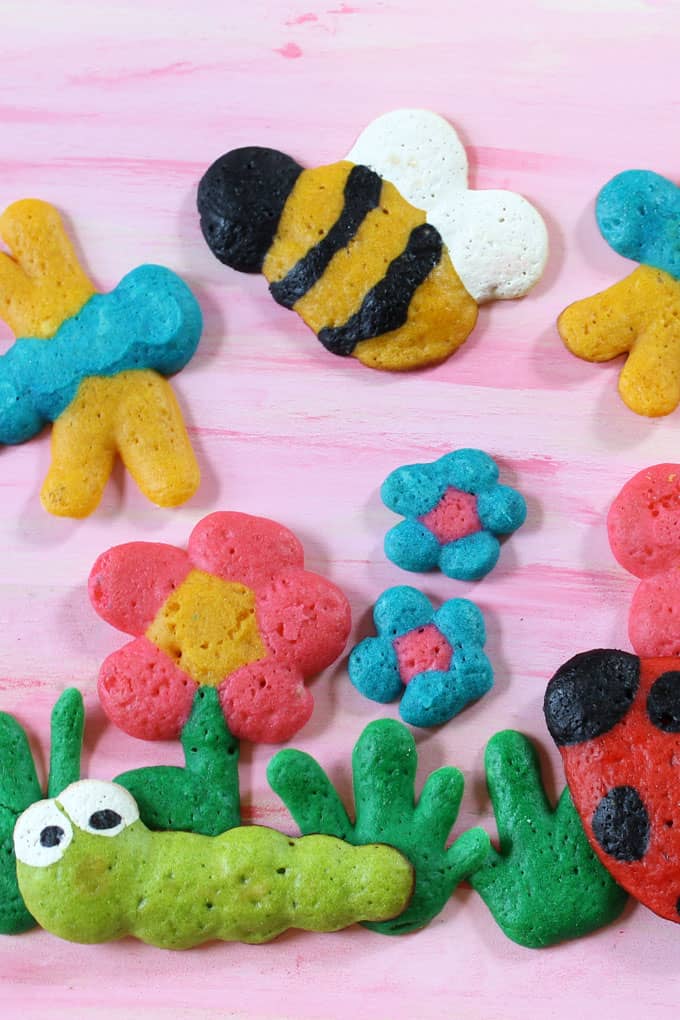 pancake art
So I got invited to a Pancake Party, and I didn't even have to wear my PJs and slippers (though I wear these with stunning frequency, so I was probably wearing them when I made these pancakes). Rachel of Rachel Cooks is hosting a Pancake Party for all of July. Each day a different blogger will contribute a different, yummy pancake. Be sure to visit Rachel Cooks this month to see all the fabulous pancake recipes and ideas from awesome bloggers!! I made garden pancake art. (Or, more like bugs and flowers pancakes.)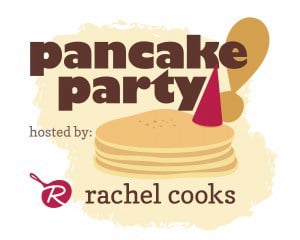 I made these pancakes back in APRIL!! And I've been dying to share them with you. I love participating in this kind of thing, because working outside my usual medium is always a fun challenge. I had to choose "decorated" pancakes, of course. Pancake art for spring! Which means garden pancakes with bugs and flowers.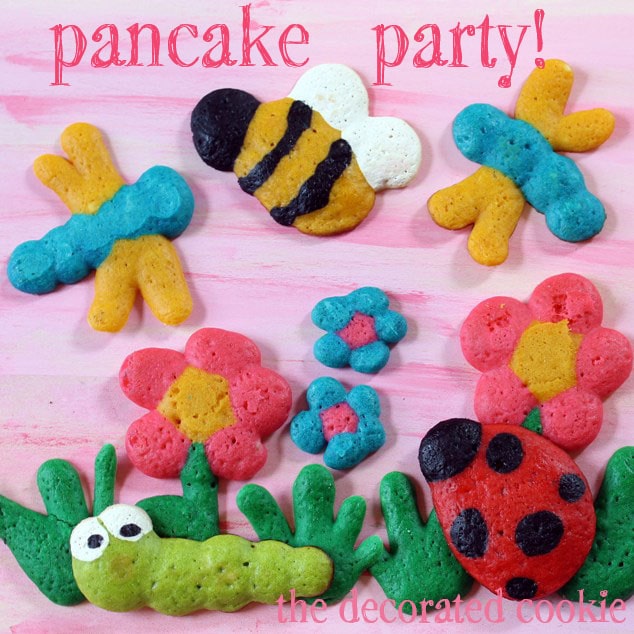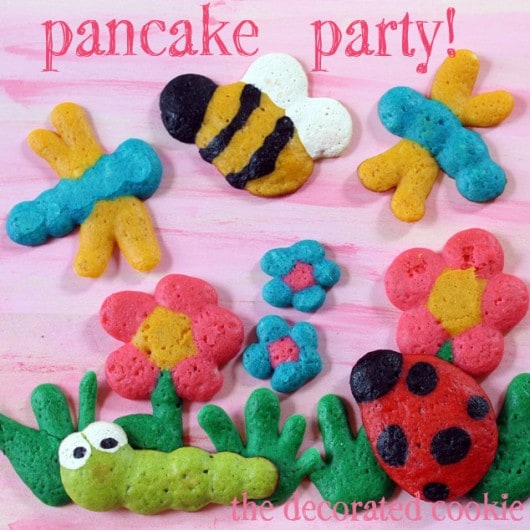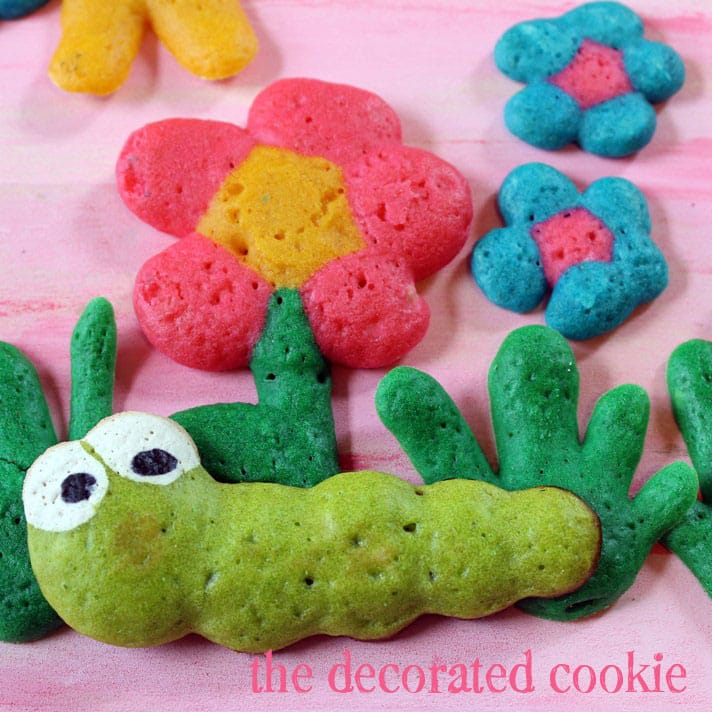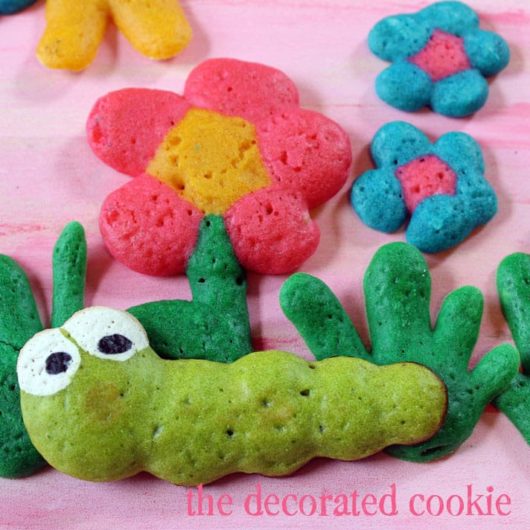 So I just applied my cookie decorating logic to the garden pancake art, much as my four year old applies her own four year old logic to the unknown universe. Like how on gray and cloudy days, both the sun and moon are sleeping.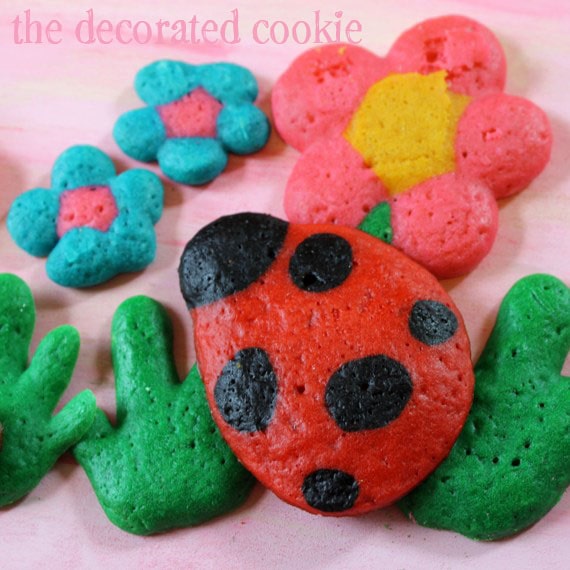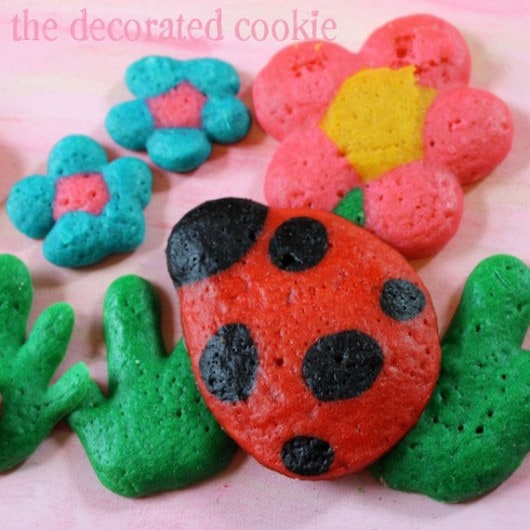 The result? Now I'm hooked on decorated pancakes. When pancakes are treated like cookies… Oh, the possibilities!
If you like this idea, you might like these sheet pan pancakes too.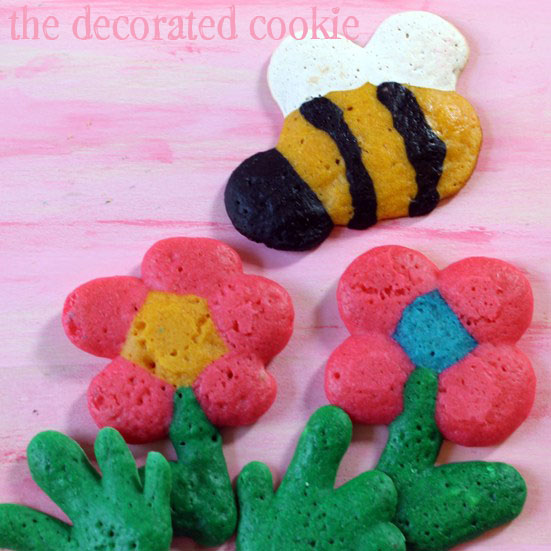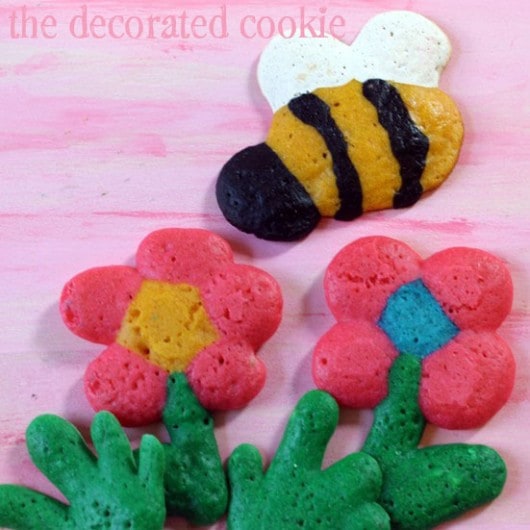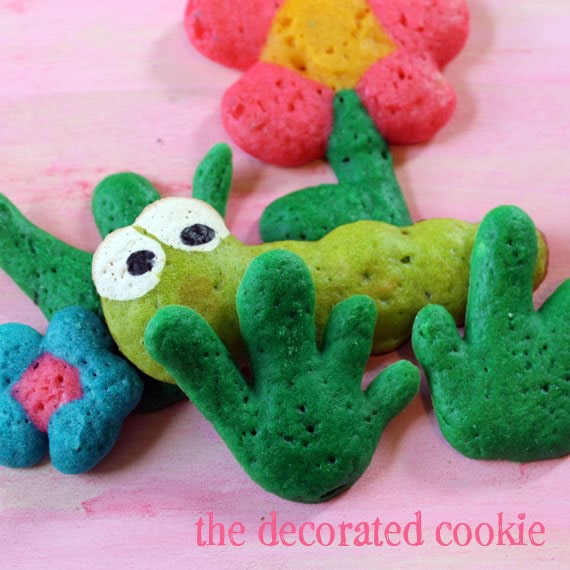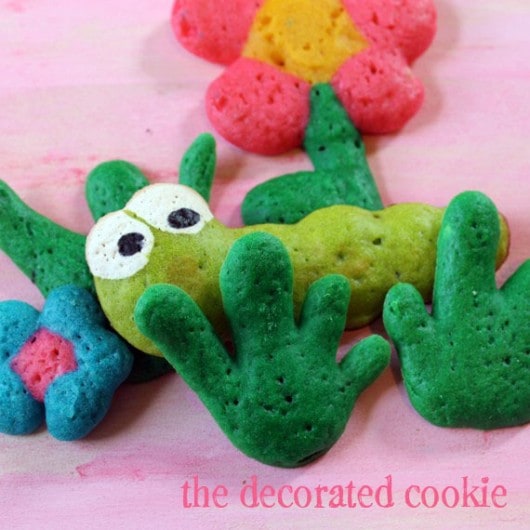 how to make garden pancakes
step one: prepare and color your batter
Prepare your favorite pancake batter. (I make a mean homemade pancake, but for this trial and error exercise, I just used a mix.) Divide the batter into bowls and mix in food coloring. I was surprised to get vibrant colors from only a drop or two of my trusty Americolor Soft Gel Pastes. I used Super Black, Bright White, Red Red, Egg Yellow, Leaf Green, Electric Green, Sky Blue and Electric Pink.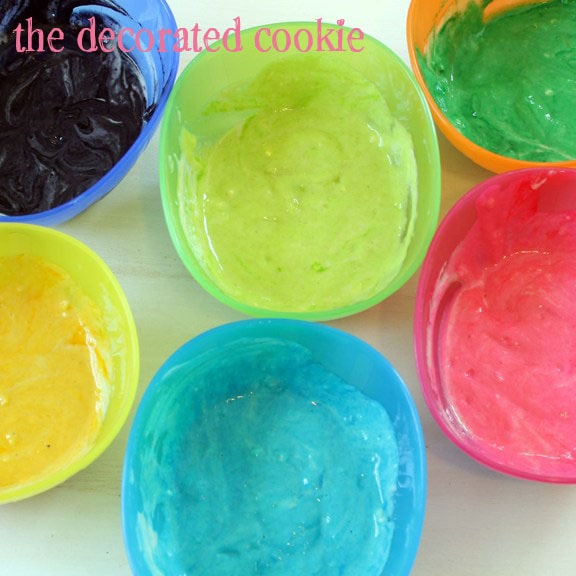 Then I scooped the frosting into disposable decorating bags (find at the craft store), tied closed with rubber bands, and snipped about 3/8 to 1/2 inch from the tips.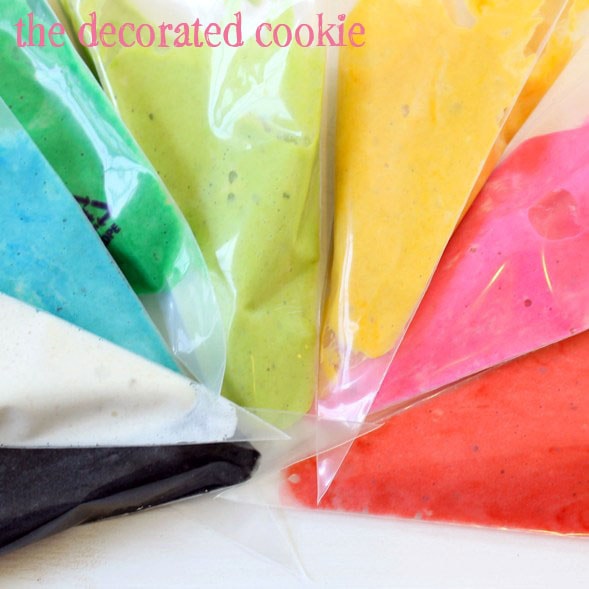 Spray a griddle or frying pan with non-stick spray, then spread the spray around the pan with a paper towel. I usually use butter for pancakes, but I was afraid the butter would mar the final image and I wanted a smooth cooking surface with no bubbles or pools of oil. Do not turn on the heat yet!! Pipe your designs on the griddle (see below for how-tos), THEN turn on medium heat. Heat the pancakes for several minutes until cooked mostly through. Carefully flip and cook briefly on the front side. Flip back over to the front side and transfer to your plate. Serve with a little bowl of warmed maple syrup for dipping.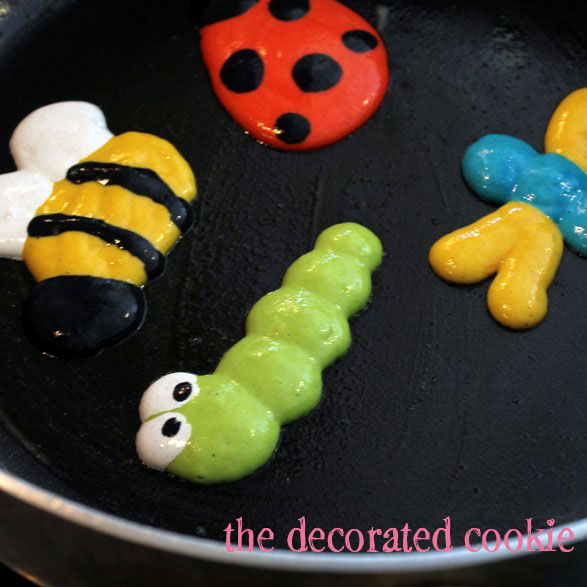 how to pipe the designs
TIP: Don't pipe the designs too big, stick with just a few inches across so they are easy to flip.
For the worm, pipe five dots with lime green. Pipe two white dots on top of the green, then two small black dots on top of the white. For the flower, pipe a yellow dot. Pipe five dots in any color around the yellow dot. Then pipe a stem and leaf with green. For the bee, pipe a yellow bee shape. Add two white wings above. Pipe a black dot for the head and black stripes on top of the yellow. For the dragonfly, pipe five small dots in any color, then pipe the wings in any color. For the ladybug, pipe a red oval. Pipe a black dot for the head at one end, then pipe black dots on top of the red.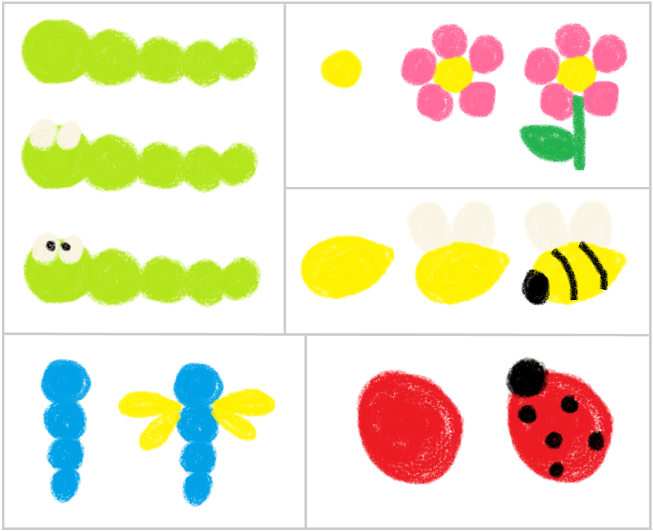 PIN FOR LATER: