Disclosure: *This post may include affiliate links. As an affiliate, I earn from qualifying purchases.


Garden pancake art: Fun and colorful pancakes to make for spring breakfast.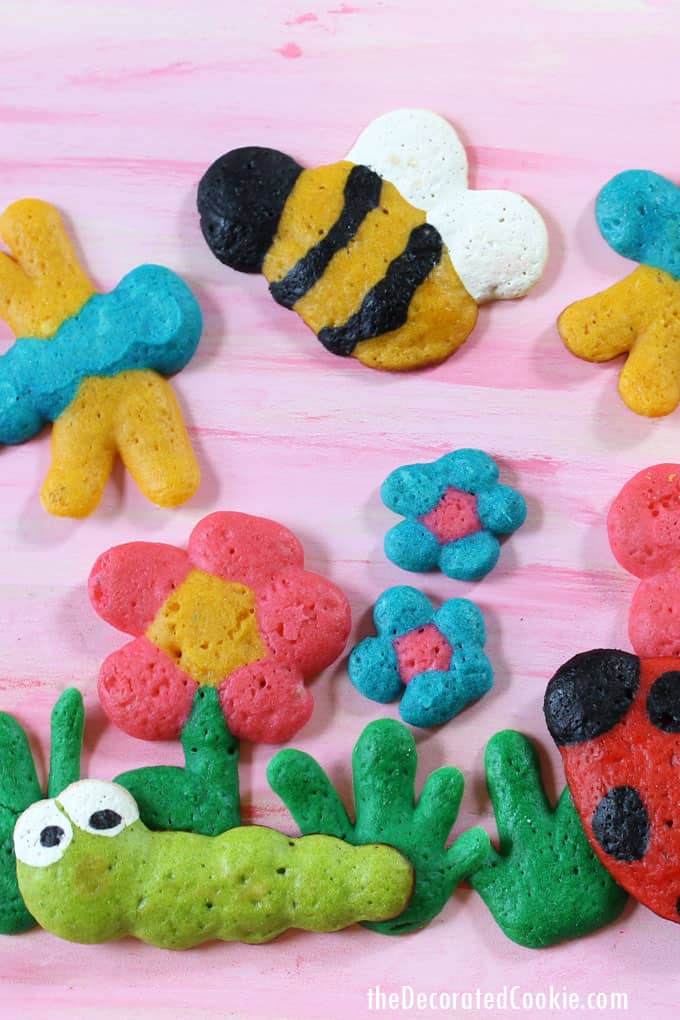 pancake art
Have you ever tried pancake art for a fun breakfast? These garden pancakes with bugs and flowers were my experiment.
I just applied my cookie decorating logic to the garden pancake art, much as my four year old applies her own four year old logic to the unknown universe. Like how on gray and cloudy days, both the sun and moon are sleeping.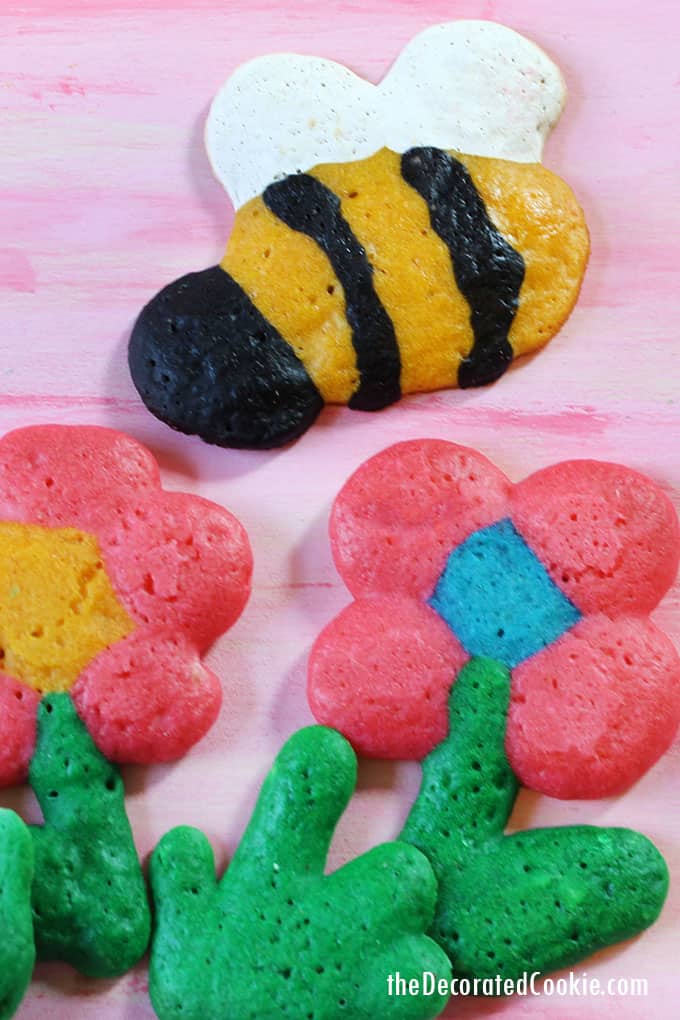 more pancake ideas
If you like this idea, you might like these sheet pan pancakes too.
Believe it or not beer and bacon pancakes are amazing.
Did you know you can use pancake mix to make donuts?
Looking for inspiration? Check out these masters in pancake art: Dancakes or saipancakes.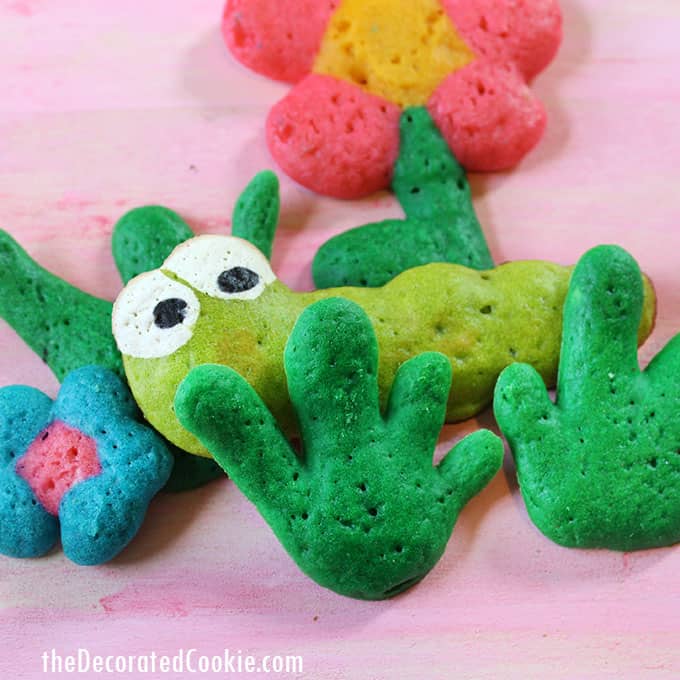 how do you make pancake art?
step one: prepare and color your batter
Prepare your favorite pancake batter, or use a pancake mix. (See below for the best pancake recipe.)
Divide the batter into bowls and mix in food coloring. I was surprised to get vibrant colors from only a drop or two of my trusty Americolor Soft Gel Pastes. I used Super Black, Bright White, Red Red, Egg Yellow, Leaf Green, Electric Green, Sky Blue and Electric Pink.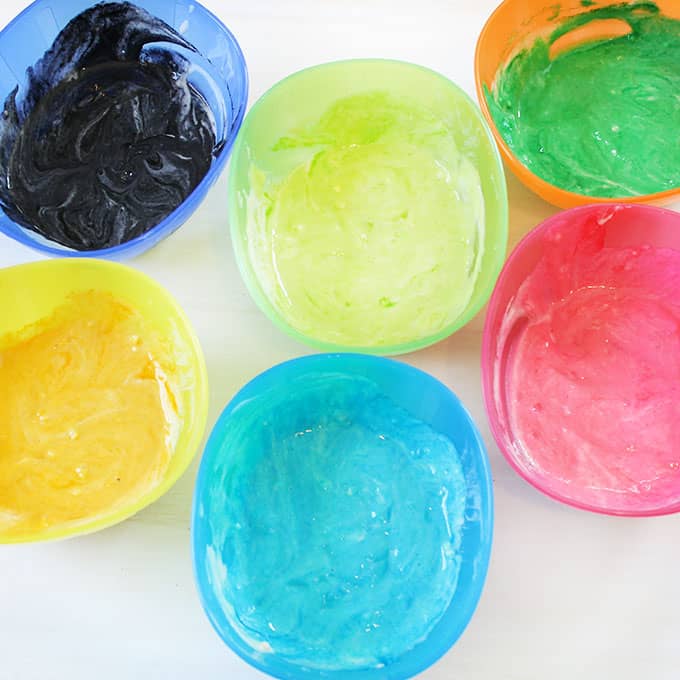 Then I scooped the frosting into disposable decorating bags (find at the craft store), tied closed with rubber bands, and snipped about 3/8 to 1/2 inch from the tips.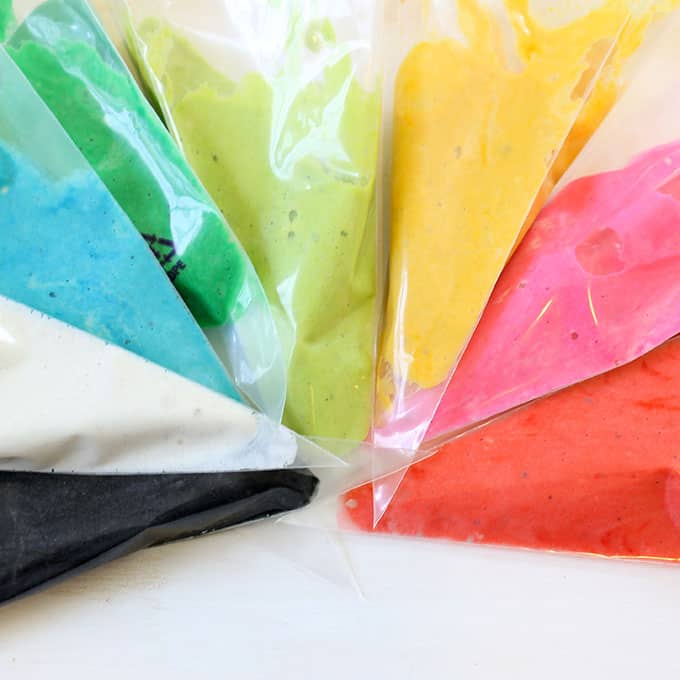 Spray a griddle or frying pan with non-stick spray, then spread the spray around the pan with a paper towel. I usually use butter for pancakes, but I was afraid the butter would mar the final image and I wanted a smooth cooking surface with no bubbles or pools of oil. Do not turn on the heat yet!!
Pipe your designs on the griddle, THEN turn on medium heat. Heat the pancakes for several minutes until cooked mostly through. Carefully flip and cook briefly on the front side. Flip back over to the front side and transfer to your plate. Serve with a little bowl of warmed maple syrup for dipping.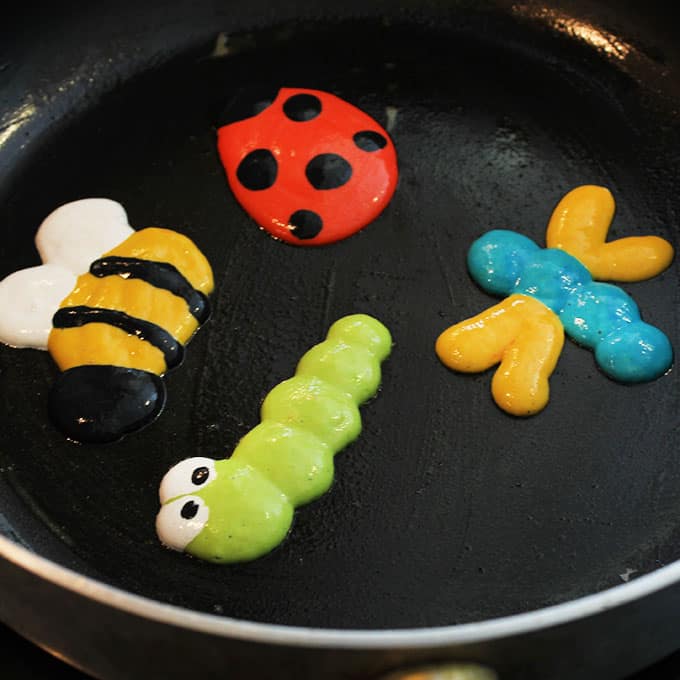 how to pipe the pancake art designs
TIP: Don't pipe the designs too big, stick with just a few inches across so they are easy to flip.
WORM: Pipe five dots with lime green. Pipe two white dots on top of the green, then two small black dots on top of the white.
FLOWER: Pipe a yellow dot. Pipe five dots in any color around the yellow dot. Then pipe a stem and leaf with green.
BEE: Pipe a yellow bee shape. Add two white wings above. Pipe a black dot for the head and black stripes on top of the yellow.
DRAGONFLY: Pipe five small dots in any color, then pipe the wings in any color. For the ladybug, pipe a red oval. Pipe a black dot for the head at one end, then pipe black dots on top of the red.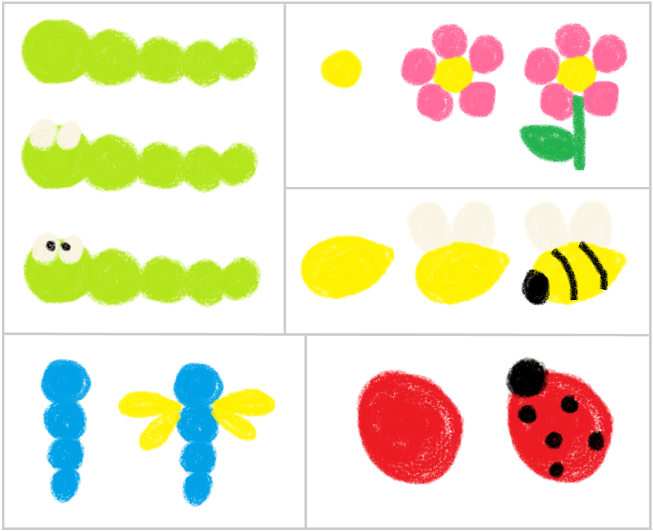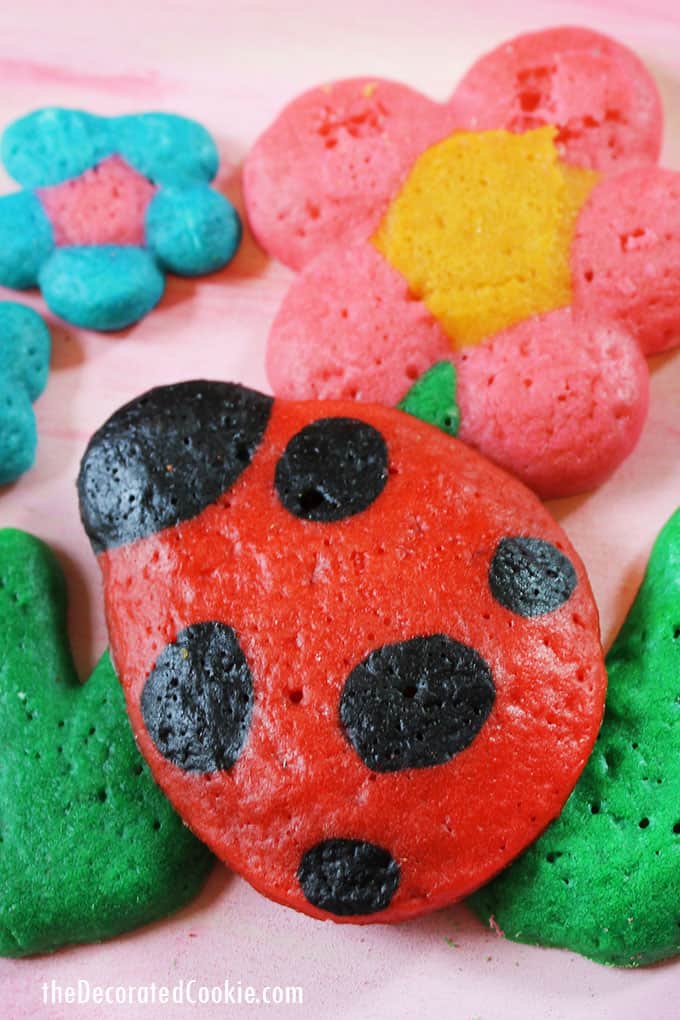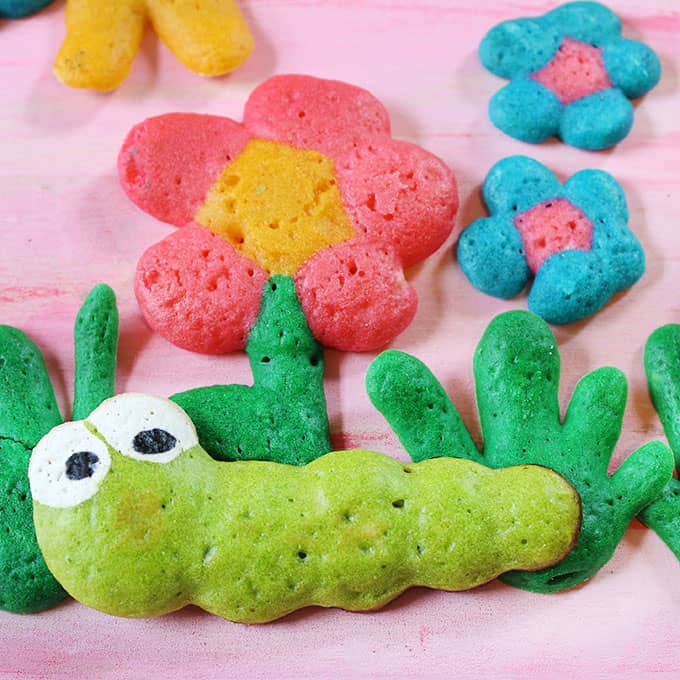 my pancake recipe
Feel free to use any of your favorite pancake recipes, or even pancake from a mix. This is my favorite pancake recipe. Recipe can be doubled.
Yield: 6 to 8 pancakes
pancakes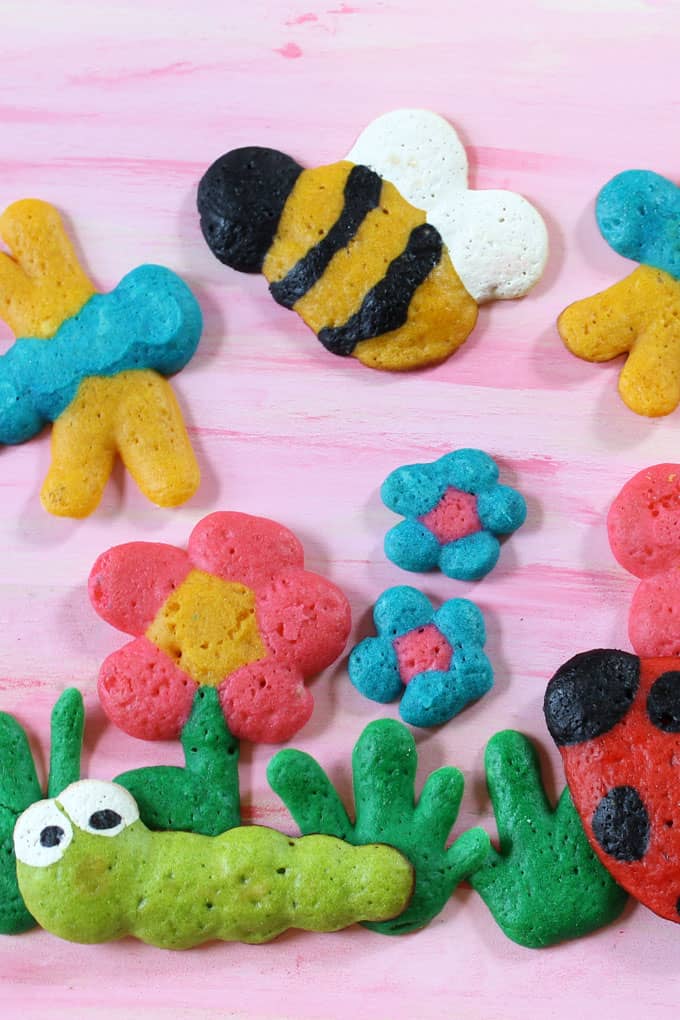 EASY pancake recipe for breakfast!
Ingredients
1 cup flour
2 teaspoons baking powder
2 tablespoons sugar
1/2 teaspoon salt
1/2 cup milk, plus additional
2 tablespoons melted butter
1 egg
Instructions
In a large bowl, briefly whisk together the flour, baking powder, sugar, and salt.
In a separate bowl, beat the milk, butter, and egg with a fork.
Add the wet mixture into the dry and stir well. Stir in additional milk, a teaspoon at a time, until desired consistency.
Heat a greased skillet or griddle over medium high heat. When hot, spoon about 2 to 3 tablespoons of batter onto the skillet or griddle.
Flip when browned underneath. Brown the other side and move to a baking rack.
Serve with butter and maple syrup.
Notes
Use recipe to make pancake art, as seen on theDecoratedCookie.com
Nutrition Information:
Yield:
6
Serving Size:
1
Amount Per Serving:
Calories:

149
Total Fat:

5g
Saturated Fat:

3g
Trans Fat:

0g
Unsaturated Fat:

2g
Cholesterol:

43mg
Sodium:

391mg
Carbohydrates:

22g
Fiber:

1g
Sugar:

5g
Protein:

4g
This post was originally posted for a "pancake party" in July 2012. I made this garden pancake art. The post was updated in July 2020.
PIN FOR LATER: