Mini fall flower cookies, decorated on small circles, are a simple seasonal treat to serve or give at Thanksgiving.
fall flower cookies
This post for fall flower cookies is sponsored by Imperial Sugar (meaning, I got a box with lots and lots of free sugar, so that's pretty awesome) via cookie decorator extraordinaire, Bridget of Bake at 350. Together, they came up with this idea to #GiveAFriendACookie.
fall flower cookies

What is #GiveAFriendACookie? With so many in need right now after the devastating effects of the hurricanes in Texas, Florida, and Puerto Rico, the wildfires in California, the earthquake in Mexico, the tragic violence in Las Vegas and New York, they wanted to encourage one small act of giving, sharing, and building community. Namely, baking for others! I chose to give cookies to my daughter's teachers, because I absolutely believe there are no other humans like teachers. They are the bridge between generations. They have great influence not just on our children's intellect, but on their emotional and social development. They work tirelessly for the single cause of helping others, often at the sacrifice of bits of themselves.
Maybe you've already donated to your favorite charity, or helped someone affected by the tragedies above, or you yourself received help. But if you're thinking of just one more way to help encourage a shift in humanity (I know that sounds like a big thing, but this is a really small step for a big thing), I encourage you to try giving something homemade to anyone you know who would appreciate a little brightness in their day! If you do make something, please share on social media with the hashtag #GiveAFriendACookie.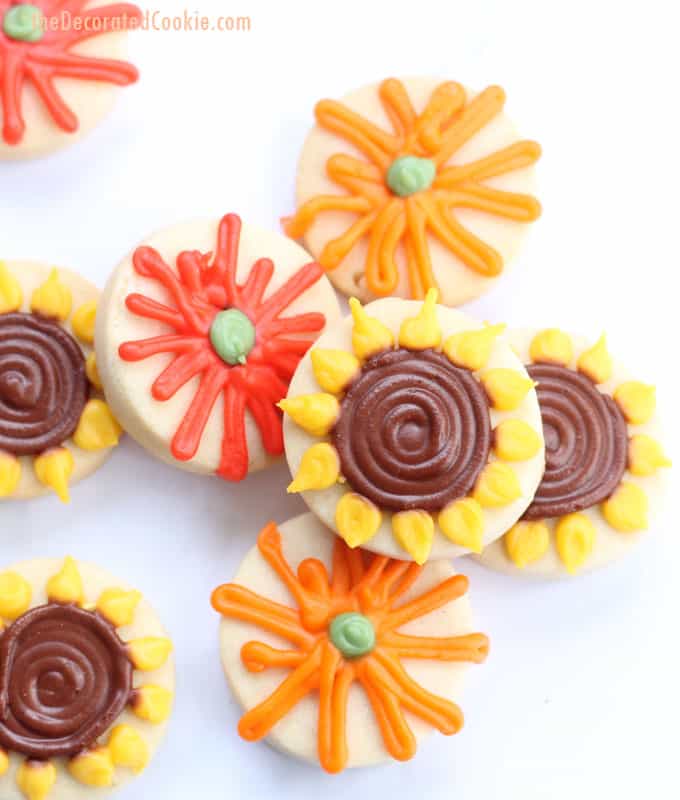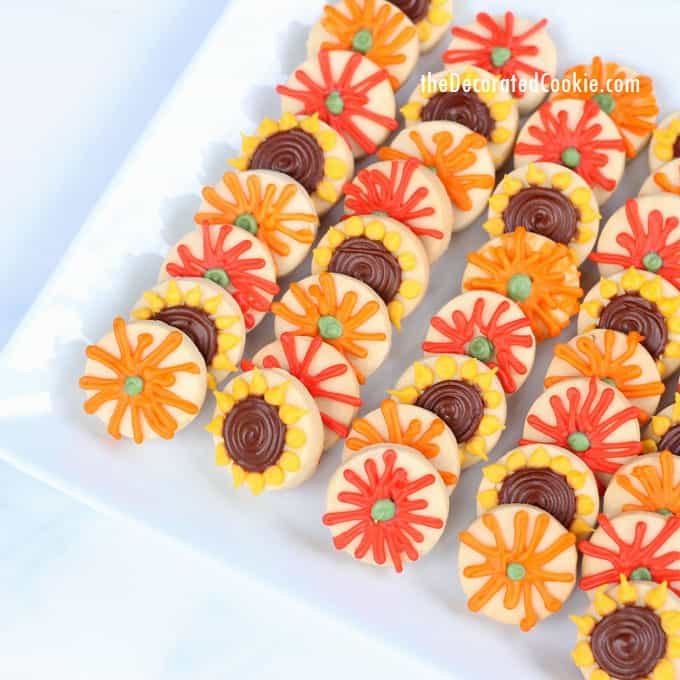 These mini fall flower cookies are super-simple to make because I only use one cookie cutter: A circle. I'm not much of a gardener, so I stuck with what I know to be "Fall flowers," that is, sunflowers and mums! (Is that right?) These colorful flower cookies are perfect to serve at Thanksgiving or to bring as a hostess gift.
If you like these ideas, check out all my fun food for fall and fun food for Thanksgiving.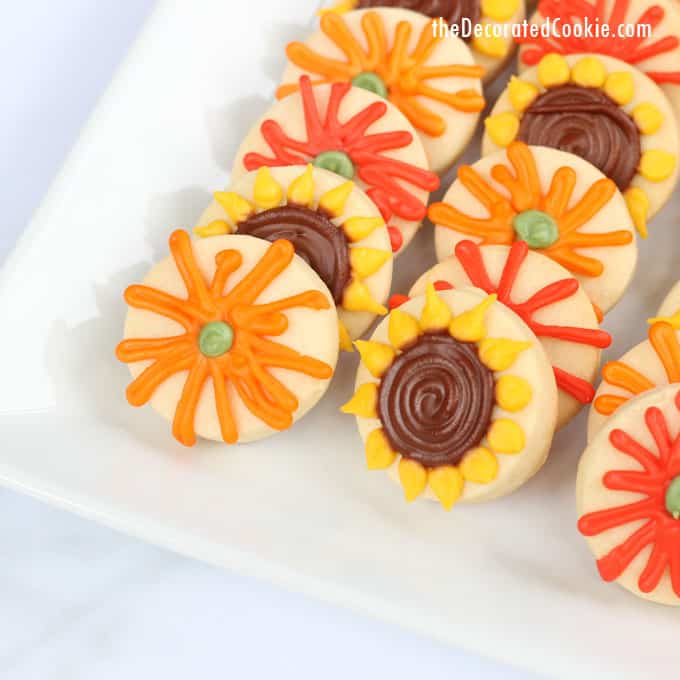 how to make mini fall flower cookies
you will need:*
*Find the cookie cutter, decorating bags, couplers and tips at the craft store or the links above. For food coloring, I suggest Americolor Soft Gel Pastes in Chocolate Brown, Egg Yellow, Orange, Red, and Avocado. For more cookie decorating recipes, click here.
(By the way, if you need vegan cookies and icing recipes, click HERE.)
what to do:
Prepare the cookie dough according to the recipe, chill, roll out, cut out circles (1 1/2-inch used here), bake and let cool.
Prepare royal icing according to the recipe, divide, and color your colors. Brown, yellow, red, orange, and green used here. (You'll need the least of the green.) Prepare decorating bags with couplers and tips, fill with the colors, and close tightly with rubber bands.
Decorate! For the sunflowers, pipe a spiral in brown first and then pipe the yellow petals. For the mums, pipe back and forth around the circle using a size 3 tip in red or orange. Top with a green dot. Let the cookies dry overnight.
For basic cookie decorating instructions, click here.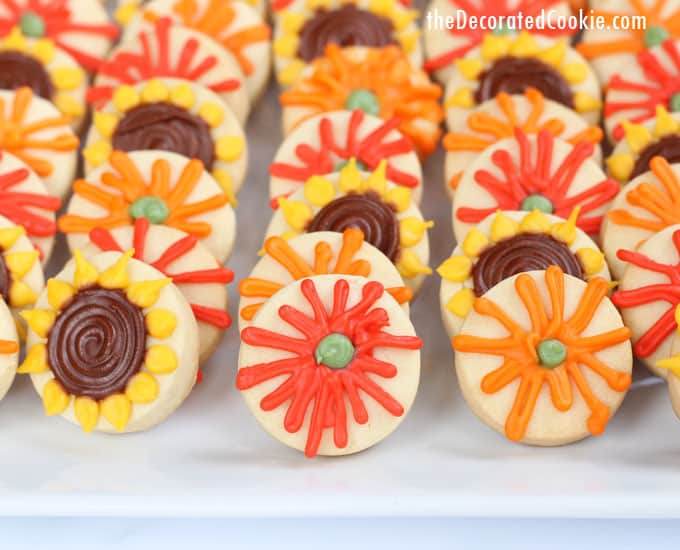 Check out all of the baked goods my wonderful fellow bloggers are sharing with those in need:
Snickerdoodles from The Nifty Foodie
Fall Flower Cookies from The Decorated Cookie
Peanut Butter Cookies from The Bearfoot Baker
Spiced Chocolate Chip Cookie Bars from Baked Bree
Apple Pie Wedge Cookies from Munchkin Munchies
Peppermint Crunch Sugar Cookies from The Domestic Rebel
Pecan Chocolate Fudge Chunk Cookies from Country Cleaver
Everything Cookies from Confessions of a Cookbook Queen
Chocolate Chip Cookies from LilaLoa
Lemon Cardamom Crinkle Cookies from Fifteen Spatulas
Apple Cinnamon Cookies from Dine and Dish
Triple Chocolate Peanut Butter Cookies with Sea Salt from A Farmgirl's Dabbles
Fall Wreath Sugar Cookie from Tikkido
Homemade Oatmeal Cream Pie Cookies from A Southern Fairytale
Chocolate Turtle Cookies from Bake at 350
For nearly 175 years, Imperial Sugar has been helping people communicate thanks, appreciation, love, and sympathy through home-baked treats. At the heart of baking for others is the very act of giving, and Imperial Sugar encourages everyone to bake and share, both in times of celebration and in times of crisis. Together we can make someone's day just a little bit sweeter. If you are looking for cookie inspiration, visit the Imperial Sugar website for 350+ time-tested cookie recipes.