Disclosure: *This post may include affiliate links. As an affiliate, I earn from qualifying purchases.


These fun mini camping cookies are perfect to ship to your little campers. (Tips on how to ship cookies below!)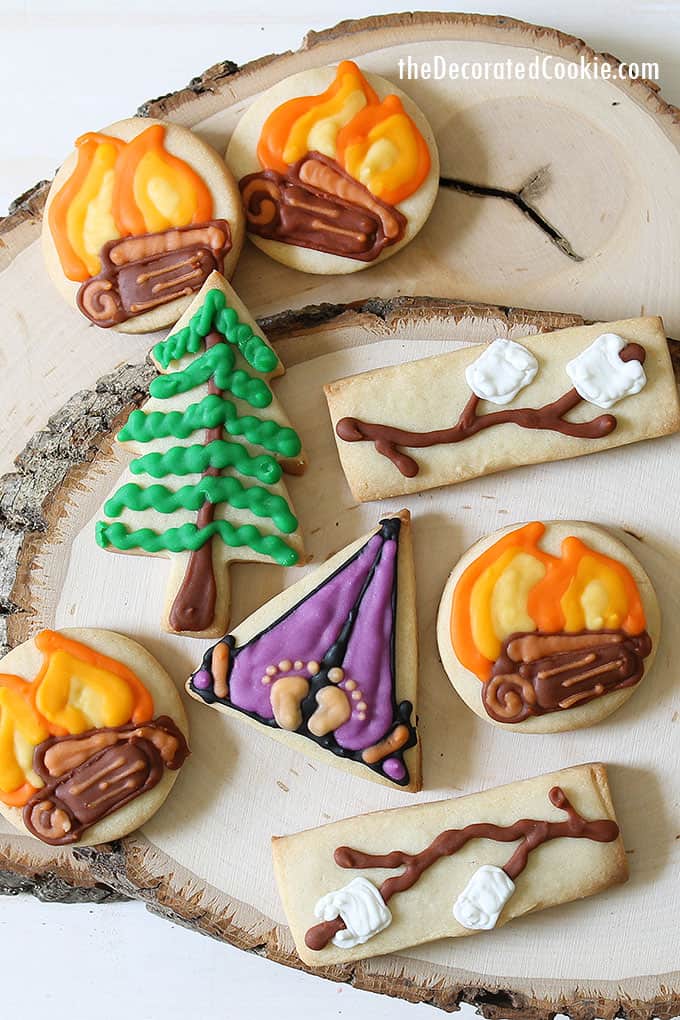 mini camping cookies
Wouldn't you love to get these camping cookies in a care package?
Scroll to the end for tips on shipping cookies!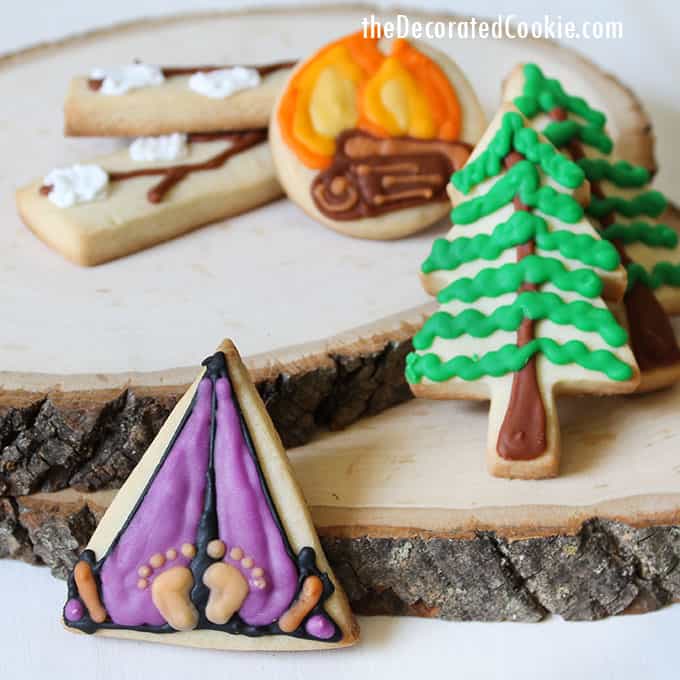 mini decorated cookies
I'm a huge fan of mini decorated cookies. While the smaller canvas can make for more difficult decorating, there are so many advantages to working on a pint-size scale.
The cookie cutters are so much cheaper. You get way more cookies out of a batch. Small cookies are easier to eat.
And most importantly, when giving as a gift, many, small cookies are easier to share than a few, large cookies. For this summer cookie idea, I made mini camping cookies.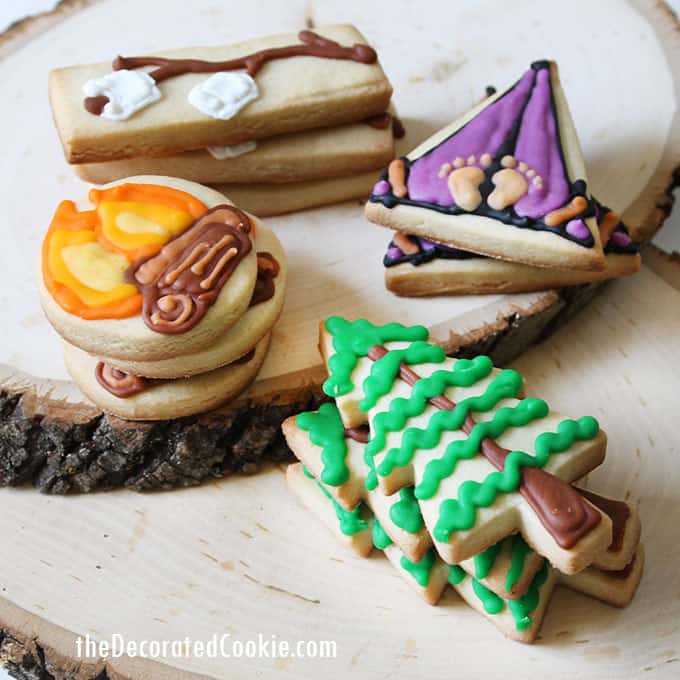 cookie decorating basics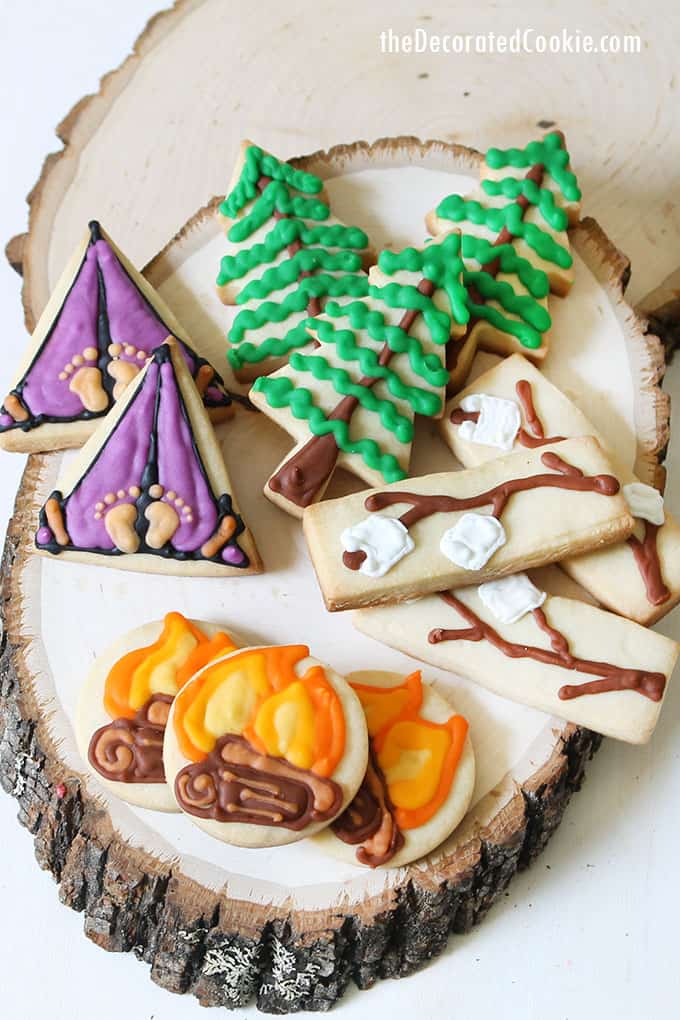 how to make camping cookies
ingredients and supplies you'll need:
*Food colors used: Super Black, Bright White, Egg Yellow, Orange, Chocolate Brown, Leaf Green, Electric Purple and Peach
what to do:
Prepare the cookie dough according to the recipe. Chill it, roll it out, and cut out your shapes. To make the marshmallows on a stick, use a knife or dough scraper to cut out rectangles 3 inches long.
Prepare the royal icing, divide, and tint your colors. Assemble decorating bags with couplers and tips, fill with the icing, and close tightly with rubber bands.
Decorate the cookies, using a size 2 tip for finer detail and the 3 tip for broader areas. Let dry overnight.
To decorate the tent, outline with a 2 tip black. Fill the pegs with brown and the tent with purple using a 3 tip. Use a 2 tip to pipe feet.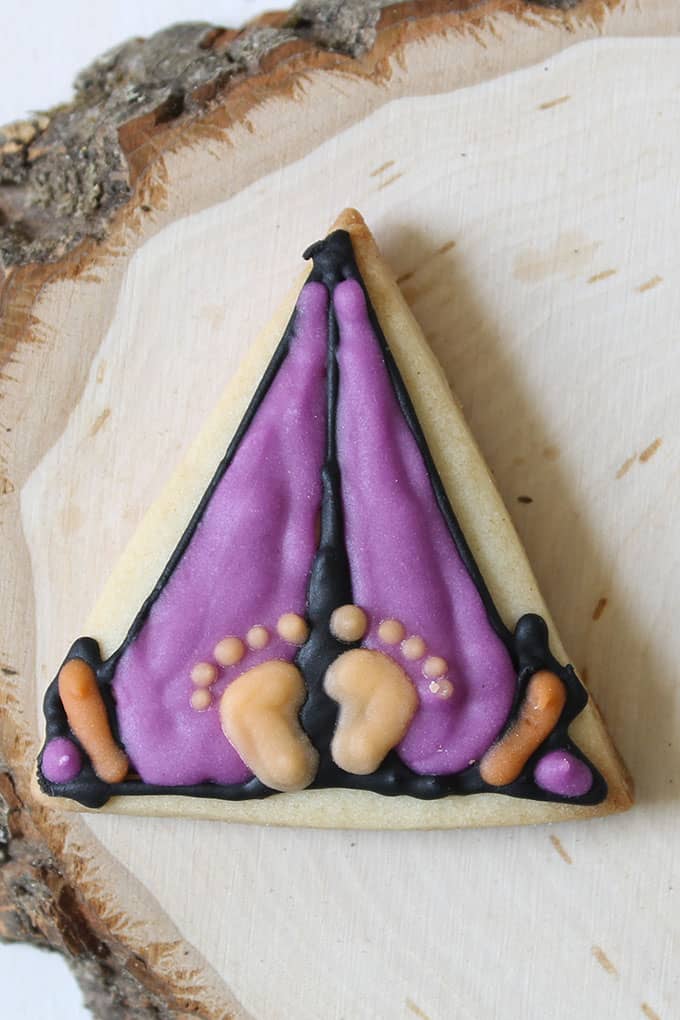 To make the tree, pip a brown trunk with a 3 tip and pipe wavy lines of green using a 3 tip.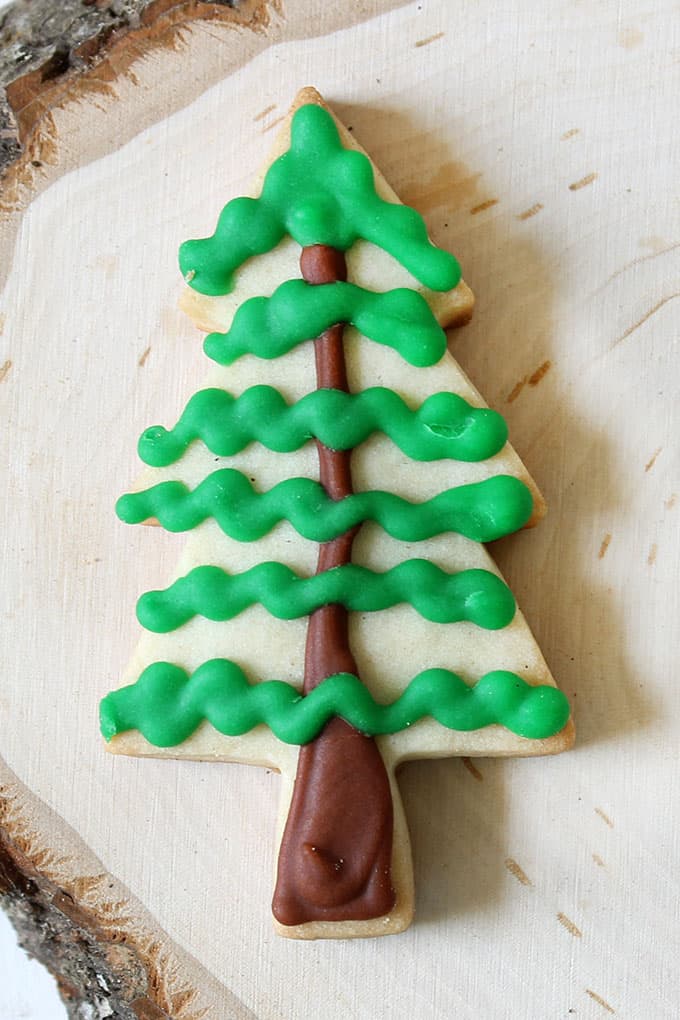 To decorate the s'mores sticks, pipe the brown stick with a 2 tip. Outline and fill marshmallows with a white 2 tip.
For the fire, outline and fill the logs with brown. Pipe light brown lines on top with a 2 tip. Outline the fire with orange and fill with 3 tip yellow.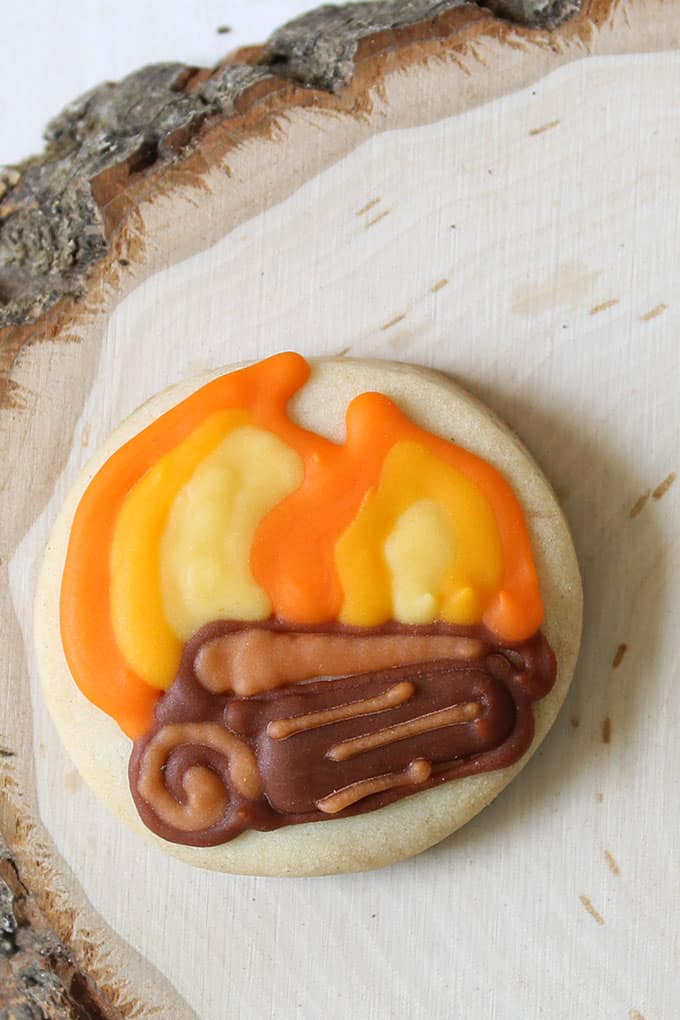 how to package cookies
To package cookies, be sure to let them dry overnight first. Package in a cellophane bag tied tightly with ribbon.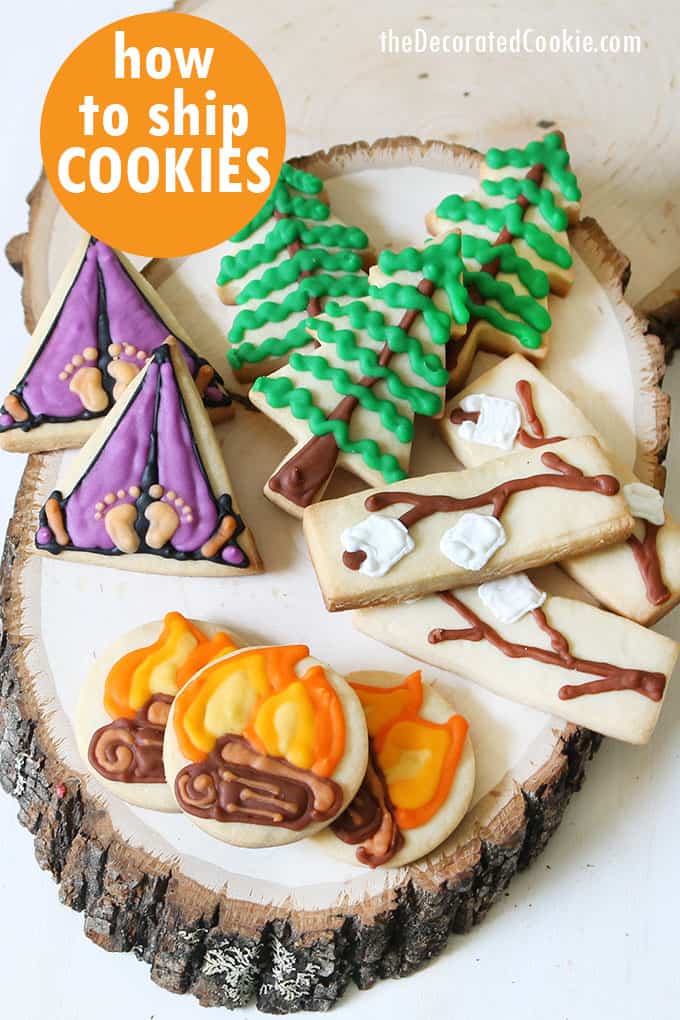 how do you ship cookies?
To ship cookies, below are some tips. The beauty of decorated cookies is they are the perfect sweet to make ahead and ship.
Let the cookies dry very well first, at least overnight. (Note, you should use royal icing, NOT buttercream frosting, which won't dry as well.)
Package the cookies individually in cello bags tied with ribbon or closed with tape.
Find the smallest box you can to accommodate all your cookies (this may take some trial and error).
If only shipping a few cookies, layer the bottom of the box with bubble wrap, then arrange the cookies in a single layer. Place popcorn in between the cookies, another layer of bubble wrap, then top with popcorn or crumpled tissue paper tightly.
If shipping many cookies, stack cookies of the same shape and lay on their side on a layer of bubble wrap. Place popcorn in between the stacks, and bubble wrap on the sides of the box. Top with bubble wrap and fill all the gaps with popcorn or crumpled tissue paper.
The key to successful shipping is to seal the box and shake it. You should hear NO MOVEMENT AT ALL in the box. Yes, it should be packed that tightly.
These camping cookies were originally posted in July 2012 and updated in July 2020.