Disclosure: *This post may include affiliate links. As an affiliate, I earn from qualifying purchases.


Copycat Quaker chewy chocolate chip granola bars taste just like store-bought, but with less sugar and healthy stuff added.
copycat chocolate chip granola bars
My children are shamelessly addicted to those Quaker chewy chocolate chip granola bars.
It's not enough that I put one in their lunch boxes.
For my three-year-old, it's her go-to every time she has even a hint of hunger. And only the chewy chocolate chip bars. Not the chocolate coated, not the peanut butter, not even another brand, because (my) children are the least flexible creatures on this planet.
Given I like to at least have some semblance of control in their lives, I thought I'd have a go at making homemade Quaker granola bars.
I've tried something similar before. These banana oatmeal bars have even more healthy stuff jammed in, but bananas are on shaky ground in my house.
But these. Oh my goodness. These granola bars are easy to make and taste just like the Quaker ones. And I can control the sugar that goes in there.
Also, I snuck in some flax seed meal. Also, there is no corn syrup anywhere in these.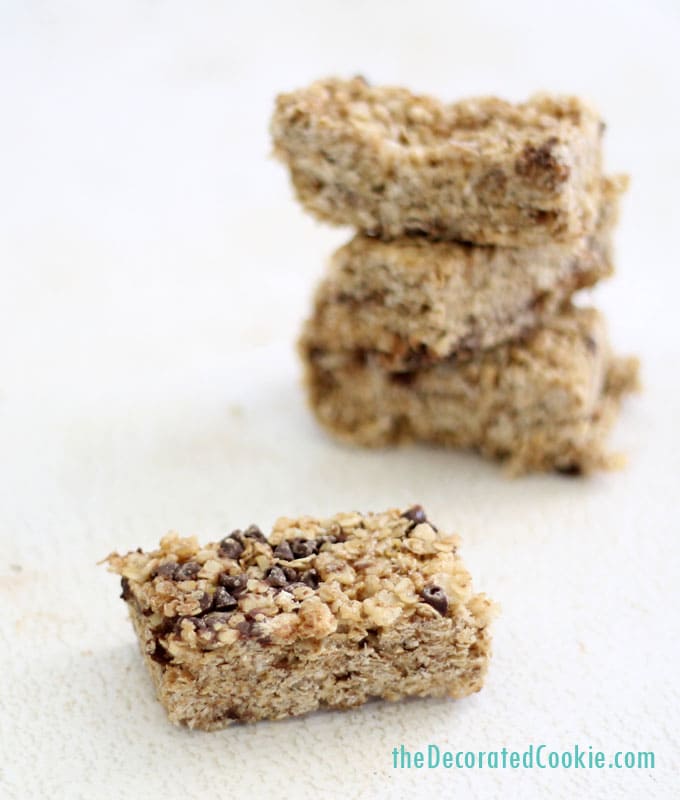 Homemade Quaker granola bars got the seal of approval from my daughter.
She ate two while I was photographing them and I had to use all my powers of verbal manipulation to keep her away so I could finish taking pictures. Equally important (or more?), I love them and now I have a new favorite snack.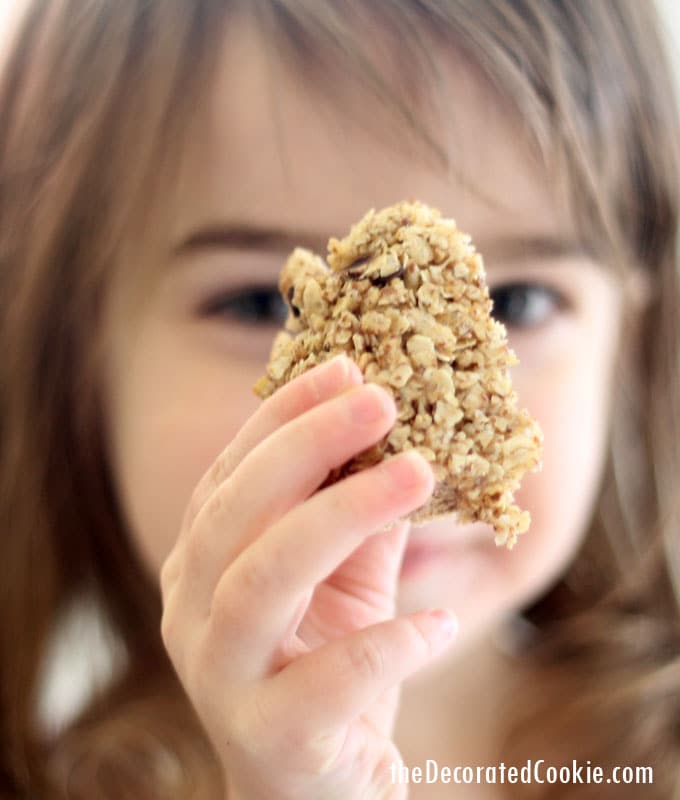 Tips on making chocolate chip granola bars
You can easily play around with this recipe and try substituting wheat germ for the flax seed meal.
Or keep out both. (But really, you can't taste it at all, so why not? I have a habit of adding flax seed and wheat germ to food.) Try adding peanut butter or dried fruit or whatever you adore.
A couple notes about the recipe: I toasted the oatmeal for a few minutes in the oven, as I think this enhances the flavor, but it's optional.
Make sure you use the Quick 1-Minute oats, too, and not the Old Fashioned. The latter are too chewy for this recipe.
These bars were quite thick, so I may try and use a larger baking dish next time and press the mixture more thinly. And bonus, that means more granola bars to enjoy!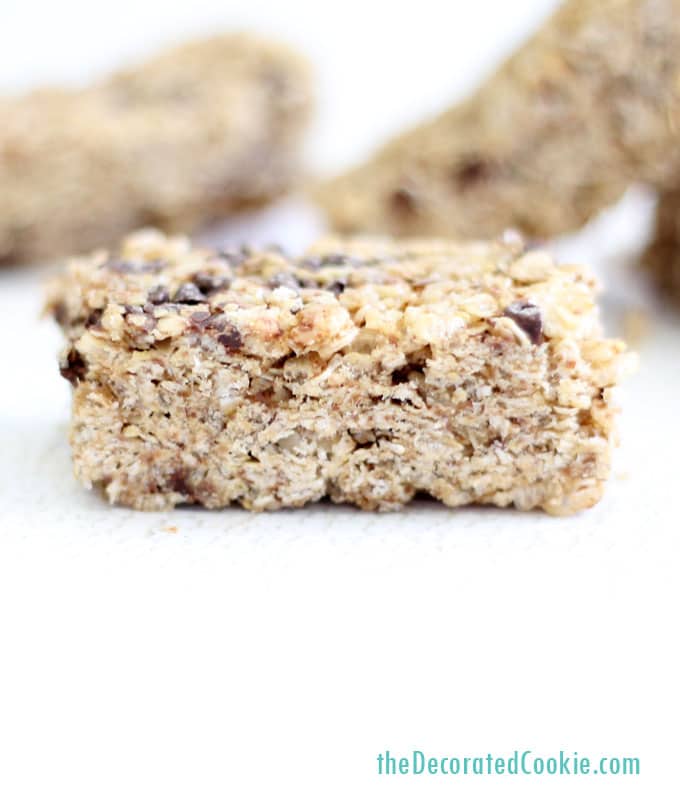 Yield: 18 bars
copycat Quaker chocolate chip granola bars
CHOCOLATE CHIP GRANOLA BARS RECIPES -- This copycat version of Quaker chew chocolate chip granola bars is healthier and delicious.
Ingredients
2 cups Quick Cooking Oatmeal
5 tablespoons Coconut Oil
1/4 cup Honey
1/4 cup Brown Sugar, Packed
3/4 teaspoon Pure Vanilla Extract
2 cups Crispy Rice Cereal
1/4 cup Flax Seed, Optional
pinch of Salt
1/4 cup Mini Chocolate Chips
Instructions
Line an 8 x 8-inch baking dish with parchment paper and set aside.
Preheat the oven to 350°F.
Place the oats on a baking tray lined with parchment paper and bake for 5 minutes, or just until the oats start to brown. (This step is optional.)
Place the coconut oil, honey and brown sugar in a sauce pan. Bring to a low boil, stirring frequently, and let cook for 2 to 3 minutes. Stir in the vanilla extract.
Remove from heat and let cool for a few minutes.
In a large bowl, place the oats, rice cereal, flax seed (if using) and salt and stir to mix.
Scrape the sugar and honey mixture into the bowl with the oats and cereal. Stir very well.
When the mixture is cool enough not to melt the chocolate chips, stir in the mini chocolate chips.
Spoon the mixture into the prepared baking dish and use your hands to firmly press the mixture into the dish, flattening the top evenly. If the mixture is sticky, wet your hands.
Place the baking dish in the refrigerator for one hour, or until firm. Cut into rectangles and store at room temperature, covered with plastic wrap. 
Nutrition Information:
Yield:
18
Serving Size:
1
Amount Per Serving:
Calories:

112
Total Fat:

6g
Saturated Fat:

4g
Trans Fat:

0g
Unsaturated Fat:

2g
Cholesterol:

0mg
Sodium:

26mg
Carbohydrates:

14g
Fiber:

1g
Sugar:

8g
Protein:

1g
This recipe is also featured at Food Fanatic.