Disclosure: *This post may include affiliate links. As an affiliate, I earn from qualifying purchases.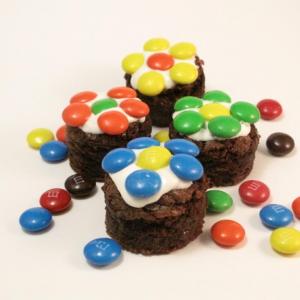 simple daisy brownie bites
After a bit of a hiatus, I'm back in the borrowed kitchen to make these simple daisy brownie bites using M & Ms.
I was in the grand city of NY for a few days at a glam media blogger event. But now I'm back on cookies. Well, brownies.
I do have a rather long story, the details of which I'll spare you, of a heated exchange with an angry customer when working as a cookie decorator. She insisted the brownie should be considered a cookie and was horribly distraught we did not offer them.
As it suits my purpose to consider the brownie a cookie for this post (a bar cookie?), I'll give her this one for today only.
These daisy brownie bites are veeeery easy to make.
You can use any recipe for brownies or even a mix, though you can find my recipe at the end of this post. I cut out brownie circles, topped them with melted candy wafers, and decorated with M & Ms. That's it.
how to make daisy brownie bites
you will need:
brownies (see below for my recipe, or your own favorite recipes are fine)
circle cookie cutter (1 1/2″)
white candy melts or white chocolate chips (find the melts in craft stores)
baking sheet
wax paper
wire rack
M & Ms, sprinkles, or any other candies to decorate
step one: make your brownies
Find my recipe at the end of this post, but you can use any you like.
Let brownies cool for about 20 minutes. Line a baking tray with wax paper and place the wire rack on top.
When brownies are still a bit warm, use circle cutter to cut shapes. Press cutters firmly to bottom of pan, twist a bit, and lift up. Brownie should stay in cutter!
Gently push brownie out of cutter onto the wire rack to fully cool. (I used a couple sizes, but the small ones work best.)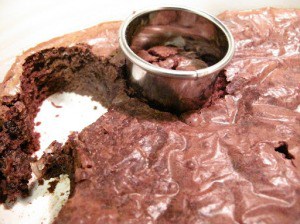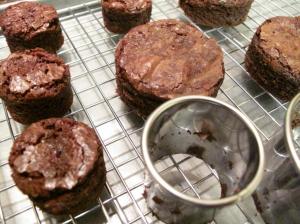 step two: top your brownies
Melt candy melts or white chocolate on top of a double boiler or in the microwave according to directions. I microwaved in a Pyrex measuring cup at half power for 1 minute, 30 seconds, then at 30 second intervals, stirring well. Don't overheat! With a small spoon, pour a bit of melted candy or chocolate in center of brownie top and gently spread with a knife to edges. Let set about 15 minutes.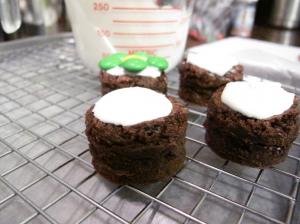 step three: decorate your brownies
When melts or chocolate are still a bit wet, decorate the brownies with candies or sprinkles as desired. For daisies, use 6 M&Ms–one in the center, 5 around.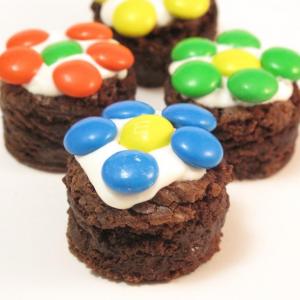 brownie bites recipe:
3/4 cup all purpose flour
1/4 tsp. baking soda
1/4 tsp. salt
1/3 cup butter
3/4 cup sugar
2 Tbsp. water
2 cups semi-sweet chocolate chips
1 tsp. vanilla extract
2 eggs
Combine flour, baking soda and salt and set aside.
In saucepan, heat together butter, sugar and water and bring just to a boil.
Remove from heat and stir in 1 cup of chocolate chips and the vanilla. Transfer to bowl and beat in eggs, one at a time. Gradually blend in dry ingredients.
Stir in remaining chocolate chips. Pour into greased 9″ baking dish and bake in a preheated 325 degree oven for 30 to 35 minutes.