Disclosure: *This post may include affiliate links. As an affiliate, I earn from qualifying purchases.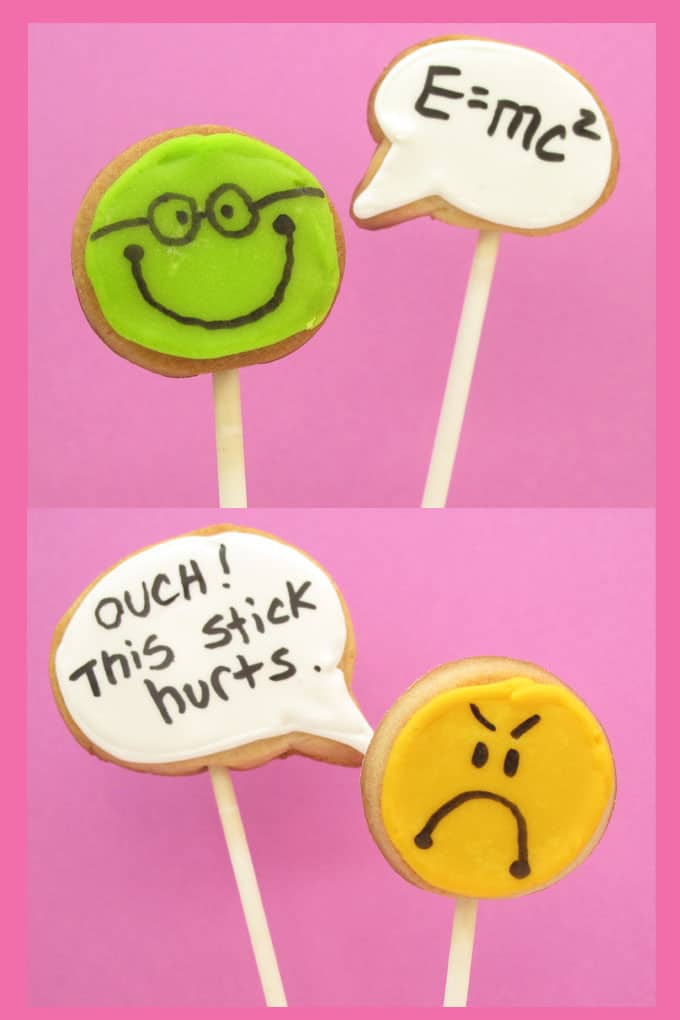 speech bubble cookies
I'm all about these speech bubble cookies. Now I've said a lot over the years with cookies. You name it, I've put it on a cookie, including customers' inside jokes, sentiments and intentions. "Marry me?" on rings; "Thank You"s on hearts, dogs, washing machines, beer, and a million other things; "Boo" on ghosts and haunted houses; "Sorry" on broken legs. I must stop there because I'll fill this entire web page with cookie tales. When faced with the "Eating Your Words" challenge on the Savor The Thyme blog, I was so overwhelmed with ideas from my long cookie past that I scrapped them all and went back to the basics. Speech bubble cookies, that is.
Some of you may remember my smiley cookies on a stick from a few posts back. I'd like to think their expressions say all you need to know, but imagine the frustration of being an inanimate cookie, unable to voice your innermost feelings. Hence, the ever-useful power of the cartoon bubble.
So for my entry, I've given my smileys a voice. You can use these bubbles for anything, really. Prop a toy figure on top of a cupcake and stick the bubble on a stick next to it. (Just one example, a little duckie might say "quack" for a baby shower.) Prop the bubbles in a pan of brownies and have them say "eat me! I'm yummy." Thanks to the wonders of royal icing and food coloring pens, you can give your cookies a voice.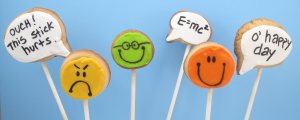 how to make speech bubble cookies

you will need:
cut-out cookie dough
royal icing
lollipop sticks
oval cookie cutters (2″ to 3″, you can also use circles if you can't find ovals)
parchment paper
frosting color (I use Americolor Bright White)
1 frosting bag, coupler and rubber band
1 decorating tip (size "4")
sharp knife
squeeze bottle or spoon
small spatula or knife
Black Americolor gourmet writer

Find lollipop sticks, bags and tips at any craft store. Americolor products are available online or at specialty cake decorating stores. You can substitute craft store finds, but I just so love Americolor food coloring. For tips on finding cookie decorating supplies, click here.
For tips on how to use food coloring pens, click here.
step one: bake your bubbles
Roll out your chilled dough about 1/4″ thick, and lay the oval cutter on top. Press gently to imprint, but don't fully cut out. Add a triangle shape off center to the bottom of the imprint with a knife. Cut out the shape with a sharp knife. Pat edges smooth and lay on a parchment paper-lined baking tray. Insert lollipop stick half way into cookie. Arrange on tray so no sticks touch each other or other cookies. Bake according to recipe and let cool.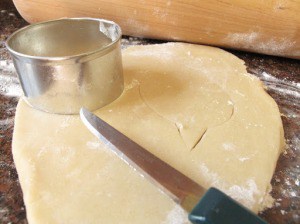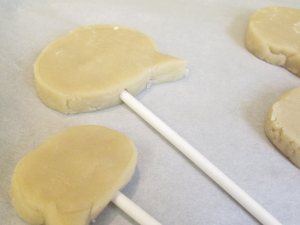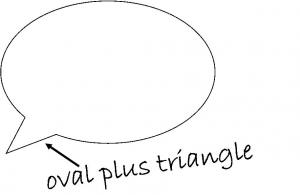 step two: decorate your bubbles
Make a frosting bag fitted with a coupler and size 4 tip. Mix about 1 cup of frosting with white coloring. Add 1/2 cup of the white frosting to the bag with size 4 tip. Tie closed tightly with rubber band. Outline bubble (including triangle) using bag and let set well, about 20 minutes. Thin remaining white frosting with water, 1/4 teaspoon at a time, until the consistency of glue. Pour a little frosting in the center of the bubble using a squeeze bottle or small spoon. Spread to edges with spatula or knife. Let set very well, at least 2 hours or overnight.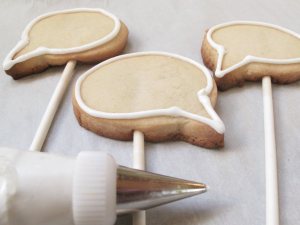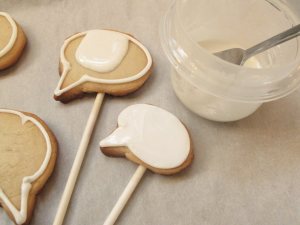 step three: express yourself
When fully dry, gently write your sentiments with the gourmet writer.