Disclosure: *This post may include affiliate links. As an affiliate, I earn from qualifying purchases.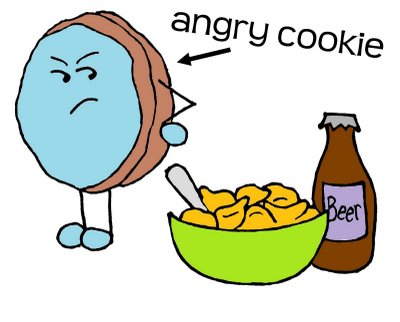 Now this really has nothing to do with cookies. But at the request of Bridget (see "what's for dinner" below), I thought I'd share my personal beer mac and cheese recipe.
I am obsessed with/addicted to mac n' cheese. Whenever I find it on a menu anywhere I order it. If I know I'm going to a restaurant that serves mac n' cheese, I plan all my meals that day around my mac n' cheese.
Ergo, I'm picky about my mac n' cheese, so I'm proud of myself for finalizing my own.
I juuuust made this a few days ago, and I likely won't make it again for a bit, so I don't have any yummy looking photographs. You'll have to trust me that it looks yummy. If you need step-by-step photos, let me know and I'll snap a few next time I make it.
Also, as this is my own recipe, the measurements are inexact. Luckily, this mac n' cheese is forgiving. I add different amounts of everything every time and it always turns out great:
my beer mac and cheese:
1/2 to 3/4 box of penne pasta or large shells (about 10-12 oz.)
6 Tblsp flour
6 Tblsp butter
2 1/2 cups whole milk (you can use 2 %, too)
lots and lots of shredded cheddar, between 12 and 16 oz. or to taste
1/2 bottle of beer (ale works well, you can use more or less to taste)
salt
pepper
bread crumbs (about 1/3 cup?)
2-3 Tblsp melted butter
Cook pasta al dente al dente al dente (ie. about 2 minutes less than the recommended cooking time.
This is important, the pasta should be firm because it will cook in the oven later and if you cook it all the way now, it will be mushy.) Drain and set aside.
In medium saucepan, melt butter and whisk with flour over medium low heat to form a paste. Gradually add in the milk, stirring constantly. Continue stirring frequently until thickened.
This can take awhile, about 10 to 15 minutes. Stir in the grated cheese. Add the beer and continue to heat through. Add salt and pepper to taste. At this point, I transfer the cheesy mixture to a larger saucepan. Add the pasta and stir. Transfer to a 9 x 13″ baking dish sprayed with non-stick spray. Mix melted butter with bread crumbs and sprinkle over the top.
Bake in a 375 degree oven about 20 minutes. You may cover for first 15 minutes with tin foil, remove for last 5 minutes. Cook until bubble and browned on the edges.
Enjoy! If anyone tries this, let me know how it turns out!