Disclosure: *This post may include affiliate links. As an affiliate, I earn from qualifying purchases.


Simple marshmallow skeletons for Halloween using food writers and marshmallows.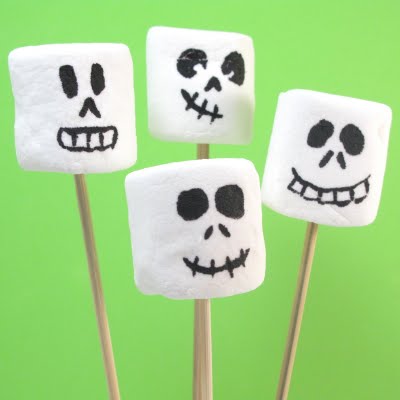 marshmallow skeletons
In honor of the honor bestowed upon the decorated cookie today, here are some last minute Halloween marshmallows to add to my ghost and mummy marshmallows: marshmallow skeletons. Just as easy to make.
What honor you may ask? Why, Amy Atlas posted on my ghost and mummy marshmallows HERE. And if any of you reading this love to bake and/or love sweets of any kind and/or have ever tasted sugar and have somehow not have heard of Amy Atlas, I pray you leave my blog immediately and visit her. See? Pretty amazing.
For everything you need to know about food coloring pens, click here.
All you need:
marshmallows
black gourmet writer
skewers and/or lollipop sticks
Let marshmallows sit at room temperature for a couple hours to stiffen a bit, skewer and draw faces.