Disclosure: *This post may include affiliate links. As an affiliate, I earn from qualifying purchases.


Sesame Street marshmallows are a silly, fun food idea for a child's birthday party.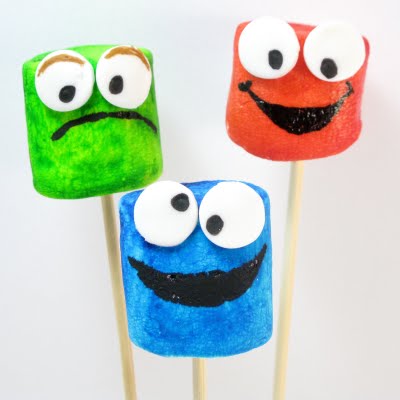 Sesame Street marshmallows
Sesame Street turns 40 on November 10. Here is a super-easy Sesame Street marshmallows to toast (no actual toast, just marshmallows), in the form of Elmo, Oscar the Grouch and Cookie Monster. Forgive the lack of step-by-step photos and all around lack o' imagery. I'm working on a borrowed computer 🙁 as mine's still sick. But these are so easy to make, hopefully all will be self-explanatory.
I'm proud to say my just-turned-2-year-old already knows lots of her letters and numbers. Thank you, Sesame Street, for this was not my teaching, twas yours. I grew up on Sesame Street, and it's child programming that lacks the cloying insipidness (is that a word?) of so many other kid's shows that I can happily watch along with my daughter.
Need more ideas? Check out this roundup of Sesame Street food ideas. And check out these Cookie Monster donuts.
to make elmo, oscar and cookie monster marshmallows
you will need:*
marshmallows
skewers and/or lollipop sticks
clean small paintbrush
tray or small bowl
food colors (I use Americolor soft gel pastes, Electric Green, Red and Sky Blue)
white rolled fondant
black and brown gourmet writers
wax paper
rolling pin
1/2″ circle fondant or cookie cutter
*Find most of the above in any major craft store. For tips on finding supplies, click here.
step one: paint your marshmallow
Skewer a marshmallow to make it easier to paint. Add one drop of coloring to a clean paint tray or small bowl. Add a couple drops of water (by dipping your paint brush in water) and stir. Paint marshmallow red (for elmo), green (for oscar) and blue (for cookie). Let dry about an hour.
step two: make your eyes
Roll a small amount of white fondant about 1/8 inch thick between 2 pieces of wax paper (if fondant gets sticky, let sit at room temperature uncovered about 15 minutes). Cut out two circles for each marshmallow. Let set about 1 hour. When stiffened a bit, draw dots on white for eyes with the black marker. Oscar also gets brown eyebrows at the top.
step three: assemble your characters
Dab a drop of water on the back of each fondant circle with your finger and adhere to the top of each marshmallow in the front (the eye tops can extend past the top of the marshmallow). If the eyes don't stick, you can also dab a drop of light corn syrup on the back. Draw mouths with the gourmet writer.