Disclosure: *This post may include affiliate links. As an affiliate, I earn from qualifying purchases.


Thanksgiving dinner cookies: Decorated cookie idea for Thanksgiving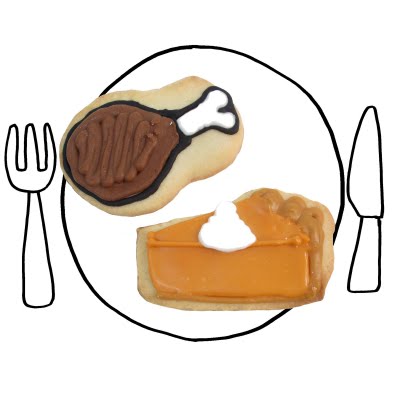 Thanksgiving cookies
A twist on the standard turkey and pumpkin cookies: turkey legs and pumpkin pie. Think how much easier your holiday would be if you just served Thanksgiving dinner cookies. It's a meal and dessert all in one and only one recipe. You could throw in a crudite plate, if they gripe about wanting something healthier.
how to make "Thanksgiving dinner" cookies
you will need:
cut out cookie dough
royal icing
5 disposable frosting bags
5 couplers
5 decorating tips (sizes 3 and 4)
5 rubber bands
brown, black, orange and white food coloring (I use Americolor soft gel pastes)
oval cookie cutter
sharp knife
For tips on finding cookie decorating supplies, click here.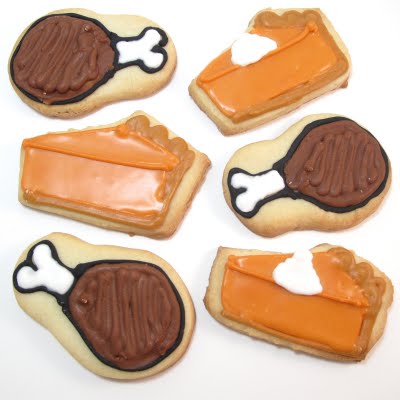 step one: cut out your shapes
For the turkey legs, I used an oval cutter and pinched in the sides at the bottom. I cut out the pie shape by hand using a sharp knife (see pictures for a guide). Bake according to recipe and let cool.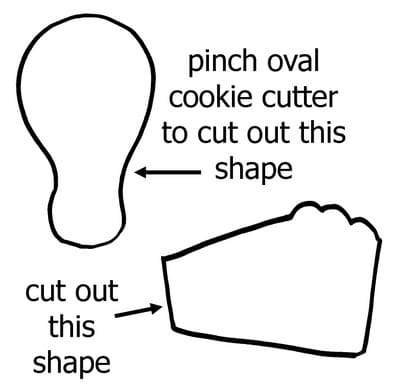 step two: prepare frosting
For the turkey leg, you will need black, white and brown frosting colors.
Prepare a bag of each, using a 3 tip for the black and 4 tips for white and brown. Tie each bag closed with a rubber band.
For the pie, you will need light brown, pumpkin pie color (mix a couple drops of brown in with a few drops of orange) and white (optional).
Prepare a bag of each, using a 4 tip for the light brown, a 3 tip for the pumpkin pie color and a 3 tip for the white. Tie bags closed with rubber bands.
step three: decorate the turkey legs
Outline the turkey shape with the black 3 tip. Let set about 15 minutes. Fill in the top with the brown, piping back and forth to fill. Fill the bone with white.
step four: decorate the pie
outline the pie with the orangey color using a 3 tip. Let set well. Outline and pipe to fill the crust using the light brown frosting.
Squeeze some of the orangey color into a bowl and add water (one drop at a time) to thin to the consistency of glue. Use a spoon to pour onto the cookie to fill the pie area. Let set well, about an hour.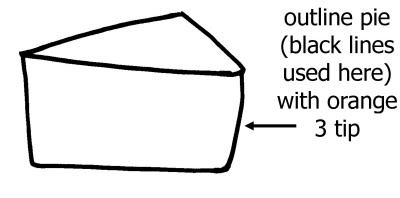 (TIP: If the pumpkin pie line gets covered by the flooding icing, you can pipe another line on top to define it.) Optional: when set, pipe s
ome white on top for whipped cream.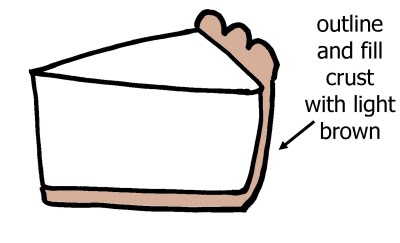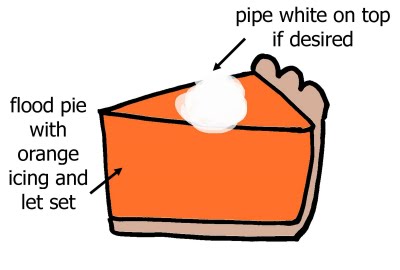 more fun food ideas for Thanksgiving
These turkey cookies are very simple to make. Here are some bite-size turkey leg cookies. And I love love love this chocolate turkey cake.