Summer dessert idea: Make watermelon cookies, decorated cookies for summer parties, BBQs, 4th of July, pool parties and more.
Summer cookie idea: Watermelon cookies
I should clarify from the start that these watermelon cookies are watermelon decorated cookies, not watermelon flavored cookies. But if you have a recipe for the latter, feel free to pass it along! Do they make watermelon extract? I made these to bring to a BBQ party. (Sigh. A fruitless–pun intended–venture given I couldn't go to the BBQ due to an unexpected hospital stay. Alas, alack, poor moi.)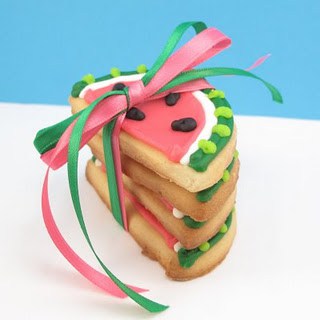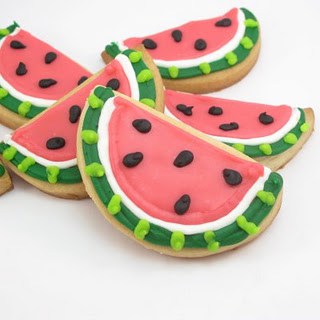 For a different kind of watermelon cookie, try these slice and bake watermelon cookies. Or try making mini popsicle cookies.
how to make watermelon cookies

you will need:
cut out cookie dough
royal icing
3 inch (or greater) circle cookie cutter
sharp knife
frosting color (Americolor soft gel pastes used here, Super Black, Electric Pink, Electric Green, Leaf Green and Bright White)
5 disposable, 12″ decorating bags
5 couplers
5 decorating tips (1 size "5", 2 size "4", 2 size "3")
5 rubber bands
squeeze bottle or spoon
*For tips on finding supplies, click HERE. 
step one: bake your cookies
Chill your cookie dough and roll out on a floured surface. Cut circles with the cutter, then slice in half with the knife to make semi-circles. Bake on a parchment paper-lined cookie tray according to recipe and let cool completely.
step two: make your frosting
Prepare 5 frosting bags and a batch of frosting (which should be thick enough to hold its shape when piped). You will need 5 colors: green, white, hot pink, lime green and black. 1/2 cup of each should be plenty, but make at least double of the hot pink. Mix colors and fill frosting bags, reserving half of your pink frosting. Black and lime green should have a 3 tip, white and hot pink should have a 4 tip, and green should have a 5 tip.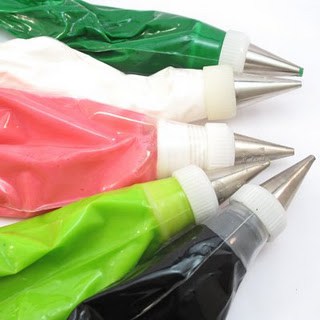 step three: decorate your watermelons
With green 5 tip, pipe the rind (I piped two lines for a thicker rind). Let set about 10 minutes. With white 4 tip, pipe line inside rind. Let set about 10 minutes. With hot pink 4 tip, pipe semicircle outline. Let set well, about 20 minutes. Thin remaining pink frosting with a few drops of water at a time until the consistency of glue. Fill squeeze bottle with the thinned frosting or just use a spoon to pour in the center of the watermelon. Let flood to the sides, encouraging with a small knife or spatula as needed until entire semicircle is filled. Let set well, about an hour. When set, pipe wavy stripes on green rind with the lime green 3 tip and pipe seeds with the black 3 tip (I piped a dot, then moved the tip a bit in one direction to make a little point.). Let set overnight if wrapping. TIP: If you click on each of the sets of step-by-step pics below, your computer should enlarge them for a close up view.
More watermelon cookies pictures! From a separate occasion, I made more of these easy cookies.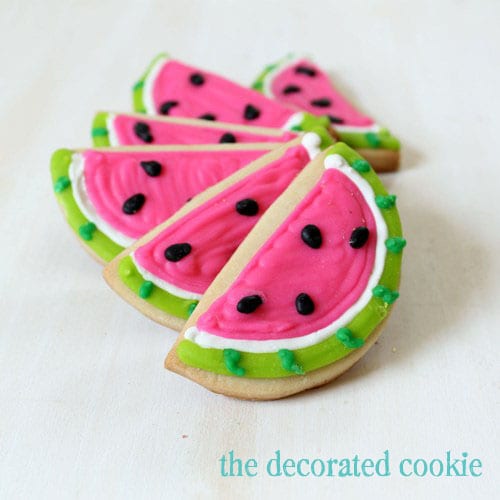 Need more summer fun food ideas? Check out these red, white and blue sparkly marshmallow pops, my Poppin' Rockin' marshmallow pops, my sparkly starfish cookies, and some cupcakes painted to red gingham with a li'l ant on top.