Disclosure: *This post may include affiliate links. As an affiliate, I earn from qualifying purchases.


Cute summer cupcakes idea: Make picnic cupcakes!
picnic cupcakes
Next up in my week of summer cupcakes ideas: Ants. Specifically, when ants invade your summer picnic cupcakes.
I'm not a very outdoorsy person. Though I have a checklist of outdoorsy stuff I've done. I've been camping. But only once and never again. I've been scuba diving. I hiked up a volcano. I hiked down into the Grand Canyon. All of these admittedly-fun outdoorsy things I've also done once. And only once. I'm just not driven to leave my indoor plumbing and outlets.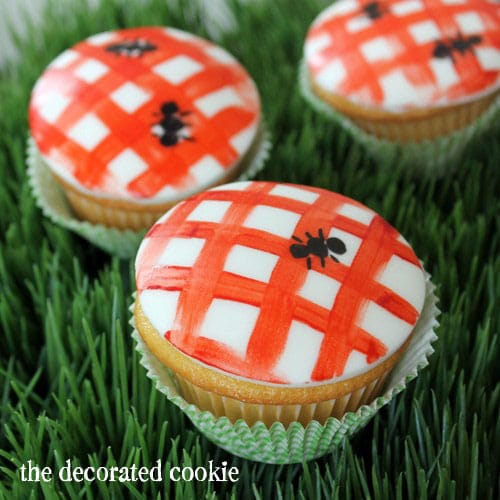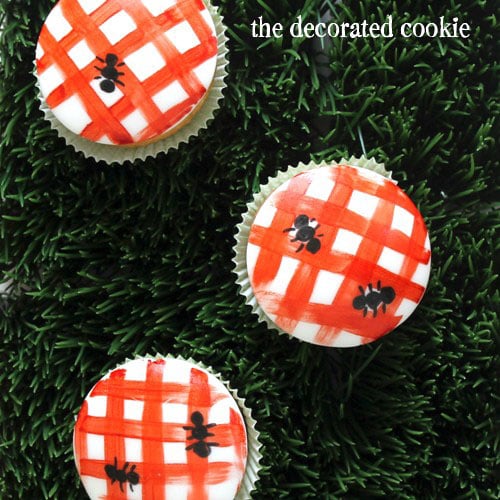 On a more normal scale, I'll even eat outside in the summer. I'll even enjoy eating outside in the summer. I only wish they would invent a personal force shield to keep ants, bees and flies away. These cupcakes embrace the downside of picnicking.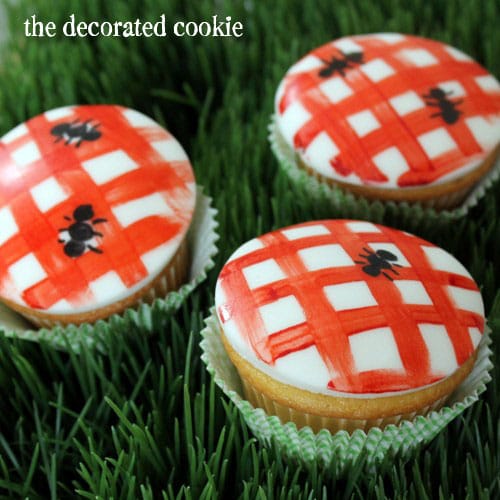 how to make picnic cupcakes for summer
Cupcakes*
Frosting
Rolled white fondant
Wax paper
Rolling pin
3-inch circle cookie cutter
Red food coloring
Small, flat paint brush
Black food coloring pen
* Use your favorite recipes for cupcakes and frosting, or use store-bought cake mix and frosting. Find the fondant, cookie cutter, food coloring, paint brush and food coloring pen at the craft store.
Prepare your cupcakes and frosting according to the recipes.
Cover the cupcakes with fondant. Take a piece of the fondant and knead until it's easily pliable.
Roll the fondant 1/4-inch thick between two pieces of wax paper or on a surface dusted with confectioner's sugar to prevent sticking.
Cut out a 3-inch circle for each cupcake, working with a few cupcakes at a time so the fondant doesn't stiffen. Spread a small amount of frosting on a cupcake and top with the fondant circle, using your fingers and palm to smooth the fondant over the cupcake.
Paint the gingham pattern and draw ants. Mix a drop or two of water with a drop or two of red food coloring on a piece of wax paper.
Dip the paint brush in the food coloring mixture and lightly brush stripes on the fondant. Repeat in the other direction and let cupcakes dry about 30 minutes.
Draw ants with the black food coloring pen.
Here are all the summer cupcake ideas for you: