Or, pumpkin patch cake topped with chocolate cream cheese frosting, crumbled chocolate cookies and fondant decorations. Also known as, the best Fall dessert EVER.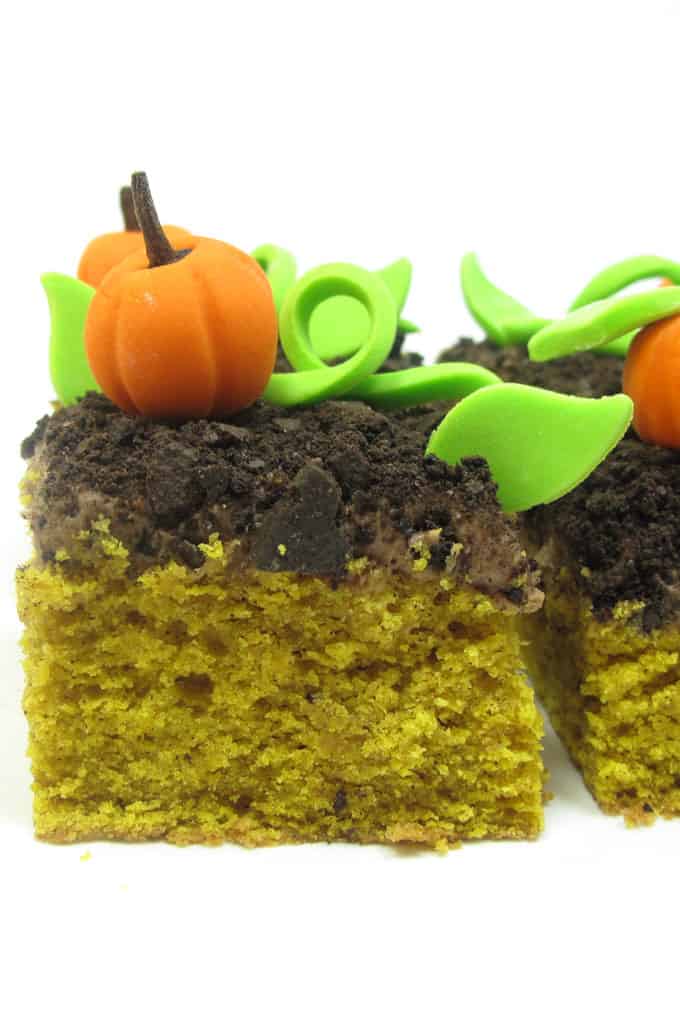 pumpkin patch cake
Remember that pumpkin shortage we had last year? I'm not helping matters. I went through four cans of pumpkin (I'm a Libby's gal) for challenge 8 of Project Food Blog. And yet… I didn't make it to Challenge 8. That's right.  So I bid a fond farewell to the Project Food Blog contest. But I had prepared my next challenge anyway since it's right up my alley. So I'm still going to share it with you. It's a delicious pumpkin patch cake, so just right for Fall or for Thanksgiving, and the perfect combo of yummy cake with Fall decorations.
The challenge:
create a sweet or savory baked good featuring pumpkin
. I tried a few versions of pumpkin cut-out cookies that were… just OK. I didn't want to settle for just OK. So then I tried cake. This one is yummy, moist, and not too heavy. The cream cheese frosting is a nice complement, and only subtly chocolate-y. So yay. I was sticking.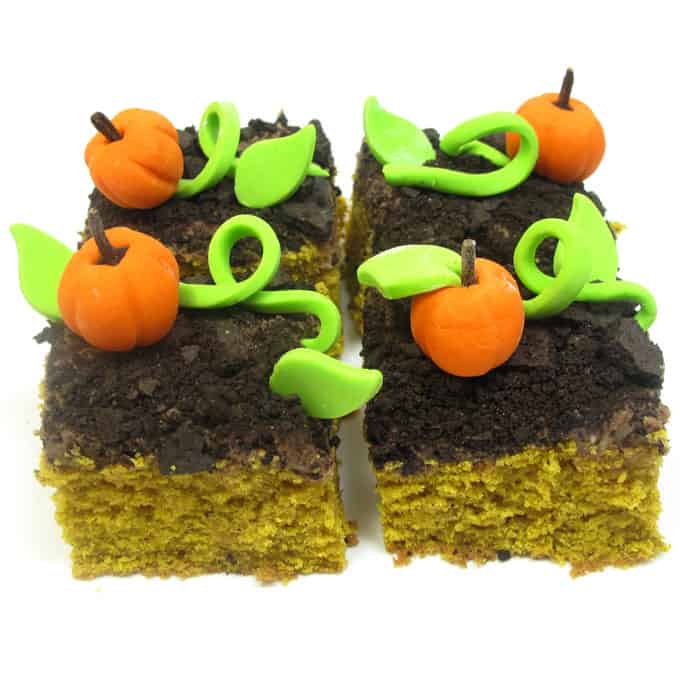 Hey, wait a second. I see someone back there.
Isn't that…..?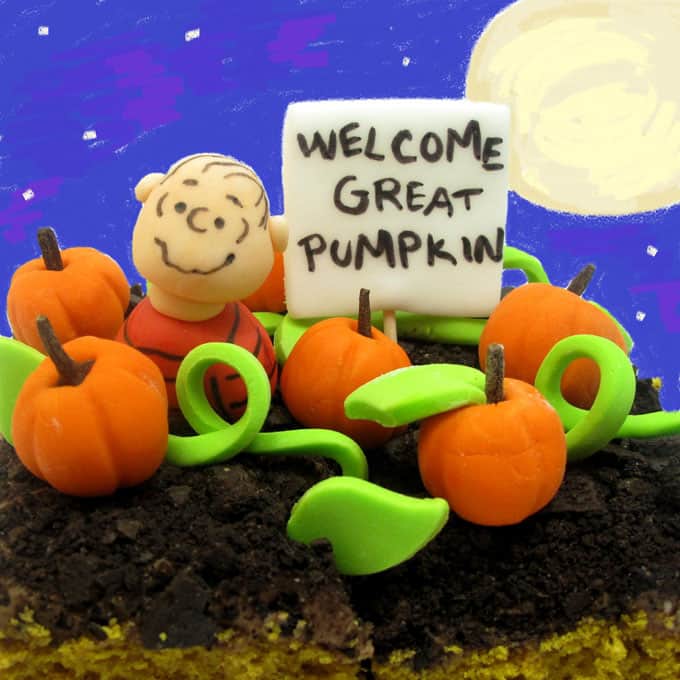 Yep. Yep. I think it is. What's he doing in that pumpkin patch?
(Yes, he's edible. So's the sign.)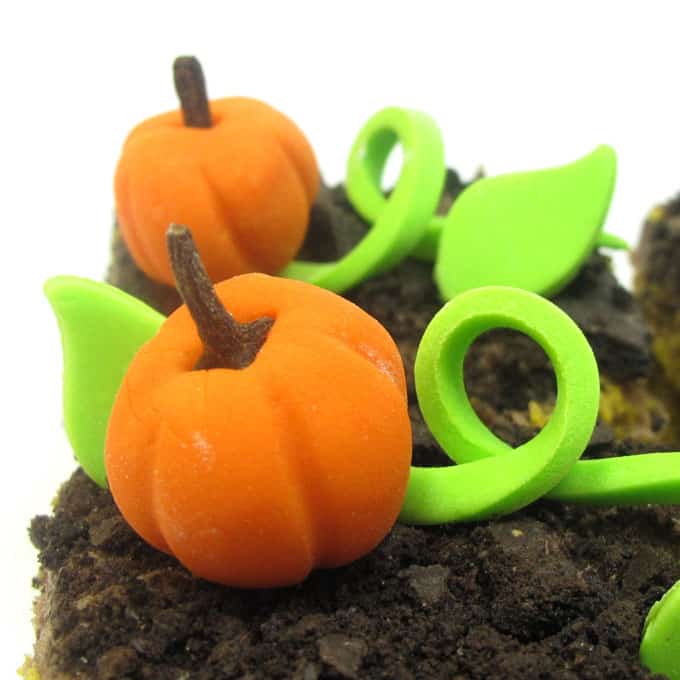 how to make a pumpkin patch cake
you will need:*
pumpkin cake recipe (below)
chocolate cream cheese frosting recipe (below)
package of Nabisco famous chocolate wafers
rolling pin
sealable plastic bag
spatula
fondant
food coloring
confectioner's sugar
whole cloves
1-inch leaf fondant cutter
pizza cutter
*The cake and frosting recipes are at the bottom of this post. Find the leaf fondant cutter (probably in a set) and fondant in the baking aisle of the craft store. For food coloring, I prefer Americolor soft gel pastes (Electric Green and Orange used here). The chocolate wafers are available in the supermarket. Check HERE for tips on finding cookie decorating supplies.
what to do:
step one: bake the cake
Prepare the cake recipe below and let cool completely. And I mean completely.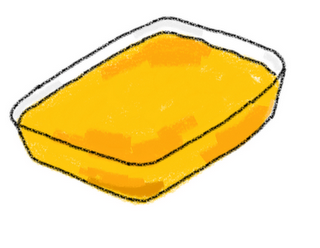 step two: frost your cake
Place some chocolate wafers in a sealable plastic bag (work with about ten wafers at a time). Crush with a rolling pin or mallet over a cutting board. Set aside. Prepare the frosting recipe below and use the spatula to spread on the cake. Immediately top with crushed chocolate cookies.

step three: make your fondant decorations
Prepare lime green and orange fondant by kneading drops of food coloring into a handful of fondant very well. If fondant gets too sticky from overhandling, let it sit at room temperature uncovered about fifteen minutes. Start with just one or two drops of coloring and add more until desired color is achieved.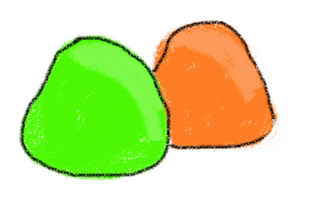 For the pumpkins: Roll a ball of orange fondant in your palms about 3/4-inch in diameter. Flatten the top and bottom slightly with your thumb and forefinger, and stick a clove in the top. Press the side of a toothpick into the fondant to make indentations on the sides. Prepare 25 to 30 pumpkins, or as many as desired.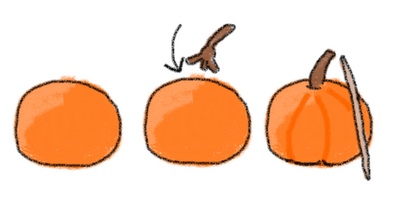 For the leaves:Roll lime green fondant thinly on a surface lightly dusted with confectioner's sugar to prevent sticking. Cut out leaf shapes and set aside. If desired, attach to the tops of a couple pumpkins with a dab of water. Cut out about 50 leaves, or as many as desired. Reserve some lime green fondant and wrap well. You will need more for the vines in step four.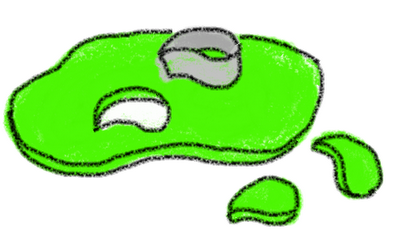 step four: assemble your pumpkin patch cookies
With a sharp knife cleaned frequently, cut cake into 2-inch squares and arrange on a platter or cake stand. Roll out the green fondant as in step three. Use the pizza cutter to cut out strips about 3/8-inch thick and 4-inches long. Gently pinch along the length of the vine to rid of sharp edges, then loop and bend vines. To arrange on each piece of cake, tuck one end of a vine into frosting to secure, and place a pumpkin on the other end, gently pressing into frosting. Insert leaves as desired.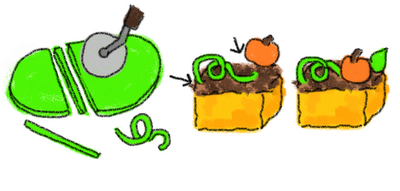 the recipes:
pumpkin cake recipe
(adapted from TLC Cooking)
2 cups all-purpose flour
1 1/2 teaspoons ground cinnamon
1/4 teaspoon ground ginger
1/8 teaspoon allspice
1/8 teaspoon ground nutmeg
1 teaspoon baking powder
1/2 teaspoon baking soda
1/2 teaspoon salt
1 cup unsalted butter, softened
1 cup granulated sugar
1 cup canned pumpkin puree
1 egg
1 teaspoon vanilla extract
Briefly whisk together flour, spices, baking powder, baking soda and salt in a bowl and set aside. Cream the butter in a standing mixer with the flat beater (or with an electric hand mixer). Add the sugar and blend well. Add the pumpkin, egg and vanilla extract and blend well. Gradually add the flour mixture, mixing well. Spread into a greased 9 x 13 inch baking dish and bake in a preheated 375 degree oven for 25 to 30 minutes until a toothpick comes out clean. Let cool completely. Yields: about 28 squares.
chocolate cream cheese frosting recipe
1 8-ounce package of cream cheese
1/2 cup of unsalted butter, softened
4 cups confectioner's sugar
1/2 cup cocoa powder
1 teaspoon vanilla extract
Blend the cream cheese and butter. Add confectioner's sugar and blend well. Add cocoa powder and vanilla and blend.
PIN FOR LATER: