Disclosure: *This post may include affiliate links. As an affiliate, I earn from qualifying purchases.


How to make sea animal candy pops, chocolate sea creatures for a summer party or BBQ dessert idea.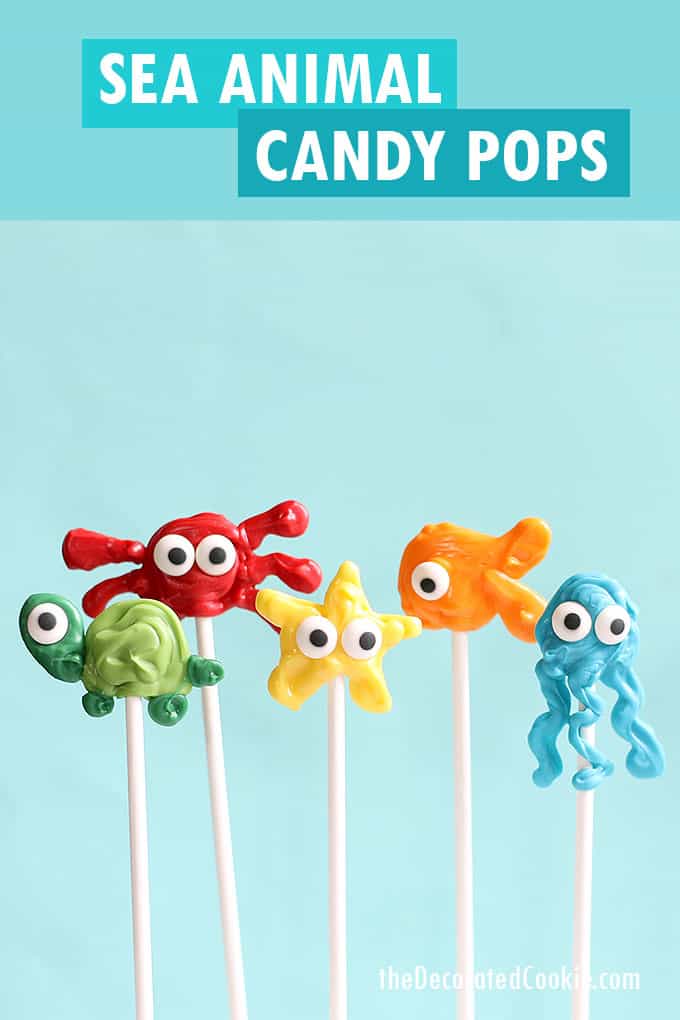 sea animal candy pops
I'm a creature of the sea, myself (more specifically, a creature of the Jersey shore), so I have an affinity for all things beachy. A couple years ago, I made these easy sea animal candy pops using candy melts, candy eyes and lollipop sticks. To show you just how easy they are to make, I'm going to actually show you. Via video.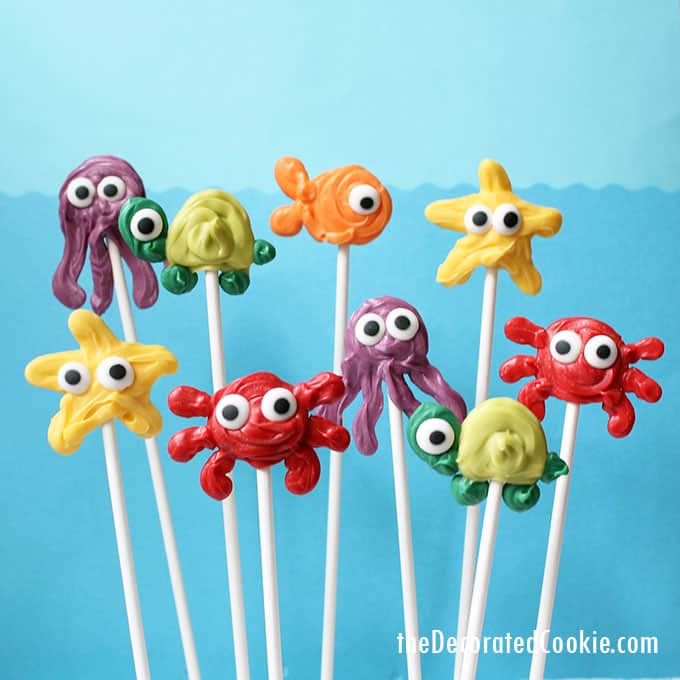 melting candy melts
I microwave my candy melts right in the disposable decorating bag, because candy melts melt at a low enough temperature, the bags won't get too hot and melt. But if you're concerned you can microwave the melts in bowls and pour into the bags.
Be sure to work with one color at a time, as the candy melts harden relatively quickly.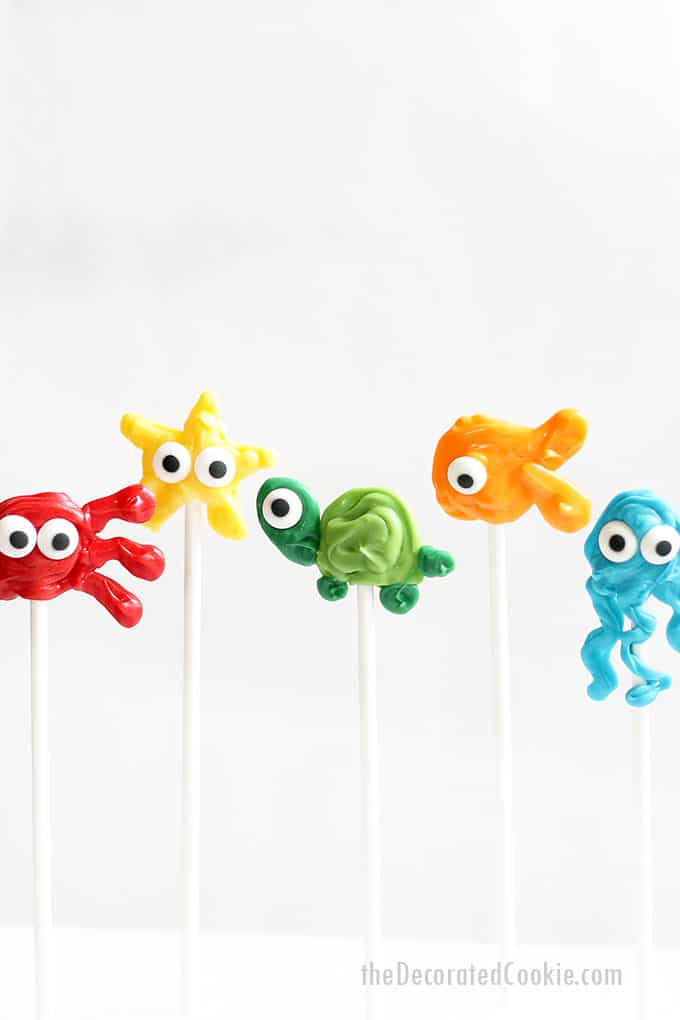 so many sea animals
Think beyond the animals I have here. Whales would be cute. Last time I made more of an octopus, but this time my octopi (?) look more like jelly fish. Lobsters, sea horses, seals, dolphins are more possibilities. And as long as the bags of candy melts are not too hot, kids can have at it, for sure.
Or, what about shark marshmallows for Shark Week?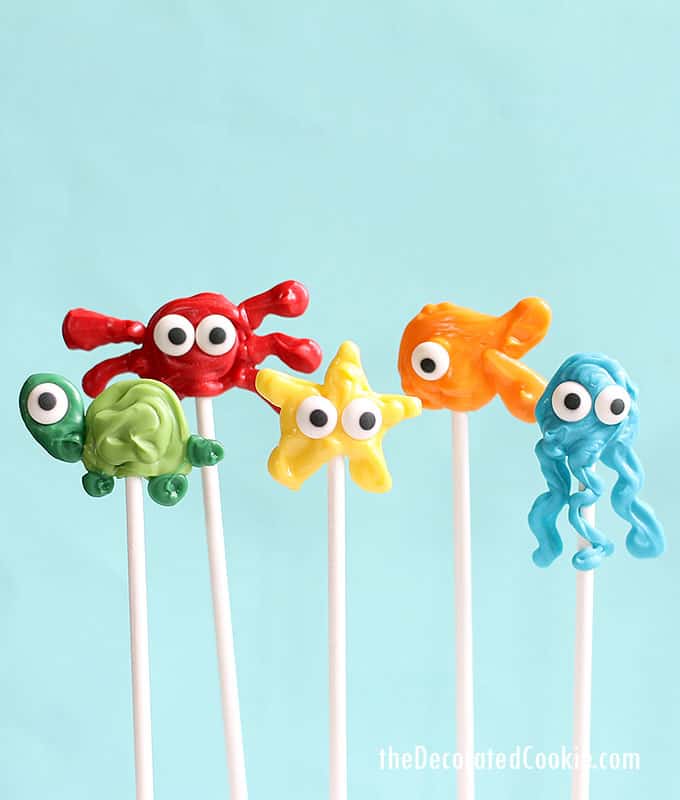 video how-tos
how to make sea animal candy pops
Here are the written how-tos, once more, if you prefer the old school way.
you will need:*
candy melts
disposable decorating bags
baking tray(s)
parchment or wax paper
scissors
lollipop sticks
candy eyes
*Find the candy melts, disposable decorating bags, lollipop sticks and candy eyes in the craft store, or see below for resources.
what to do:
Line a baking tray or trays with parchment or wax paper and set aside.
Work with one animal at a time since candy melts harden quickly.
Fill a decorating bag with about 1/2 cup of candy melts (or less, for fewer animals).
Microwave at 70 percent power for 90 seconds, then at 15 second intervals until the melts are fully melted, massage after each time in the microwave.
Twist the top closed tightly. Pipe a dot on the baking tray.
Place a lollipop stick on the dot. Pipe the sea creature design on top and immediately add one or two candy eyes, depending on the animal.
Fill the tray and let set at room temperature until fully hardened, about 1 hour.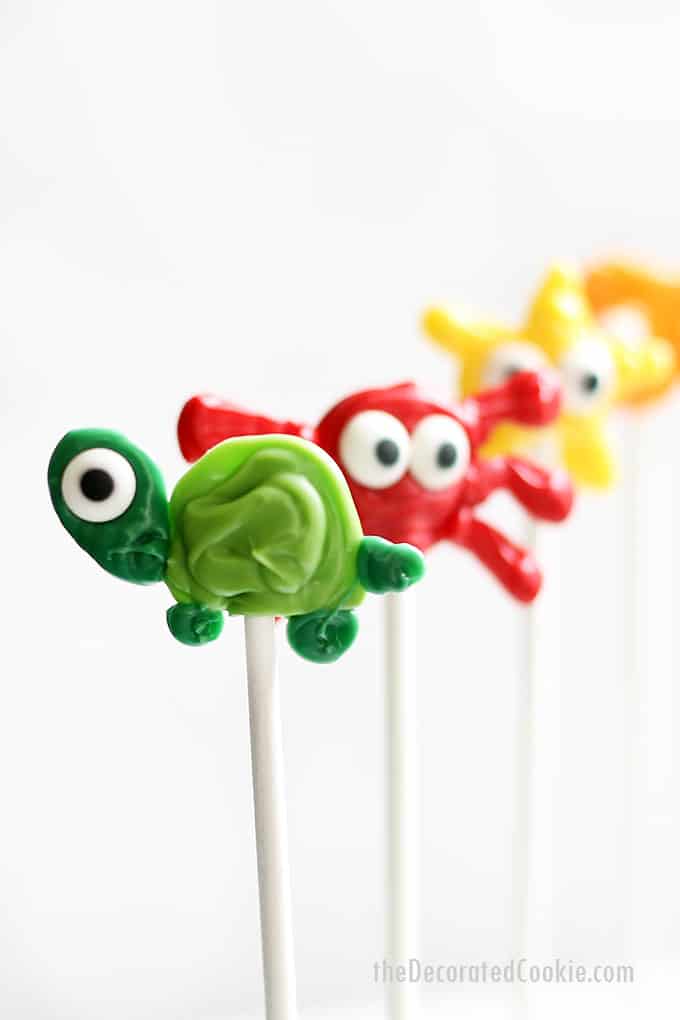 SUPPLIES
more fun summer treats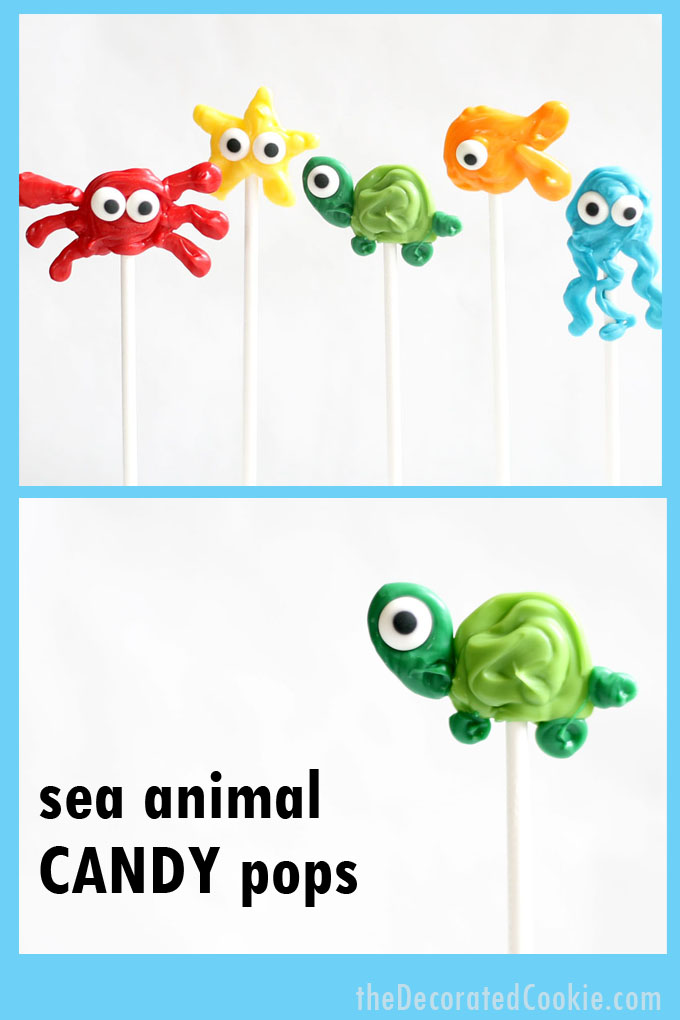 This post was originally published in April 2016 and updated in July 2020.