Believe it or not, 2-ingredient pumpkin donuts really are that easy to make. And they are so delicious with the flavors of fall.
pumpkin donuts
I call these "pumpkin donuts" instead of doughnuts, because there really is no need for dough. All you have to do to make the best baked pumpkin donuts ever is combine TWO INGREDIENTS: A box of cake mix and a can of pumpkin puree. That's it! You have a near-instant fall dessert idea.
more pumpkin recipes
If pumpkin and fall are your jam, check out these:
tips for making 2-ingredient donuts
I combine a box of French Vanilla cake mix and a can of pumpkin puree. You can use any cake mix flavor you like, such as spice cake or yellow cake.
I use my handy, dandy donut baking tray, but you may also use this recipe in the BabyCakes Donut Maker. (If you love your donut maker, check out these recipes for awesome baked donuts or pancake mix donuts.)
To pipe the donut batter into the tray, I find it easiest to fill a disposable decorating bag and snip an inch off of the tip.
donut toppings
Here are some ideas to top your pumpkin donuts, which are optional.
To make an easy maple glaze, whisk together 1/2 cup of powdered sugar, 1 tablespoon maple syrup and 1 tablespoon milk. Add more powdered sugar for thicker glaze.
Spoon some store-bought vanilla frosting into a bowl, sprinkle pumpkin pie spice liberally over the frosting and stir well. Scoop into a decorating bag and pipe on the donuts.
Brush the donuts with melted butter and sprinkle with cinnamon sugar.
watch this short video on how to make pumpkin donuts
how to make 2-ingredient pumpkin donuts
you will need:
1 box cake mix (French Vanilla used here)
1 can pumpkin puree (not pumpkin pie filling)
optional:
1 tablespoon pumpkin pie spice
glaze or topping of your choice (see above)
what to do:
Lightly spray a donut baking pan with non-stick spray. Preheat oven to 350 degrees F.
In a large bowl with an electric hand mixer or in the bowl of a standing mixer, combine the cake mix and pumpkin puree. Blend very well. If desired, stir in the pumpkin pie spice.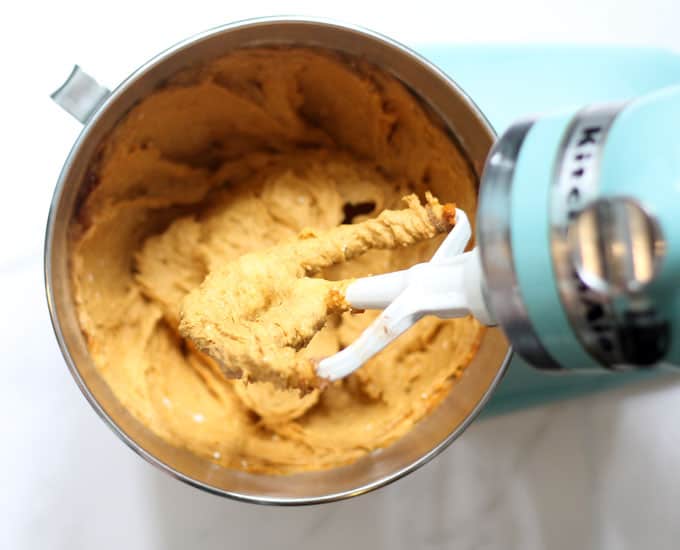 Scoop some of the batter into a disposable decorating bag. Snip an inch off of the tip and pipe the batter to fill the donut baking pan.
Bake until donuts start to brown and the donuts spring back when gently pressed, 15 to 18 minutes. When cool, add toppings, if desired. (See blog post above for donut topping ideas.)
2-ingredient pumpkin donuts
Ingredients
1 box cake mix (French Vanilla used here)
1 can pumpkin puree (not pumpkin pie filling)
optional:
1 tablespoon pumpkin pie spice
glaze or topping of your choice 
Instructions
what to do:
Lightly spray a donut baking pan with non-stick spray. Preheat oven to 350 degrees F.
In a large bowl with an electric hand mixer or in the bowl of a standing mixer, combine the cake mix and pumpkin puree. Blend very well. If desired, stir in the pumpkin pie spice.
Scoop some of the batter into a disposable decorating bag. Snip an inch off of the tip and pipe the batter to fill the donut baking pan.
Bake until donuts start to brown and the donuts spring back when gently pressed, 15 to 18 minutes. When cool, add toppings, if desired. (See blog post for donut topping ideas.)