These homemade Thin Mints cookies are so crazy delicious, easy to make, and taste just like the popular Girl Scouts cookies version.
Thin Mints cookies
I'm not sure I've ever met a soul who wouldn't devour a box of the Girl Scouts' Thin Mints cookies, if given the chance.  My daughter's a girl scout, so I can tell you from having stood with her at those booths outside supermarkets, and begging family members to help me fill out her cookie orders, The Girl Scouts Thin Mints cookies are easily the most popular (though Samoas and Tagalongs are a close second and third, and personal favorites). So homemade Thin Mints cookies have been on my list to make.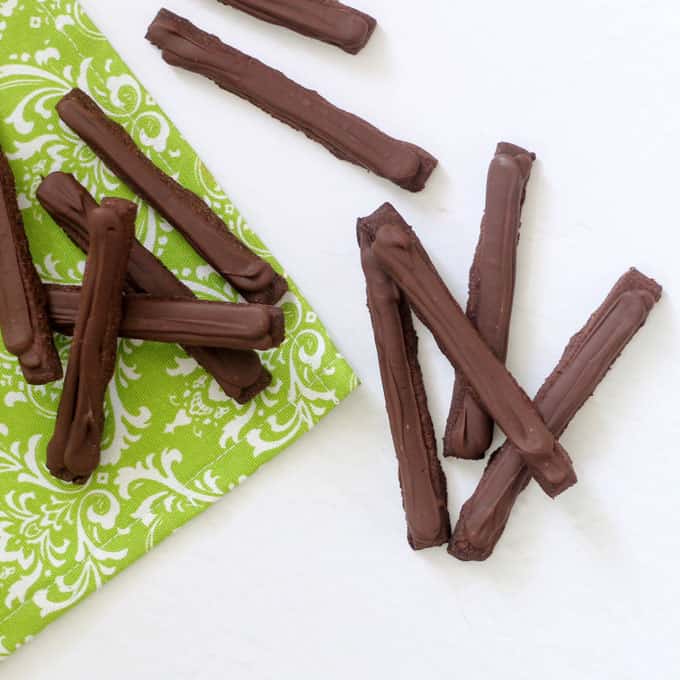 Thin Mints history
I love making my own cookies, of course, and these homemade Thin Mints cookies are the perfect recipe between cookie-selling seasons, but I also encourage you to buy as many boxes as you can from the Girl Scouts. The Girl Scouts have been selling cookies to fund raise for the individual troop's activities for a hundred years, since 1917 when the Mistletoe Troop in Muskogee, Oklahoma, baked cookies and sold them as a service project. By the start of the 1950s, there were three flavors, sandwich cookies, shortbread, and the chocolate mints, that would later be known as Thin Mints. Today, there are a dozen flavors, including a gluten-free cookie and s'mores.
tips to make Thin Mints
The from-scratch Thin Mints cookie recipe here is for a small batch of cookies. (Although, if you cut the cookies small, you'll still get thirty or forty cookies!) You may double the recipe, but if you do so, add the entire egg to the dough, not just the egg yolk. You may also choose to cut out the cookies in any shape, including the classic circle. I just find cookie sticks to be so more fun and easier to eat, and the unusual shape tends to be a conversation starter. Here, I pipe the chocolate on the cookies, too, which I find easier, but you're welcome to dip the cookies in the melted chocolate instead. If you choose to dip the cookies, you may use more chocolate, so just keep additional chocolate chips on hand.
Need more Thin Mints inspiration? Check out this Thin Mints popcorn recipe. Or Thin Mints marshmallow pops. These homemade Thin Mints cookies are so addictive, just like the originals!
printable Thin Mints cookies recipe