Disclosure: *This post may include affiliate links. As an affiliate, I earn from qualifying purchases.


The favorite Girl Scout cookies, Thin Mints, mixed with chocolate and popcorn.
Thin Mints popcorn
You know what this is? The best freaking popcorn in the world. Really. It's that good. Also known as, Thin Mints popcorn.
A little crunch, a little chocolate, a little mint. Perfect combination. My daughter is a Junior Girl Scout, which means, of course, we have a surplus of Thin Mints in the house. What to do with all those cookies? Make popcorn.
Three ingredients, ready in minutes. Awesome.
more Girl Scout cookies ideas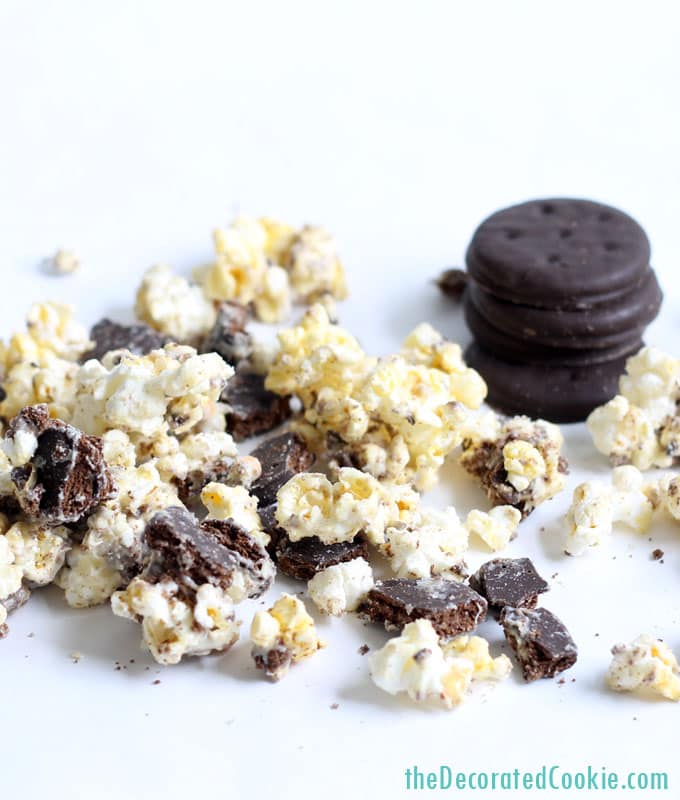 how to make 3-ingredient Thin Mints popcorn
1 bag of microwave popcorn, popped*
1 sleeve of Thin Mints Girl Scout cookies
1 cup white chocolate chips
*Choose any of your favorites. I prefer salted and buttered to go with the sweetness of the chocolate and cookies. Choose the regular size, not the smaller snack size. (And try and remove as many unpopped kernels as you can.)
what to do:
With your hands, crush and crumble a sleeve of Thin Mints cookies (16 cookies). Leave a few good-sized pieces. Pop a bag of microwave popcorn.
(The bag says it's about 12 cups total of popcorn, but by my measure it's only 6 cups of popped popcorn, so I don't know what's going on there.)
Melt the chocolate chips in the microwave. In a large bowl, combine the popcorn, cookies and white chocolate. Mix well. (I used my hands to mix.)
Spread on a baking tray lined with wax or parchment paper. Let set about 15 minutes.