Disclosure: *This post may include affiliate links. As an affiliate, I earn from qualifying purchases.


Donut Maker fun: How to make mini baked donuts with the Babycakes Donut Maker — delicious easy recipe idea for breakfast.
Babycakes Donut Maker recipe
This vanilla Babycakes Donut Maker recipe is a family favorite!
My mother-in-law got my daughter–well, me–the Babycakes donut maker for Christmas, which may or may not have been my suggestion. And we love it!
more donut maker recipes
By the way, if you like this recipe, check out
review
It did occur to me, "Hmmm, another piece of kitchenware I'll have to find a place for to gather dust," but I've a feeling this one might will spared the dust part.
It really is super easy to use and a jillion times quicker than making traditional doughnuts.
Plus, I'm a total doughnut purist. None of this "baked" stuff, I like them deep-fried and unhealthy. But wouldn't ya' know it?
These were really good and really doughnutty. So all in all, Go Babycakes donut Maker. You make a good doughnut in three to five minutes.
(It also comes with a handy dandy prong tool thing and a handy dandy wire rack).
donut topping ideas
Here are a few ideas to add to your mini baked donuts.
Dusting of confectioner's sugar
Bakery-style frosting and sprinkles
Drizzle honey or maple syrup
Brush with melted butter and add cinnamon sugar
doughnut recipe for Babycakes Donut Maker
Prepare the Donut Maker with non-stick spray, and heat the Donut Maker according to the instructions.
Put in mixing bowl and combine:
1/2 cup all-purpose flour
1/4 cup sugar
2 teaspoons baking powder
1/4 teaspoon salt
Add and blend just until the ingredients are mixed well and dough is creamy:
1/4 cup half and half (any milk, including plant-based, works too!)
1 large egg
1 teaspoon vanilla extract
2 Tablespoons vegetable oil
Immediately scoop the batter into a disposable decorating bag and close with a rubber band. Snip the tip and pipe a ring of dough into each of the molds. (Or, just use a spoon!) About 2 tablespoons will fit in each cavity.
Close the lid and bake for 3 to 5 minutes. Remove from the Donut Maker and rest on a wire rack. Top with icing, confectioner's sugar or cinnamon sugar.
TIP: To help evenly brown the donuts, you may flip them after 2 1/2 to 3 minutes (only if they are easily flippable, don't try and pry them out). In theory, you shouldn't have to flip the donuts, as the Donut Maker should cook evenly, but as the Donut Maker ages, it can lose some zing in the top.
Yield: 9 doughnuts (which means one batch plus three since the Donut Maker holds six.)
Yield: 9 mini donuts
making doughnuts with the Babycakes Donut Maker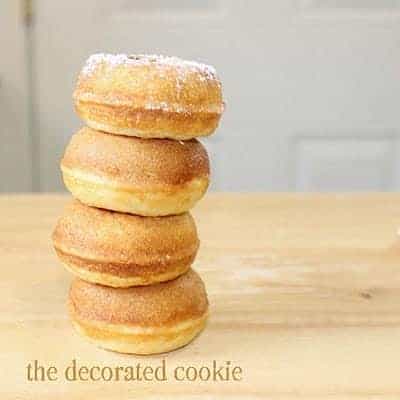 The BEST easy mini baked donuts. This Babycakes Donut Maker recipe is delicious and fun for breakfast.
Ingredients
1/2 cup all-purpose flour
1/4 cup sugar
2 teaspoons baking powder
1/4 teaspoon salt
1/4 cup half and half (milk, even plant-based, works too!)
1 large egg
1 teaspoon vanilla extract
2 Tablespoons vegetable oil
Instructions
Prepare the Donut Maker with non-stick spray, and heat the Donut Maker according to the instructions.
Put in mixing bowl and combine the flour, sugar, baking powder, and salt.
Add the half and half or milk, egg, vanilla, and oil and blend just until the ingredients are mixed well and dough is creamy:
Immediately scoop the batter into a disposable decorating bag and close with a rubber band. Snip the tip and pipe a ring of dough into each of the molds. OR, just use a spoon to fill the molds with about two tablespoons of batter each.
Close the lid and bake for 3 to 5 minutes. Remove from the Donut Maker and rest on a wire rack.
Top with icing, confectioner's sugar or cinnamon sugar.
Yield: 9 doughnuts (which means one batch plus three since the Donut Maker holds six. I think. I think mine are slightly too big since they have those ridges around the middle, so maybe you can get 10.)
Nutrition Information:
Yield:
9
Serving Size:
1
Amount Per Serving:
Calories:

92
Total Fat:

4g
Saturated Fat:

1g
Trans Fat:

0g
Unsaturated Fat:

3g
Cholesterol:

23mg
Sodium:

179mg
Carbohydrates:

12g
Fiber:

0g
Sugar:

6g
Protein:

2g