Disclosure: *This post may include affiliate links. As an affiliate, I earn from qualifying purchases.


marshmallow subway art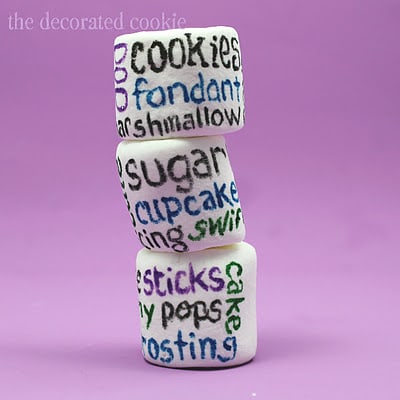 This week is all about…. marshmallows!! Marshmallows are so quick and easy to decorate. Of course, there are plenty o' marshmallow decorating ideas in Sugarlicious. By the way, have you pre-ordered yet? This week I'm making marshmallow subway art
how to draw on marshmallows
To learn more about the different brands of edible writers and how to use them, CLICK HERE to see my prior post. For fine-line decorating, I prefer the FooDoodler 10-pack Fine Line food coloring markers. Did I mention I'm giving FIVE of you a pack? I give and give for the sake of food art.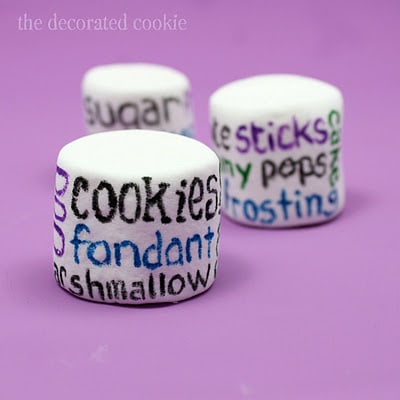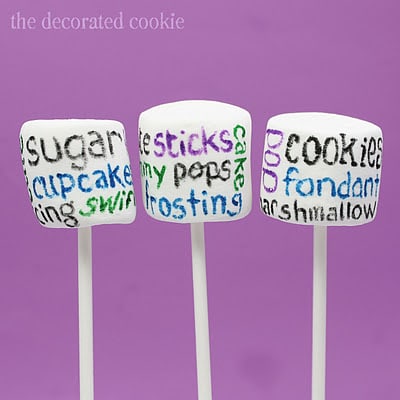 Some tips on making subway art marshmallows:
Gather your words. I did some that are Sugarlicious-related, but I also considered Valentine's Day words, like "love," "you," "me," "heart," "sweetie," "whips" (hey, I don't know what you are all into…)
Open a document with a word program and type your words in a bunch of different fonts. Then use the markers to copy the words and fonts, making some words large, some small, some vertical, some horizontal.
If it helps, cut out a slip of paper 1-inch by 4-inches. This is about the size of a marshmallow if you were to wrap the paper around the side of the marshmallow. Then, plan out your subway art first. I wasn't so precise and just eyeballed it.
Add a lollipop stick if you like.
And I made some Valentine's Day ones, too.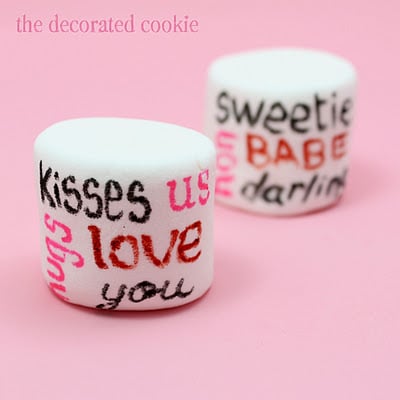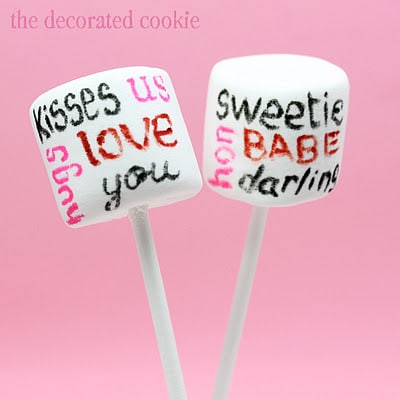 And if subway art isn't your thing, you can do a lot more with edible writers.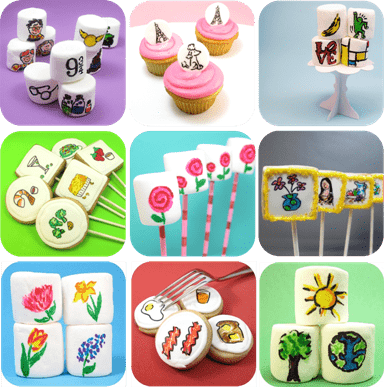 UPDATE: GIVEAWAY ENDED
I'm back with another giveaway to celebrate the almost-release of
Sugarlicious
! which will be available next month. To learn more about the book CLICK HERE. I know, I know I teased you with the actual book. Forgive me!! I can't give the actual book away quite yet. Soon, though, promise!
Do you decorate marshmallows? With edible writers or anything else fun?
THE GIVEAWAY
to enter to win
the sneak-peek thingamajig AND
a bag of marshmallows AND
the FooDoodler 10-pack of fine line edible writers
(reminder, this isn't the book itself which is out February 7th,
this is a booklet sneak peek that my awesome publisher made)

leave a comment here before
Thursday, January 11th, midnight, EST
(Sorry folks, funds are limited so I have to keep this US addresses only!)