Apple pie bites on a stick are a twist on the classic fall dessert.
apple pie bites
When I was a kid, I used to dream of owning an apple orchard when I grew up. (Or, more specifically, I dreamed of being an architect veterinarian who owned an apple orchard.) I live in the heart of a major city, Washington DC, so no apple orchard for me. Though I do like to trek out to Maryland to go apple picking at least once a year. I'd like to say these apples are from a day at the farm, but alas, I've not yet made it out there. But they are freshly picked from my local Giant. (UPDATE for those terribly worried I wouldn't make it apple picking… I went yesterday and got 18 pounds of apples. But I wrote this post last week. Ah well, more apple-y days ahead.) So I made apple pie bites on a stick.
If you like this recipe for apple pie bites, you'll love this recipe for the best ever apple crisp!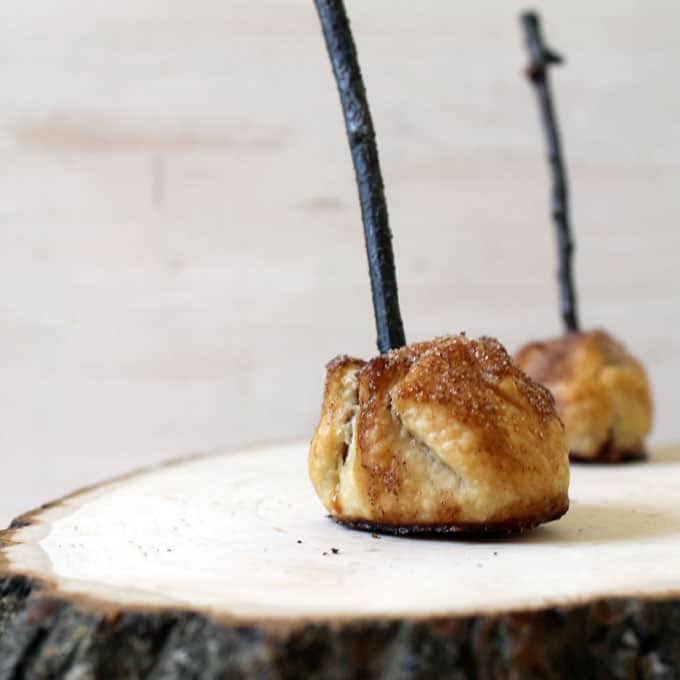 It's so much easier to eat a bite of apple pie then to deal with the whole knife and slicing and plate and fork thing. Though I guess eating a slice of apple pie isn't too difficult either. So then I'll say cuter instead. Yeah, cuter. I used sticks I gathered from the yard, washed them and stuck them in the top. Said sticks are optional, and a couple pulled right out of the apple pie bites when I went to pick them up. A skewer with a pointy end  would be much more practical. But the sticks are, well, just so much more right, so I still vote sticks.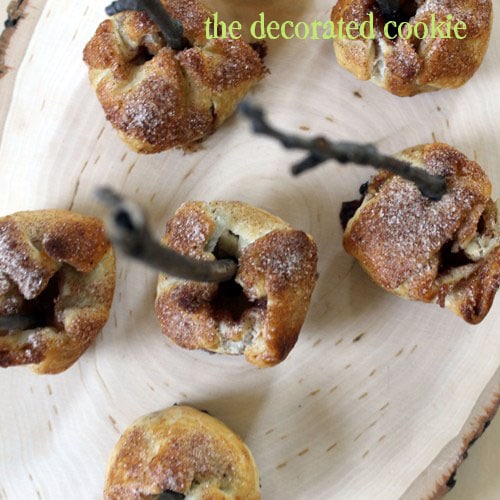 how to make apple pie bites on a stick
you will need:
1 large Granny Smith apple

1 small ice cream scoop*

1 9-inch refrigerated pie crust  (Pillsbury Refrigerated Pie Crusts used here)


3-inch circle cookie cutter

2 tablespoons sugar, plus additional

1/2 teaspoon cinnamon, plus additional

1/4 teaspoon nutmeg

1 egg

flour

rolling pin

sticks or skewers (optional)
* I used a small scoop 1 1/4-inch in diameter. You don't really need an ice cream scoop since my apple "balls" were more "chunks" anyway, you could use a knife to cut pieces about 1 inch to 1 1/4 inch cubed.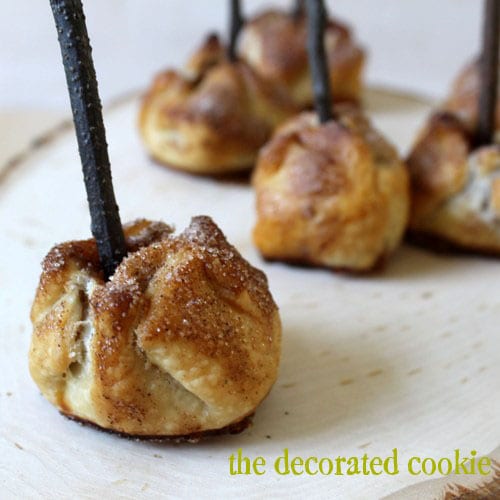 what to do:
Preheat oven to 425 degrees F. Pare and core the apple. Use the scoop or just a knife to make apple chunks about 1-inch to 1 1/4-inch across. In a small bowl, mix 2 tablespoons sugar, 1/2 teaspoon cinnamon and the nutmeg. Dip and roll the apple pieces in the sugar mixture until fully coated.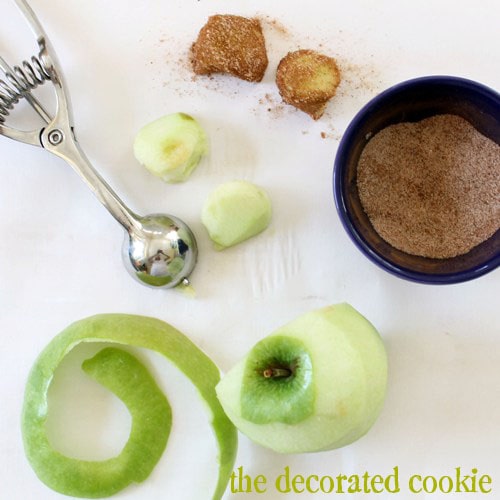 Unroll a refrigerated pie crust and cut out circles with the cutter. Gather the scraps and re-roll on a floured surface about 1/8-inch thick. Cut out remaining circles. You'll need one for each apple piece. Place a sugar-coated apple piece in the center of a pie crust circle and gather the pie crust around the top of the apple and pinch to seal. (Some of the apple may peek through at the top.) Place on a baking tray lined with parchment paper. Repeat with the remaining pie crust circles and apple pieces. Beat the egg with a couple teaspoons of water, and brush over the pie crusts. Use the remaining sugar mixture, or, mix more cinnamon and sugar together, and sprinkle over the apple pies.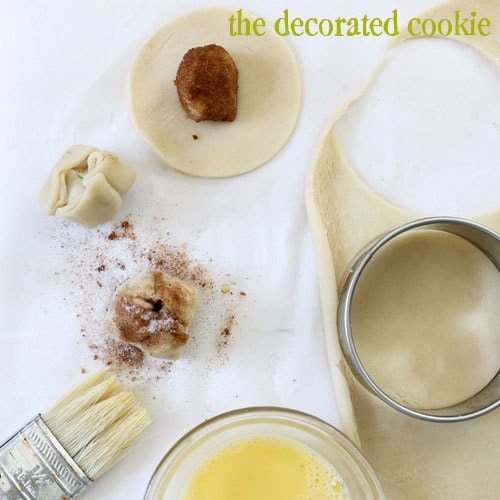 Bake for 14 to 16 minutes until the crusts are browned. Remove from the oven and insert the sticks. As the pie bites cool, the sticks will become more secure. (More secure, not totally secure, so don't go waving these around.) Makes about 10 bites.