Disclosure: *This post may include affiliate links. As an affiliate, I earn from qualifying purchases.


Summer cupcake idea: Pinwheels in the grass cupcakes and how to pipe grass on cupcakes.
summer cupcakes: Grass cupcakes
What does Summer mean to you? The smell of freshly cut grass wafting through the air as you walk barefoot in the grass? And step on a bee? Yeah, I'm a half-empty kind of person. I go right there to the bee sting. Really, though, it's not very smart to walk barefoot in the grass. How about some pinwheel cupcakes for summer? And of course, how to pipe grass on cupcakes.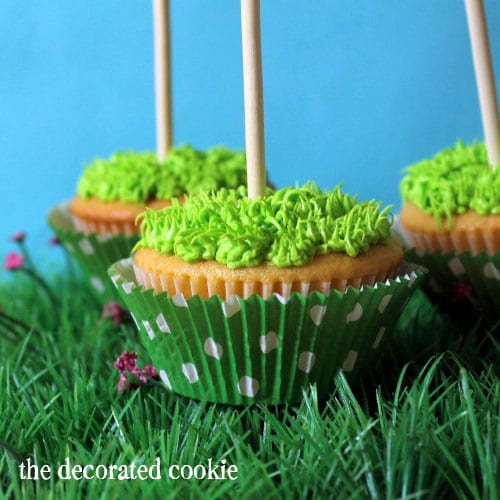 These cupcakes say Summer to me, though, for those of you lucky enough to skip barefoot in the grass on a hot day without injury. I found a pack of pinwheels at the craft store and just stuck them in cupcakes topped with frosting "grass" (ie. I used the "grass" tip, size 233, to pipe the frosting on the cupcake). Easy peasy. Though I piped the grass a little too short. I went for the freshly-mowed look, I guess.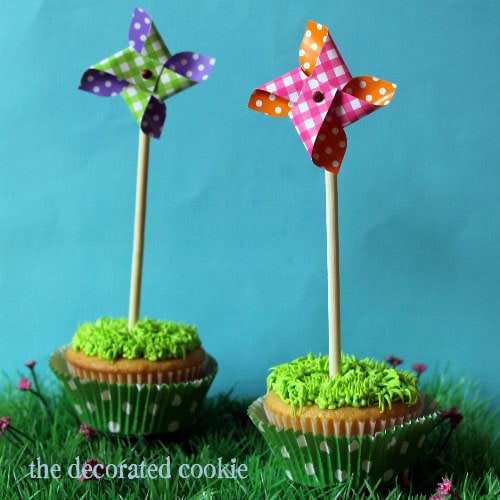 how to make pinwheels cupcakes
Cupcakes*
Frosting
Green food coloring
Scissors
Disposable decorating bag
Coupler
Size "233" decorating tip
Mini pinwheels
*Bake your favorite cupcake recipe or use cake mix. If using store-bought frosting, I find it best to thicken it with powdered sugar, as the food coloring can make it runnier, and you'll want the frosting to keep its shape. Find the decorating bag, coupler and tip (also known as the "grass" tip) at the craft store. I found the pinwheels at the craft store, or you can make your own. For food coloring, I suggest Americolor Soft Gel Paste, Electric Green or Leaf Green, found at specialty stores and online.
Prepare your cupcakes and frosting according to the recipes. Tint the frosting green and thicken if necessary with powdered sugar. Prepare a decorating bag with the coupler and tip and fill with the green frosting.
Pipe the frosting on the cupcakes. To pipe, hold the decorating bag vertically over the cupcake, squeeze and pull up quickly to make frosting "grass." Repeat to cover the entire tops of the cupcakes.
Insert the pinwheel, and serve!
Here are more summer cupcake ideas for you: