Disclosure: *This post may include affiliate links. As an affiliate, I earn from qualifying purchases.


Simply-decorated Halloween cookies with fondant and a food coloring pen.
Halloween cookies
Some of you may already know, but I've struggled with auto-immune disease and intestinal mayhem for about twenty years now. I know hospital stays and surgery all too well. And so as my dear friend and fellow blogger, Katrina of In Katrina's Kitchen, is away sharing these same struggles, I am filling a little gap on her blog by sharing some simple Halloween cookies. I am sending her the biggest, bestest wishes for the speediest recovery of all time. We miss you, Katrina! And we'll see you back in the kitchen soon!
For how-tos to make simple, decorated Halloween cookies, click HERE to visit In Katrina's Kitchen.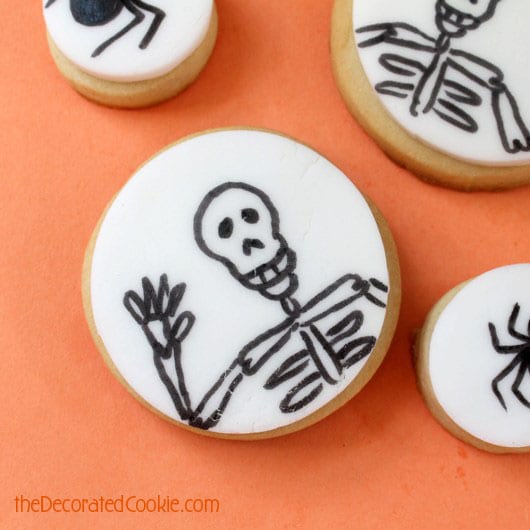 how to make simple Halloween cookies
You will need:*
circle cookie cutter
white rolled fondant
black edible writer
frosting or icing
*You may use any size circle cookie cutter you prefer. You may also use any of your favorite recipes for cut-out cookies. (This one is my never-fail, go-to recipe.) Buy white, rolled fondant at the craft store, or, make your own. Instead of fondant, you may also prepare royal icing, tint it white and flood the cookie with the icing. Just be sure to let it dry VERY well, overnight at least. The frosting is to adhere the fondant to the cookie, so use any of your favorite recipes or even store-bought.
step one: prepare your cookies
Prepare cookie dough according to the recipe, chill, roll out, cut out circles and bake as instructed. Let cool completely.
step two: prepare your fondant
On a surface dusted with confectioner's sugar to prevent sticking, briefly knead then roll out the fondant about 1/4-inch thick. Cut out circles using the same cutter you used for the cookies.
step three: attach the fondant
Spread a thin layer of frosting on a cookie, but don't go quite to the edge. Place a fondant circle on top and gently press with your palm and smooth with your fingers.
step four: decorate!
Use the edible writer to draw your designs.