Disclosure: *This post may include affiliate links. As an affiliate, I earn from qualifying purchases.


3-ingredient Jack Daniels fudge is the best (grown-up) dessert EVER! Filled with booze, minutes to make, delicious.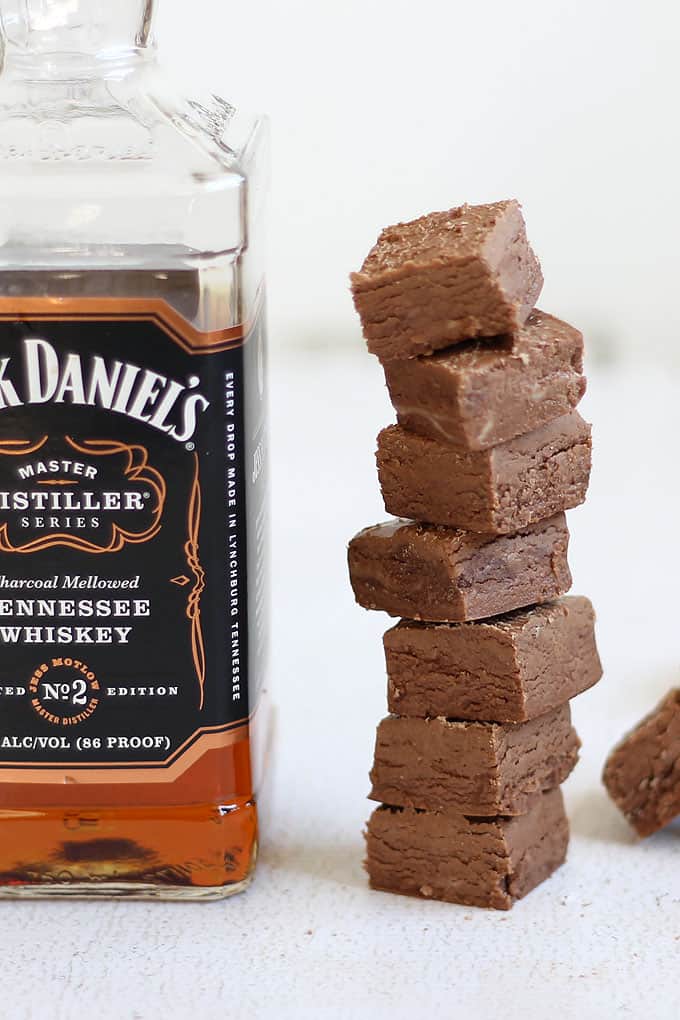 Jack Daniels fudge
Let me be clear. This Jack Daniels fudge is not chocolate fudge flavored with whiskey. This is a shot of whiskey delivered by fudge. These are strong. The alcohol is NOT cooked out. And it's absolutely wonderful. Though I appreciate its history and complicated flavor, I'm not a fan of whiskey (thank you, college). But whiskey as fudge, that I can get behind.
Three ingredients, easy to make, delicious and boozy.
Be the party winner and bring 3-ingredient Jack Daniels fudge.
Since making this whiskey fudge, I've tried other liquors (tequila, rum, vodka, gin, Schnapp's, and more) with great success, and other chocolates as well (white chocolate, milk chocolate, and more). FOR ALL BOOZY FUDGE RECIPES, CLICK HERE.
And if you like this whiskey fudge, check out this version made with fireball whiskey.
The basic boozy fudge recipe:
you will need:
1 cup liquor
2 cups (1 bag) chocolate chips
2 pounds confectioner's sugar
what to do:
Line a 9 x 13 inch baking pan with parchment or wax paper. Crease the edges so the sides are also lined and you can later use the parchment paper to lift the fudge out of the pan.
Place the chocolate chips in a microwave-safe bowl. Microwave for 90 seconds at 70 percent power. Stir and continue to melt at 30 second, then 15 second, intervals just until melted, stirring well each time. When the chocolate is almost melted, stir well to let the residual heat completely melt the chocolate.
While the chocolate is melting, place the confectioner's sugar in a large bowl. Whisk the liquor into the sugar. The mixture will look like icing.
When the chocolate is melted, quickly pour the chocolate into the sugar and liquor mixture and stir very well. Scrape the chocolate, liquor and sugar mixture into the prepared baking pan. Spread evenly.
Let set at room temperature or in the refrigerator at least an hour. Cut into squares.
For the full recipe for Jack Daniels fudge, visit Tablespoon.
PIN FOR LATER: