Disclosure: *This post may include affiliate links. As an affiliate, I earn from qualifying purchases.


Use the free printable and include some mini markers to make these decorate-your-own slap bracelet Valentine's Day cards for a class party.
slap bracelet Valentine's Day cards
These slap bracelet Valentine's Day cards with free printable for classroom parties are a sign of our times.
Once upon a time (like, late '70s/early '80s), kids at Valentine's Day would go to their local Woolworth's, pick out some cheap paper punny cards, fill them out for all the kids in their class (some begrudgingly), go to school, decorate a paper lunch bag to collect other cheap paper punny cards, and eat a cupcake or some conversation hearts.
Now, in 2016, we search pinterest for DIY Valentine's Day card ideas, find a cute printable, and attach a freaking GIFT to the card, as long as it's a non-candy gift, since the school won't allow sugar through the front doors.
And maybe, just maybe someone will bring in some heart shaped bran muffins for the kids. How do I feel about this? Pretty OK, clearly. That's my pinterest board I linked to. And I have a printable for you today.
Looking for more ideas? Check out this roundup of 51 DIY Valentine's Day classroom cards. And here are 30 ideas for toy and card combos.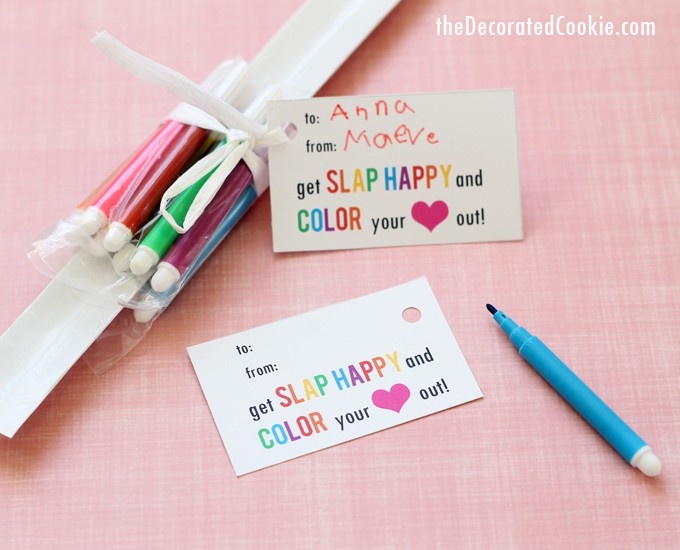 how to make slap bracelet classroom Valentines
Each year, my daughter decides what to give. We search Oriental Trading together for a budget-friendly toy she chooses. The last couple years, she was all about the horse Valentines.
This year, she chose decorate-your-own slap bracelets. We picked out sets of mini markers to go with them, and I made this printable. The links go to Oriental Trading, where I bought each. The markers were a bit more than I anticipated spending, but you can also get packs of crayons. Or buy a smaller set of crayons or markers and just include 2 or 3 with each bracelet.
CLICK HERE FOR SLAP BRACELET VALENTINES PRINTABLE
Print with a color printer on letter-size, white cardstock. Cut out on the gray lines and punch a hole in the corner. Tie together the markers and the bracelet and attach a tag.