Disclosure: *This post may include affiliate links. As an affiliate, I earn from qualifying purchases.


how to make adorable little lamb cake pops for Easter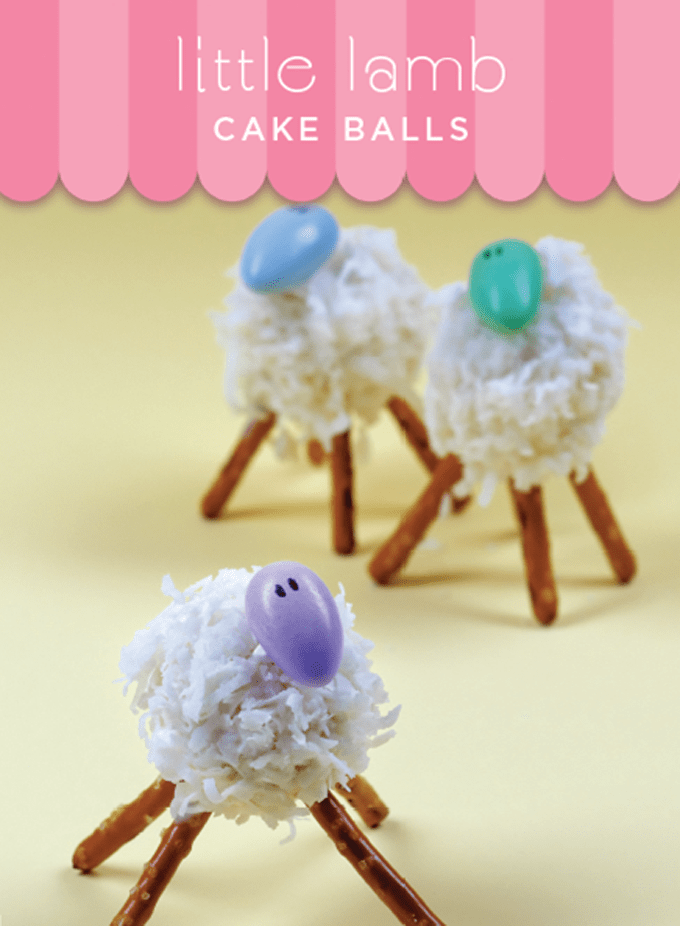 Easter cake pops
Straight from the pages of Sugarlicious.… here's an example of what you'll find inside.
These little lamb cake pops are easy to make. (Ok, so technically they are "cake balls," what with not having a stick, but "cake pops" is such a familiar term.)
Each craft idea has a list of the recipes, supplies and techniques you need, all included in the book, where you'll find the recipes for cake and frosting to make cake balls and how-tos for melting the candy melts.
There's also a Techniques section that covers the "dip sweets in candy melts," "use sprinkles and candy," and "use edible writers" in further detail to answer any questions you might have.
I added a few notes in the instructions below that are found elsewhere in the book, too.
Enjoy!
how to make little lamb cake balls
recipes
cake pops (cake and buttercream frosting)

melting candy melts
supplies
black edible writer

Jordan almonds

shredded coconut

white candy melts

mini pretzel sticks

wax paper
techiques
dip sweets in candy melts

use sprinkles and candy

use edible writers
IDEA
Tint the coconut pink, blue, yellow or purple, and use coordinating colors of candy melts and almonds.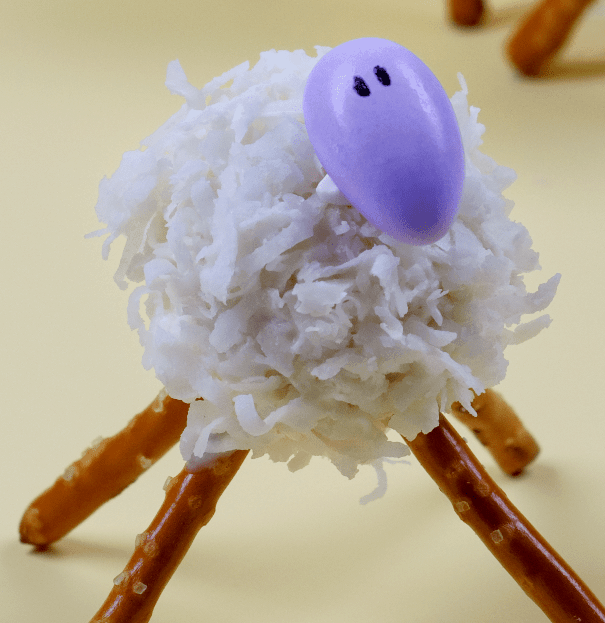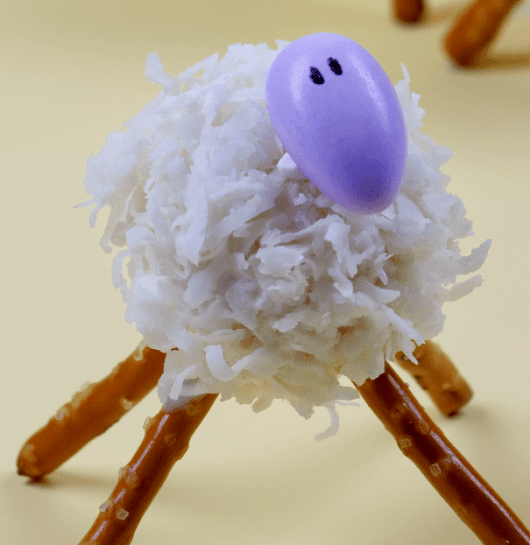 1. Follow the recipe for cake pops to bake your cake, prepare your cake balls and chill. (To make cake pops, prepare a cake in a sheet pan and crumble in a bowl when cool. Add 1 1/3 cup frosting and mix well with your hands. Roll into 1 1/2 inch balls and place on a baking sheet lined with wax paper. Freeze for 15 minutes, then move to the fridge to keep cool as you work with a few at a time.)
2. Make 2 black dots for eyes with the edible writer on the Jordan almonds and set aside.
3. Pour coconut on a plate and set aside. Melt candy melts according to the package instructions. For each lamb, break 2 pretzel sticks in half so each pretzel piece is about 1 3/4 inches long. Dip the ends of the 4 pretzel pieces in the melted candy melts; then insert them in to the base of a chilled cake ball. For best results, return the cake ball to the freezer for 5 minutes to help set. Holding 2 of the pretzel legs, dip the cake ball in the melts and immediately roll in coconut. Stand the cake ball on the pretzel legs on a piece of wax paper. (TIP: add a few teaspoons of Crisco to the candy melts for a better dipping consistency.)
4. Use a dab of melted candy melts to adhere the Jordan almond head to the lamb. Let dry.