Disclosure: *This post may include affiliate links. As an affiliate, I earn from qualifying purchases.


Super simple lamb cupcakes made with Reese's peanut butter cups and frosting. A fun treat for Easter.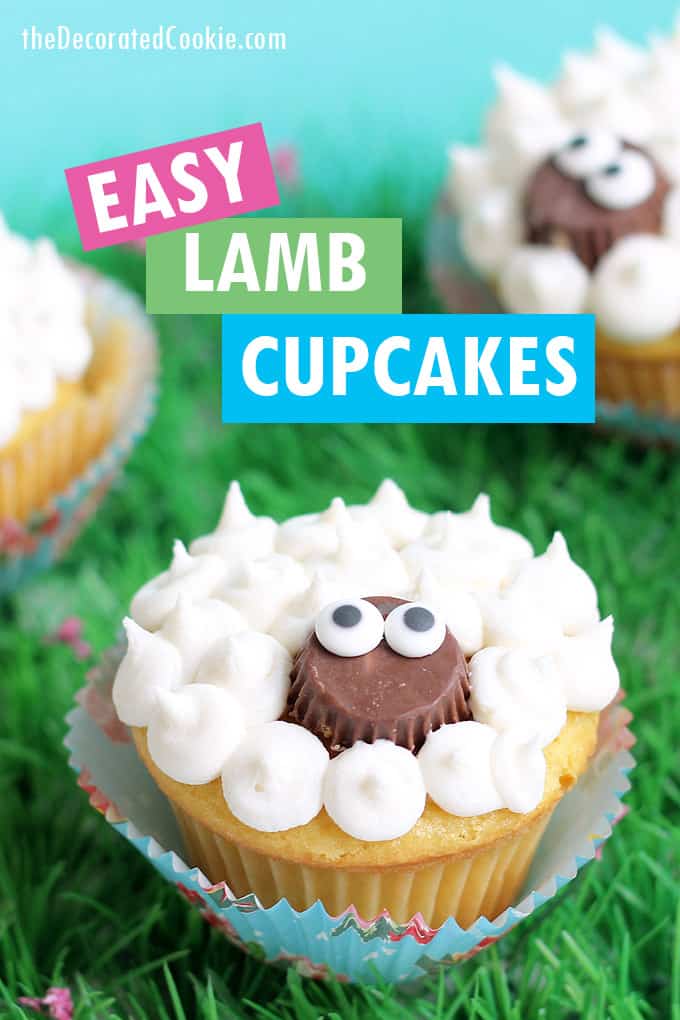 lamb cupcakes
These little lamb cupcakes are the easiest ever Easter treat to make. Or farm party treat? Or to make just because little lambs are so cute? Whatever the reason… lamb cupcakes.
I've seen cupcakes-as-sheep plenty of times before, and they are always cute and not overly difficult, but they often involve molding fondant or piling marshmallows on the cupcakes.
Now, I've clearly nothing against marshmallows, but I like my cupcakes topped with frosting. And hey, if I can add a Reese's Peanut Butter Cup in there instead of fondant, even better.
You can substitute any comparable chocolate or candy to make the sheep's head. Like… a malted milk ball or piece of Twix.
My favorite cupcake-making combination is store-bought cupcake mix and homemade buttercream frosting. You can make any cupcakes you like, though, homemade or store-bought, yellow or chocolate or any other flavor.
Here are video how-tos. Written instructions are below.
how to make lamb cupcakes
you will need:*
cupcakes
buttercream frosting
white food coloring
disposable decorating bag
size 10 decorating tip
mini Reese's Peanut butter Cups
candy eyes
light corn syrup
toothpick
*You should be able to find the supplies in the craft store, but affiliate links are also provided above.
what to do:
Slice peanut butter cups horizontally with a knife. (You may just use the entire candy, but I like the sheep's head set lower in the frosting). Eat the larger half.
On the smaller side of the candy, adhere candy eyes using dabs of light corn syrup. Set aside.
Prepare frosting according to the recipe (or use store-bought), thick enough to hold its shape well. (If using store-bought, you'll have to thicken the frosting with confectioner's sugar to the right consistency.)
Tint the frosting with white food coloring. This is optional, but I like the frosting to be bright. Prepare a disposable decorating bag with the tip, fill with frosting and close with a rubber band.
Pipe a dab of frosting and place a Reese's candy head on the cupcake. Pipe dots to cover the rest of the cupcake. Refill the frosting bag as needed.