Disclosure: *This post may include affiliate links. As an affiliate, I earn from qualifying purchases.


Chocolate bark pops: The peppermint chocolate bark you love on a convenient lollipop stick!
chocolate bark lollipops
chocolate bark pops (with crushed candy canes) a cute, lollipop version of the traditional Christmas chocolate bark
Technically this isn't chocolate bark, of course.
It's chocolate candy clay with crushed candy cane topping. But it's the same concept as chocolate bark, just on a lollipop stick. Because everything is better on a lollipop stick. So this Christmas, make chocolate bark pops.
If you like this idea, be sure to check out these chocolate peppermint pops, or this Christmas tree chocolate bark.
how to make mini chocolate bark pops


you will need:*
candy clay recipe (see below)
bag of white candy melts
bag of semi sweet or milk chocolate chips
light corn syrup
baking tray
wax paper
candy canes
1 1/2 inch circle cookie cutter
rolling pin
Ziploc bag
mallet or hammer
4-inch lollipop sticks
small paint brush (wide and flat works best)
*Find the candy melts, cookie cutter (a circle this size may be part of a set) and the lollipop sticks in the baking aisle of the craft store. I used white candy melts, but you can use any color. You can use a larger circle cutter, too.
candy clay recipe
For both the chocolate and the white pops, you'll need two batches, one with chocolate chips and one with the candy melts.
For the chocolate, melt 2 cups of chocolate chips in the top of a double boiler, in a saucepan set over simmering water or in the microwave according to package directions.
When chips are almost melted, remove from heat and stir until fully melted. Stir in 1/3 cup of light corn syrup. Mixture will harden slightly as you stir.
Turn the mixture out onto a baking sheet lined with wax paper and spread evenly (mixture will only take about half of the baking tray).
Let dry several hours at room temperature. For the white pops, repeat above, but use a bag of candy melts in lieu of the 2 cups of chocolate chips. (Wrapped well in plastic, candy clay will last several weeks.)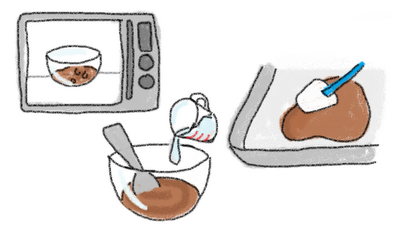 crush your candy canes
Place unwrapped candy canes in a Ziploc bag, working with just a few at a time. Use the mallet or hammer to crush.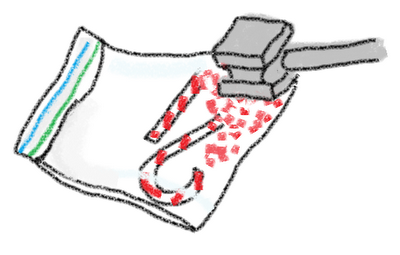 make your pops
Take a small piece of the candy clay and knead until softened and easily pliable.
Roll out about 3/8 inch thick between two pieces of wax paper.
Cut out a circle and insert a lollipop stick. I suppose if you did a really good job spreading the candy clay mixture in the baking tray to just the right smoothness and thickness, you could omit the kneading, but I didn't.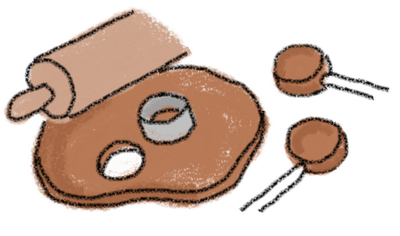 top your bark
Work with one pop at a time. Brush light corn syrup on the surface of the pop and sprinkle immediately with crushed candy canes.