Disclosure: *This post may include affiliate links. As an affiliate, I earn from qualifying purchases.


Whip up this super-easy 2-ingredient Christmas s'mores dip for a cute, fun holiday treat. It's perfect for watching movies, serving at Christmas parties, for just because.
Christmas s'mores dip
Christmas s'mores dip had to happen. It was pretty inevitable. I'm not sure I'll ever love a s'mores dip as much as this rainbow s'mores dip, but the Peeps do make it even easier to whip up what is already the world's easiest dessert. I used Peeps for this Halloween s'mores dip, so it's time for the Christmas version.
All you need are some store-bought Christmas-themed Peeps marshmallows and some chocolate chips. And something to dip, like graham crackers or pretzels. My supermarket only had the snowmen and Christmas trees, but apparently, they also have Rudolphs, which would've been adorable in this dip. (Shaking fist at the limitations of my grocery store.)
Easy Christmas treats ideas
Holiday rush have you stressed? Here are a few more super-easy Christmas treats ideas for you: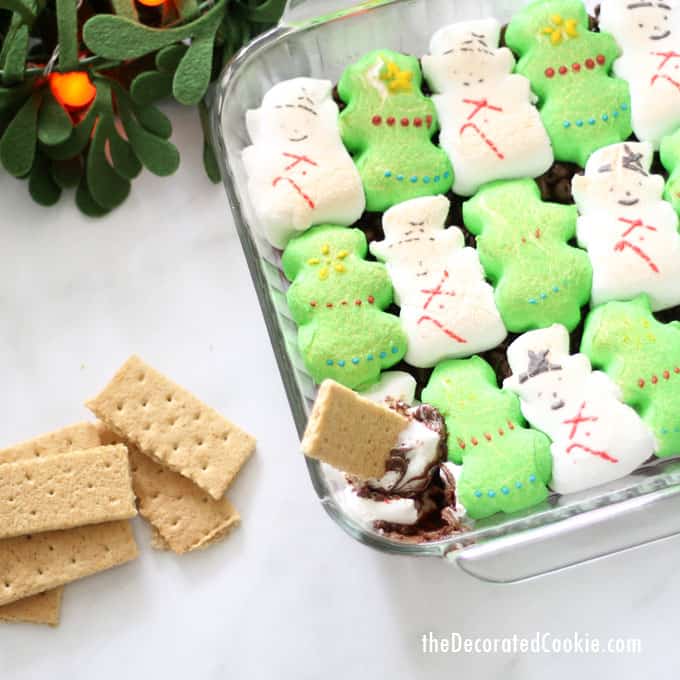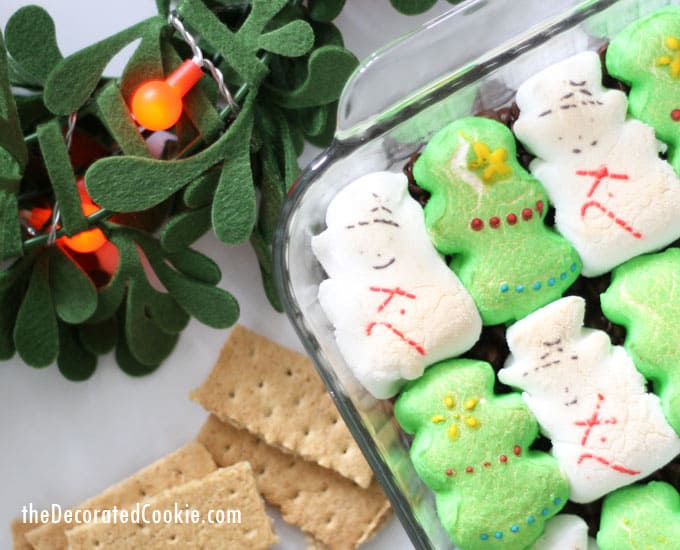 how to make Christmas s'mores dip
you will need:
15 Christmas Peeps
2 cups (one 12-ounce package) semi-sweet chocolate chips*
Crisco or butter
*You may use any chocolate chips you prefer, semi-sweet, milk chocolate, or dark chocolate.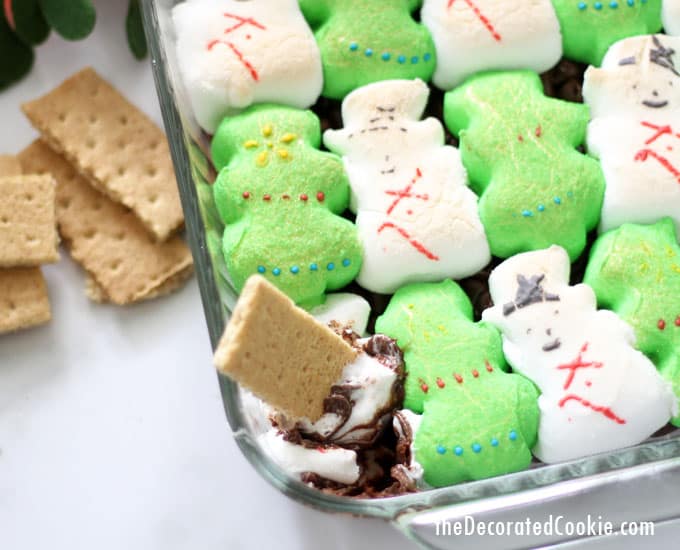 Preheat oven to 450 degrees F. Grease a 9 x 9 inch baking dish with Crisco or butter. Spread the chocolate chips in the baking dish. Cover the top completely with Christmas Peeps in any arrangement you like. Bake until the marshmallows start to brown and the chocolate is melted, about 7 minutes. (But keep your eye on the marshmallows so they don't brown too much.)