Disclosure: *This post may include affiliate links. As an affiliate, I earn from qualifying purchases.


Food crafts with Farm Rich snacks: Mozzarella Stick kids, Pepperoni Pizza Roll-Up Bears and Loaded Potato Skin sailboats. DISCLOSURE: Farm Rich was a sponsor of our (totally awesome) Fun Food Blogger Retreat, which I talk about below.
Let's travel back to not so long ago when I made these Farm Rich Mozzarella Stick Skewers. In that post, I shared a bunch of Back to School snacks that use Farm Rich products, snacks created by my favorite fun food bloggers before we headed out to Ohio for our Fun Food Blogger Retreat.
Here's the recap: It was freaking awesome. Beyond awesome.
Awesomer than I even anticipated. Our host, Beth of Hungry Happenings, planned and organized the entire event. (Round of applause.) We spent three days together sharing ideas, learning new techniques, creating fun food and eating a TON.
I knew I'd have a good time and come home energized about food blogging, but I didn't anticipate just how very fabulous my fellow fun food bloggers are. Somehow the lot of us just jived so well together, I feel like these women are my new best friends. Each friend exuded kindness, humor, intelligence, creativity and talent. I'm tearing up as I type this because I miss them so much.
Jill of Kitchen Fun with My 3 Sons, Norene of Party Pinching, Kim of The Partiologist, Sue of Munchkin Munchies and, of course, our fabulous hostess, Beth.
For one day of the retreat, we took a field trip to the grocery store to buy some Farm Rich snacks, went back to the house and created together.
If we didn't all live in different parts of the country, we'd have to get together in the kitchen bouncing ideas off of each other. It was so helpful seeing how the creative process worked for us all, and once again, that whole "jived so well together" thing took hold. See? Hands helping each other.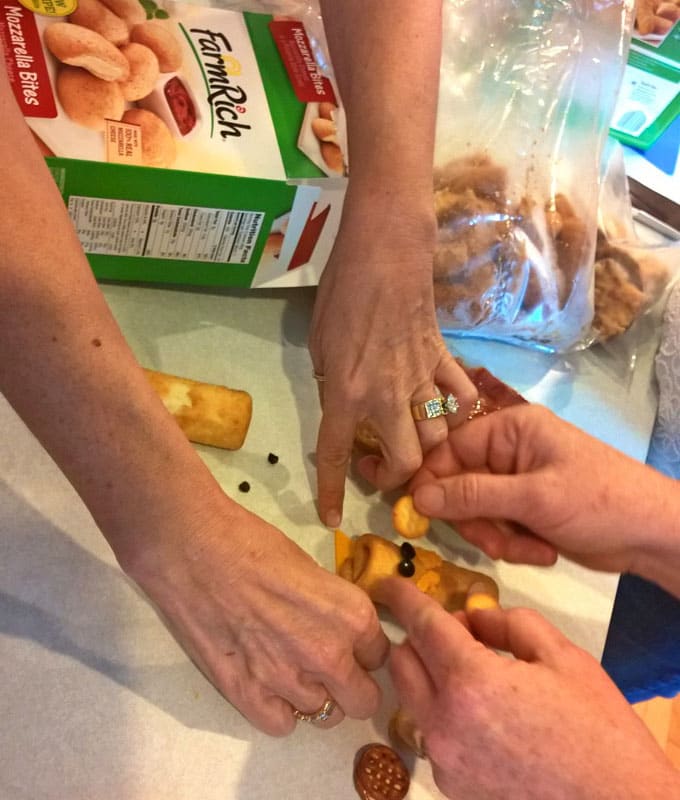 But enough swooning over my blog friends. Want to see what we made?
Mozzarella Stick Kids
To make mozzarella kids,
prepare Farm Rich Mozzarella Sticks and Farm Rich Mozzarella Bites. Place a mozzarella stick on the plate for the body and top with a mozzarella bite head. Add pretzel sticks for arms and legs. Make clothing from slices of cheese.
Make glasses and mouths (and the cute shoes!) from black olives. For the eyes, use a small circle cutter to cut out circles from cheese slices. Add a bit of black olive. For the hair, use a pizza roller to cut thin slices of cheese.
Pepperoni Pizza Roll-Ups Bears
Visit Beth at Hungry Happenings for the how-tos to make this cute bear.
Loaded Potato Skins Sailboats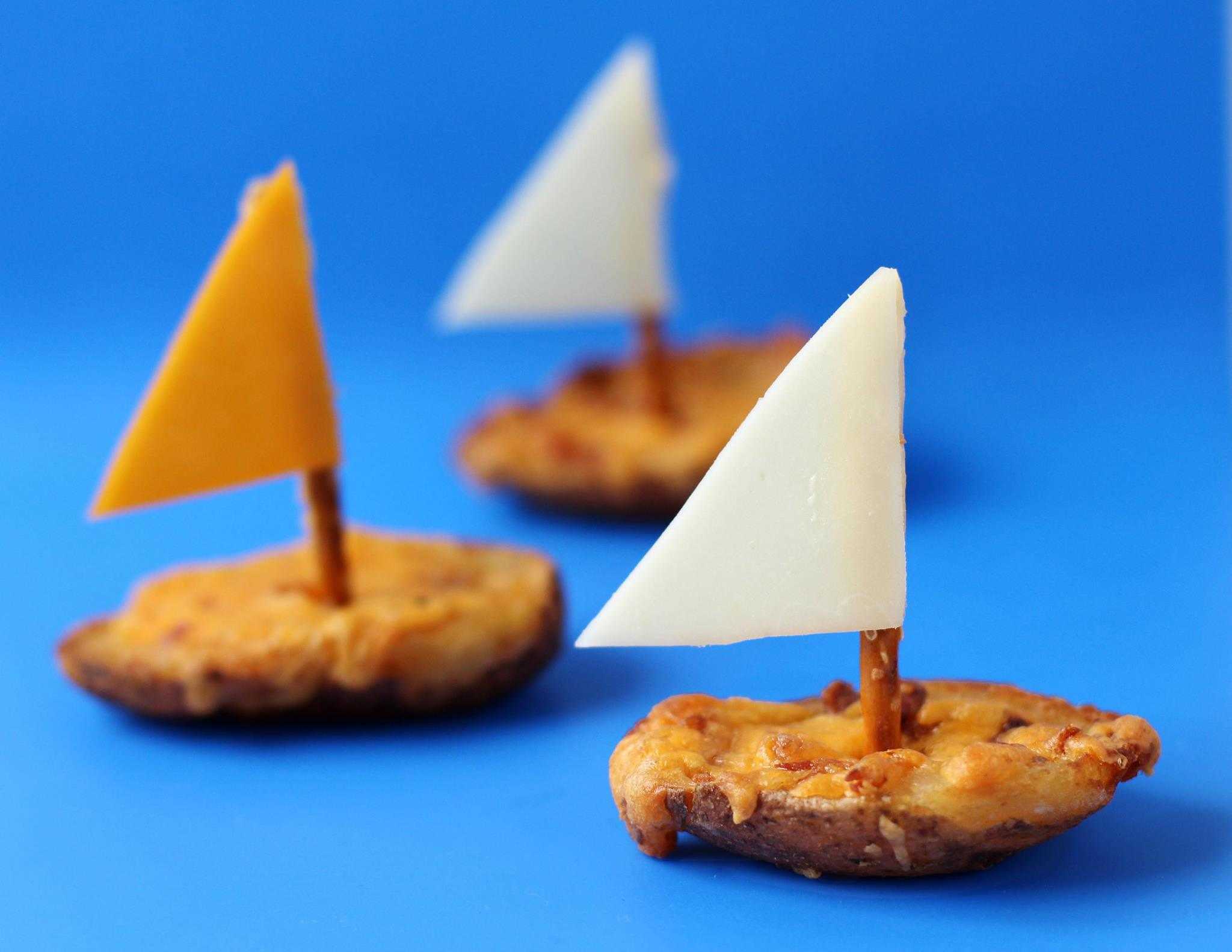 Photograph by Beth of Hungry Happenings
To make potato skins sailboats, attach a triangle of sliced cheese to a thin pretzel stick using spray cheese or cream cheese. Insert into a prepared Farm Rich Loaded Potato Skin.