Disclosure: *This post may include affiliate links. As an affiliate, I earn from qualifying purchases.


These simple football chocolate pops are an easy, fun food idea for any Super Bowl or game day party.
'Tis the season for screaming at the TV, right? I hear football is on the small screen quite a bit around now, and the big showdown ("Super Bowl" something or other?) will be in early February. Football is not so much my thing, but it is for my husband and friends, so I do so like the Super Bowl parties. And the commercials. These football chocolate pops are easy to make and cute to display during the game. Hmm. I guess "cute" isn't the best word to describe football things. How about, these bad *ss football chocolate pops…
how to make football chocolate pops
you will need*
*Choose any of your favorite chocolate chips (milk, dark, semi-sweet) OR cocoa candy melts. Candy melts are not chocolate, but have similar properties, melt easily, and set quickly. Find the candy melts, mold, decorating bags, and lollipop sticks at the craft store. (NOTE: The lollipop mold does come with small sticks. I prefer the 6-inch, which are a tiny bit too big for the mold, but if you use a bit of pressure, they do still work.)
**For the icing, I made my royal icing, tinted white, in a disposable decorating bag with a size 2 tip. You can use anything comparable, including tubes of store-bought icing from the supermarket.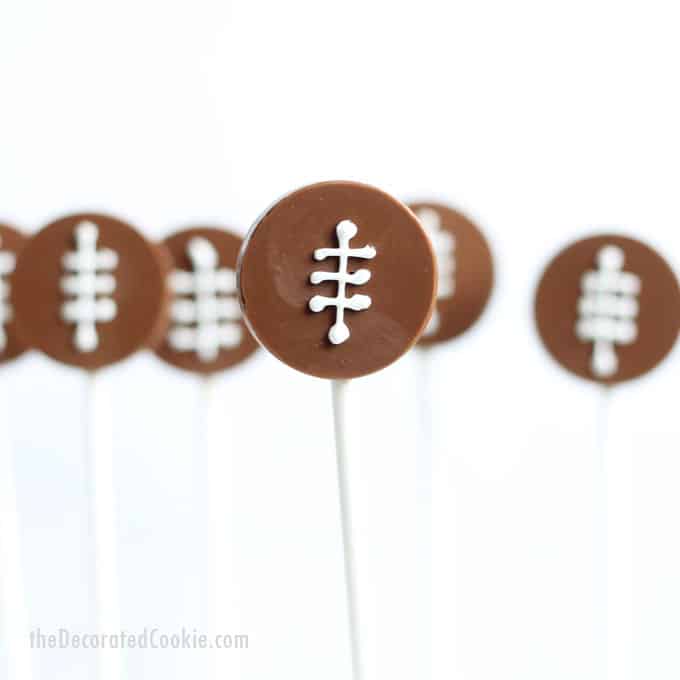 what to do:
Melt the chocolate or candy melts in the microwave for 90 seconds at 70 percent power. Stir and continue to microwave at 15 second intervals until the residual heat melts all of the chocolate when stirred well. You may melt the candy melts directly in the decorating bag, but chocolate gets too hot, so melt chocolate (if using) in a bowl and transfer to the decorating bag when cool enough to touch.
Snip the tip and pipe to fill the cavities of the mold. Tap the mold on the counter to even. Add the lollipop sticks, turning to coat. Let the chocolate set. Chocolate may be put in the fridge to set more quickly. Candy melts should set at room temperature within an hour.
Remove from the mold and pipe the stitching. Let the icing set.