Disclosure: *This post may include affiliate links. As an affiliate, I earn from qualifying purchases.


Any '80s video game fans? Here's a retro flashback: How to decorate Pac Man cookies.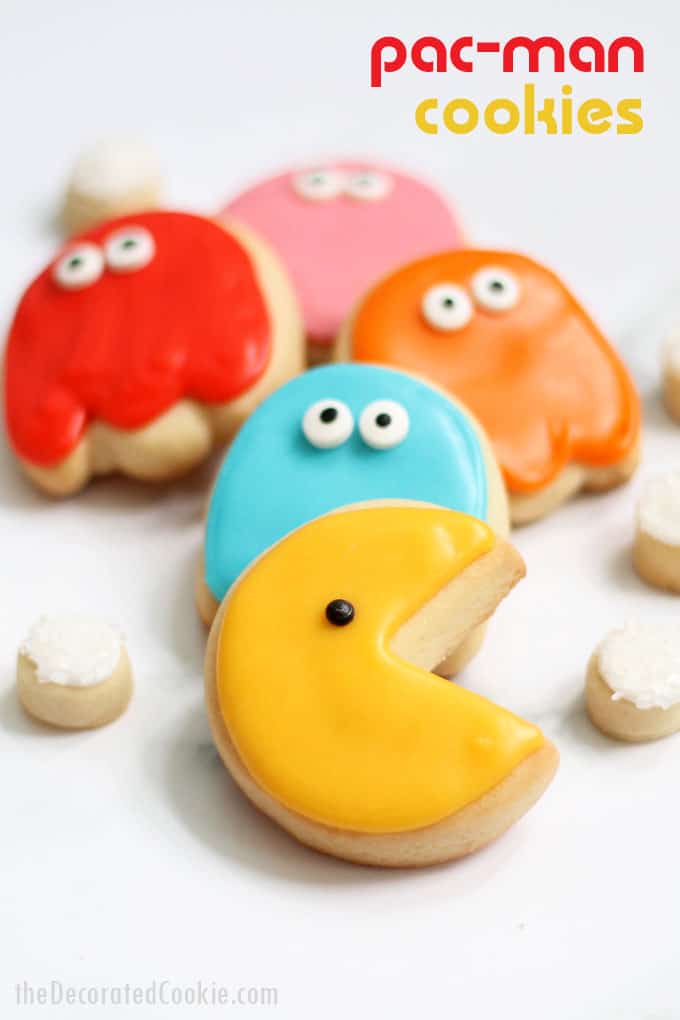 Pac-Man cookies
Ah yes. Me and the '80s. We're kind of a thing. I'm in my 40s, so that means I was ending elementary school, went through middle school, and graduated from high school all in that decade. So yeah. Me and the '80s. Leg warmers, neon bracelets, Cabbage Patch Kids, holding a tape recorder up to the clock radio to record Foot Loose. And the video games. We were, sigh, an Intellivision family, but luckily, my friend had Atari. So I got to perfect my Pac Man skills. These cookies are a birthday gift for my brother (fan of all things video game related).
You might remember some other '80s gems such as these 1980s cookies, Frogger cookies, or Space Invaders cookies. Or, make your own candy buttons. (If you're more into modern-day video games, then check out these Candy Crush cookies.)
Need more '80s food inspiration? Check out this roundup of 25 totally tubular food crafts.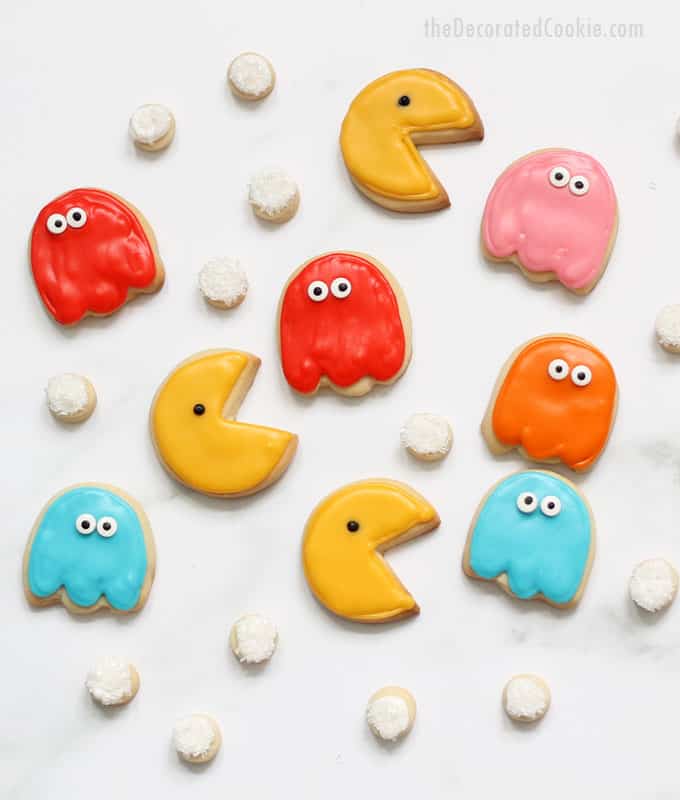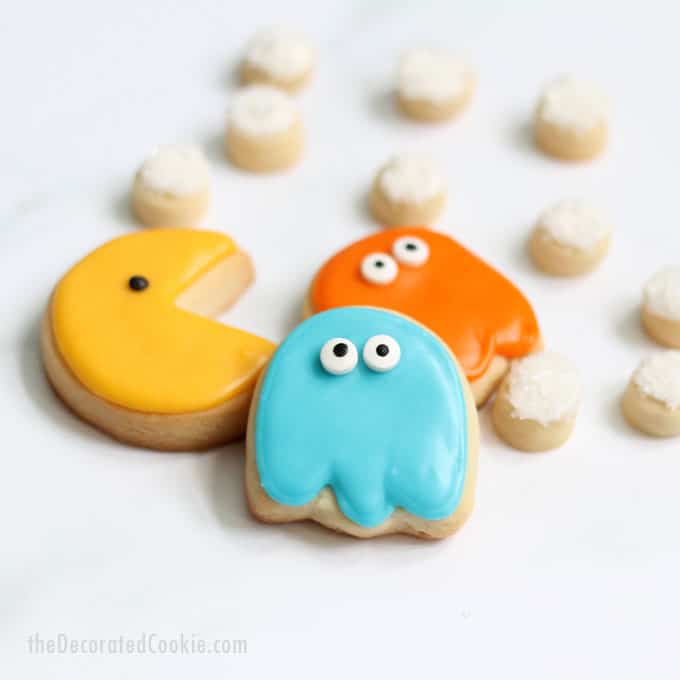 how to decorate Pac Man cookies
you will need:
*Find the cookie cutters, decorating bags, couplers, tips, and candy eyes in the craft store or online above. For food coloring, I suggest Americolor Soft Gel Pastes (Egg Yellow, Orange, Red Red, Electric Pink, Sky Blue, Bright White, and Super Black used here). For basic cookie decorating instructions, click HERE. For more cookie decorating recipes, click here.
(By the way, if you need vegan cookies and icing recipes, click HERE.)
what to do:
Prepare the cookie dough according to the recipe, chill it, roll it out, and cut out your shapes. For the Pac Man, cut out a circle and use a knife or spatula to cut out a wedge. For the Pac Man, use an oval cutter (or press a circle cutter into an oval). Then use a knife or teaspoon to trim the oval for the bottom of the ghost. Use your fingers to smooth the dough. Use the smallest circle to cut out the dots. Bake according to the recipe. TIP: Bake the dots on a separate tray, as these will not take as long to bake as the larger cookies.
Prepare royal icing according to the recipe and divide it. Color with food coloring (you'll need yellow, red, pink, blue, orange, white, and a little black). Prepare decorating bags with couplers and tips, fill with icing, and close tightly with rubber bands. Note I thinned my icing to a consistency where I could still outline the cookies without the icing running off, but made it thin enough so the lines wouldn't show well when I filled in.
To decorate the dots, prepare white icing with a size 3 or 4 tip. Pipe a dot on the small circle cookie and immediately top with white sprinkles.
To decorate Pac Man, outline the shape with yellow icing using a size 3 or 4 tip. Pipe to fill the shape and add an eye using black icing with a size 2 tip.
To decorate the ghosts, outline and fill with orange, pink, blue, or red icing. Top with candy eyes.
Let cookies dry overnight.
Packaging idea: